Arsenal Opinion: Understanding the Importance of Mikel Arteta
December 23, 2011
Michael Regan/Getty Images
When it was announced that Arsenal had signed Mikel Arteta from Everton, I was overjoyed.The last time I was so excited on hearing that a player was coming to Arsenal was when the arrival of Andrei Arshavin was announced back in 2009. Here was a player who I've always admired and here he was coming to the club I support/adore/love.
But not many fans took to him immediately, and there are still some out there who criticize him. A large amount of the criticism stems from the fact that when one compares the statistics of Arteta to that of the last Spanish midfielder who played for Arsenal, a chap by the name Cesc Fabregas, those of the former Everton captain are indeed poor, and this is where we are making a mistake. The mistake being comparing Arteta and Fabregas.
It's easy to think that Mikel Arteta was brought into replace Cesc Fabregas. Arteta came in soon after Fabregas left for boyhood club Barcelona, and having played in an attacking midfield role for his former club, Everton, many saw him as the successor to Fabregas especially with Jack Wilshere out injured.
But in reality, Arteta hasn't played in the same position that Fabregas played in, but instead he has slotted beside Alex Song, similar to what Wilshere did last season.
And despite that, he has come under criticism simply because in the mind of several people he is replacing Fabregas. Comparing him to Fabregas and assuming him to play at the same level would be a huge travesty because it simply undermines the influence and importance of Arteta to this Arsenal side.
Right now when I think of players who are indispensable to the squad, I can think of four: Robin van Persie (obvious isn't it), Vermaelen, Song and Arteta. His Arsenal career might be only a few months old, but the impact he has had on the club and his impact in the club's tremendous rejuvenation cannot be understated.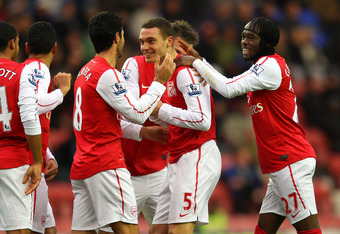 Alex Livesey/Getty Images
It's easy to fail to notice the hard work and effort of Arteta on the pitch. He lacks the sheer genius of Fabregas and lacks the raw enthusiasm and drive of Wilshere. But what he does possess is experience and bags of it and not to forget his determination.
His performances this season have been that of a player out there to make up for lost time, a player out there to play at the highest level for the first time in his life, and a player whose maturity has added new found steel and maturity to this Arsenal side.
The departures of Samir Nasri but more importantly Cesc Fabregas means that man for man, Arsenal have a weaker squad than last season. But spirit and passion? Never!!
This characteristic feature of this side is the will and drive it displays game in and game out. This is the drive that is seeing the Gunners nick games right at the end, and this from a team that has shown that not even a four-goal lead is enough. And at the heart of this is the spirit embodied by the likes of RVP, Arteta, Benayoun and Vermaelen.
Arteta won't deliver 20 assists a season like Fabregas, nor will he score more than 10 goals this season. And neither should he. His role in the team isn't that of the main play-maker and it isn't of the goalscorer from midfield.
His role is to provide the link between defense and attack, the link that was missing in the earlier part of the season.
Someone recently mentioned that had Wenger not signed Arteta, the team would most probably be in a full-blown crisis by now. And I couldn't agree more. Mario Gotze and Eden Hazard might be the players that every Arsenal fan including I want, but they can't provide the industry and the defensive cover that Arteta provides.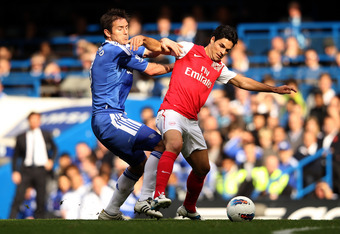 Ian Walton/Getty Images
Over the last two years, we have seen the meteoric rise of Alex Song, as he has become one of the world's leading defensive midfielders and the driving force behind this change has been the use of a double pivot that Wenger has gone with. Last year, it was Wilshere and this year Arteta; Song now has the freedom to venture out forward, knowing very well that he has the presence of Arteta behind him.
For a player who played in an attacking midfield role last at Everton, Arteta's willingness to play in a more assured role is just further proof of his commitment and class.
Despite his good performances, I still see several people comparing him to Denilson, which personally I find shocking because if Denilson was one tenth the player Arteta is, then he would still be at the club. The reason Wenger chose to play Denilson is because he felt the team needed a player who could keep the ball in rotation, someone who was neat and tidy with the ball, someone who could do the simple things properly, something easier said than done. Denilson did it briefly in the 2009-10 season and after that he regressed at an alarming rate.
In Denilson we had a player who could pass the ball backwards and that's about it. He was slow with the ball in his feet, lacked any form of creativity, and the only time he was useful was when the team needed someone to slow down the tempo.
Comparing Arteta to Denilson is bordering on the ridiculous to be honest. Signing Arteta a couple of seasons back when the rumors linking him to Arsenal were frequent would have been a fantastic move.
Just imagine a midfield trio of Song, Fabregas and Arteta. The steel and defensive strength of Song, the work rate and link-up play of Arteta combined with the vision of Fabregas would have been sheer artistry. It's too late for that, but that doesn't mean that Arteta can't still play a vital role for the club.
In Arteta, Arsenal have a player who displays immense calmness when under pressure and one need not look further than the match against Manchester City. In the clash away at Manchester, he had the highest passing accuracy among all 22 players on the pitch and this we are talking about a clash in which the players pressed intensely for almost the entire 90 minutes.
And it just isn't a case of that one match. Anyone can see that in the current Arsenal squad, there is no player more comfortable on the ball other than Arteta. His passing and movement, effortless and his vision, solid.
And a further glance at some of Arteta's stats just goes to show how baseless the comparison with Denilson is. With 2.4 key passes a game, he is currently 11th in the Premier League in that category, and his passing success of 90 percent is only bettered by eight players. In terms of average passes per game, it is Arteta who is topping the charts with 78.5 passes a game, a feat only closely matched by Yaya Toure.
Arteta's movement and ability to keep the ball ticking under duress is a great boost to an Arsenal side that have surprisingly shown a weakness when their opponents press them, especially in Arsenal's half.
One trait that was worryingly prevalent in Arsenal's games against Newcastle, Liverpool, Udinese and Manchester United was the absence of a transition from defense to attack. With Wilshere injured and with Fabregas back in Spain, Wenger chose to play the midfield duo of Aaron Ramsey and Tomas Rosicky, and it was painfully obvious that it didn't work. Ramsey was played in a deep-lying role and it was evident that he was more suited to the attacking central midfield role.
Whether it was the defeat at Old Trafford or the hammer blow that Wilshere's return to the team would be delayed, but Wenger snapped up Arteta on the last day or rather last minute of the transfer window. And since the arrival of Arsenal, there has been far more fluidity in the midfield. The trio of Song, Arteta and Ramsey have formed an impressive understanding, and the three of them have been instrumental in Arsenal's ascent up the table.
Arteta's ability to keep the ball in motion continuously and distribution have been hugely impressive. Often he drops deep, sometimes as deep as beside the central defensive pairing and helps to build attacks from the back.
Right now, there is no player in the current Arsenal squad who can play in the same position as that of Arteta and manage to give a good account of himself. This is exactly what makes Arteta so vital to the current Arsenal squad. If the Spaniard does indeed get injured, Diaby and Ramsey could fill in, but it doesn't fill me with much confidence. The duo are more suited to a role higher up the pitch, especially Ramsey.
And Arteta's effect has not just been in terms of quality on the pitch, it's been his attitude and the work rate that he has offered to the squad. He has been willing to do the tireless running, the defensive work and whatever the team needs him to do. With 2.1 tackles and with 2.3 interceptions per game, Arteta perfectly highlights the current squad's mentality of working as a unit and defending as a team.
Ever since coming to North London, he has played all but ten minutes of the 14 matches he has been a part of the team.
This squad might not be as good as the one of last season and might lack the quality possessed by the previous team, and yet despite that this team has shown far more willingness to fight for each other and far more desire to win no matter the what. Their results against Aston Villa, Chelsea, Marseille, Fulham, Everton and performance against City is just indication of the mood within the camp, and from an Arsenal standpoint, one has to be extremely delighted with what one is seeing.
There is no doubt that the likes of Mertesacker, Benayoun, Arteta has added far more maturity to the squad and that is evident in the way they approach players and in the way the team defends leads.
When Arsenal took the lead against Everton, I for a change was surprisingly confident if this team holding on. Last year, I would have been a nervous wreck till the full-time whistle, and the newfound confidence of the fans in the team stems from the fact that the team is now packed with players that ooze maturity and have added leadership to the squad.
Arteta's value to the squad cannot be measured in goals and assists. He is the driving force from midfield, the anchor man of the squad, and until the return of Jack Wilshere, there is no replacement for him and that's why Wenger has to ensure that his midfield maestro manages to stay injury free, for the sake of Arsenal's ambitions this season.
The key to understanding the impact of Arteta is to immediately dispel any comparisons between Fabregas and Arteta. Both played for Barcelona during their formative years and both happen to be Spanish, and that's where the similarities end. If one realizes that Arteta's role in the current side isn't that of the creator, but that of the worker, the one who puts in all the hard work, and rarely gets the credit he deserves, then and only then can we appreciate the talent we have in our team.
Arteta's performances don't mean that we shouldn't sign Gotze or Hazard. If anything, it just shows that adding another top player will only boost a good squad and help the team challenge for silverware this season.
He might be a panic buy and he might be no Fabregas, but he is indeed Mikel Arteta, the hub of the current Arsenal team, and it fills me with immense assurance when I see his name on the team sheet, week in and week out.