Is Albert Pujols Really Better Than Babe Ruth?
October 25, 2011
Doug Pensinger/Getty Images
Albert Pujols turned in a historic performance in Game 3 of the World Series, hitting three home runs and driving in six runs as the Cardinals beat the Rangers, 16-7.
Arguably the best player in baseball for almost his entire career, Pujols joined Yankees' Hall of Famers Babe Ruth (1926, 1928) and Reggie Jackson (1977) as the only players to hit three home runs in a World Series game. 
Pujols' five hits tied Milwaukee's Paul Molitor (1982) for the most in a World Series game.
The St. Louis slugger's six RBI also matched a single-game series record held by Bobby Richardson (1960) and Hideki Matsui (2009) of the Yankees.
Additionally, Pujols' 14 total bases were a series record.
These remarkable feats prompted Pujols' teammate, Lance Berkman, to make a rather bold and profound statement.
"He's a better hitter than Babe Ruth and Reggie Jackson and there's no doubt about it,'' the St. Louis designated hitter said. "I'm dead serious. Babe Ruth, as great as he was, played in an all-white league. Now we have the best talent pool we've ever had and he's doing it in that environment. He's the greatest.''
The substance of Berkman's argument has merit; Ruth played at a time when the major leagues had no black or Hispanic players.
However, there were also far fewer teams and far fewer players at that time, meaning that the talent pool wasn't nearly as watered down in those days.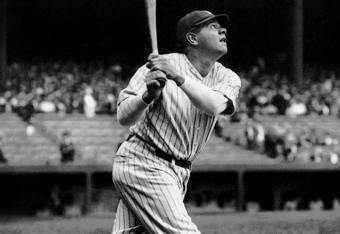 If a player made a team back then, he had to be really good. Nearly every American kid played baseball in that era; there was little, if any, competition from football, basketball or soccer.
Moreover, for half a century—from 1903 to 1953—the two major leagues consisted of two, eight-team leagues.
Teams typically used four-man rotations, meaning that the major leagues employed roughly 64 starters in Ruth's era. With 30 five-man rotations today, there are at least 150 starting pitchers in baseball at any given time. 
Without question, many of today's pitchers never would have made a major league roster in Ruth's time. And the average middle reliever also would not have had a career back then.
Additionally, there were fewer players at all positions in Ruth's era, meaning that only the elite players—the creme de la creme—had any chance of making a major league roster.
There is no doubt that allowing black players to play in the majors back then would have expanded the talent pool and meant fewer white players at all positions. But nonetheless, that talent pool would have been far richer than today's because only the truly exceptional players could have made any team's roster.
Perhaps this is why so many of baseball's most hallowed records and players from the 1920s, '30s and '40s (from the post "dead-ball era" up to expansion) still stand up today. 
It is very difficult to measure players from those earlier decades to today's players for a variety of reasons: integration; the modern expansion of teams and rosters; ballpark dimensions; bat specifications; in-season and off-season training regimens; player's diets; night games versus day games; travel and means of travel; scouting and player development; modern analysis techniques, including video and computers, etc.
From 1918, when his at-bats increased dramatically after becoming primarily a hitter rather than a pitcher, Ruth hit at least .300 in 15-of-16 seasons. He also had a .342 lifetime average, meaning he was far more than just a slugger. 
Ted Williams, who is widely regarded as "the greatest hitter who ever lived," had a lifetime batting average of .344, just two points higher than Ruth's. 
Pujols is in the midst of a rather remarkable career. Over his first 10 seasons, Pujols hit at least .300 and had at least 30 homers and 100 RBI every year. That was until this year, when he just missed by the slightest of margins, with a .299 average and 99 RBI, to go along with his 37 home runs.
Phat Albert also has a career .328 batting average.
What's your view; is Albert Pujols really better than Babe Ruth, who had seasons in which he hit more home runs than all of the other players in baseball combined?
Does the inclusion of black and Hispanic athletes make today's players better, and baseball's roster's deeper?
Or, has the expansion of baseball teams and rosters watered down the talent pool, allowing players of a lower caliber into today's game?