Connecticut vs. Pittsburgh: TV Schedule, Live Stream, Radio, Game Time and More
October 25, 2011
Ronald Martinez/Getty Images
The Big East is going to be featured in full, as two of their biggest and most prolific schools matchup when the Connecticut Huskies square off with the Pittsburgh Panthers.
While both of these schools are undoubtedly known much more for their basketball success, there is still no question that this is going to be an intense football game.
Both programs are coming into the game at 3-4 and 1-1 in the Big East, so the winner will be playing to get back to even at .500.
The loser will continue slipping into irrelevancy, so this game has a lot riding on it.
Where: Heinz Field, Pittsburgh, PA
When: Wednesday Oct. 26. 8 p.m. EST
Watch: ESPN, ESPN3
Listen: WTIC-UConn Radio Network, Connecticut; 93.7 FM The Fan Pittsburgh
Stream: UConnHuskies,com; PittsburghPanthers.com
Betting Line (Bodog.com): Pittsburgh -10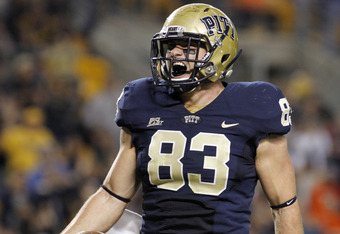 Justin K. Aller/Getty Images
Key Storyline:
This game is huge as far as the Big East standings are concerned. A win would propel the winner back to .500. Both teams are tied for third place in the Big East, so a win would be a huge separation.
Who Might Not Play For Connecticut:
Linebacker Martin Hyppolite probable (knee), safety Jerome Junior questionable (foot), linebacker Jerome Williams questionable (knee), cornerback Blidi Wreh-Wilson doubtful (knee).
Who Might Not Play For Pittsburgh:
Linebacker Todd Thomas questionable (leg), wide receiver Ed Tinker questionable (leg), offensive lineman Lucas Nix questionable (knee), defensive back Jason Hendricks out for season (shoulder), quarterback Trey Anderson out indefinitely (wrist)
BCS/Top 25 Implications:
Unfortunately, at 3-4 there are not many BCS or Top 25 implications in this game. 
John F. Silver of the Journal Inquirer writes about the Huskies problems at linebacker and how freshman Yawin Smallwood has filled in admirably this season. 
Paul Zeise of the Pittsburgh Post-Gazette writes about the plethora of injuries that are impacting the Panthers season. They've lost a few players for the season with injury and are undergoing a line up shuffle of sorts.
Connecticut Player to Watch:
Elsa/Getty Images
Senior wide receiver Isiah Moore doesn't have a touchdown on the season. He's going to have to change that if the Huskies want to win this game.
Pittsburgh Player to Watch: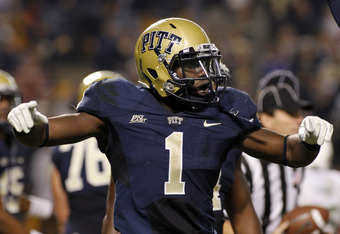 Justin K. Aller/Getty Images
Running back Ray Graham is going to have to play a huge part in this game. He's got nine touchdowns on the year so far, and he's going to have to add to that total in this game.
Key Matchup:
Pittsburgh has been dealing with a ton of injuries that have really shifted their lineup. They have a ton of backups in starting positions, so if Connecticut can get physical with them, especially running the ball on offense, they should be able to throw them off.
On the Hotseat:
Pittsburgh coach Todd Graham is going to be on the hotseat during this game. The pressure is really on him to see if he can pull this team together with a patchwork lineup.
Prediction:
The Panthers have way too many injuries to overcome, even at home.
Connecticut 28, Pittsburgh 17