Serena Williams: Why Her Temper Will Continue to Haunt Her Throughout Her Career
October 26, 2011
Nick Laham/Getty Images
Let's take a couple of steps back in time.
U.S. Open 2009: Serena Williams and Kim Clijsters face off in the semifinals. U.S. Open 2011: Serena Williams and Samantha Stosur face off in the final.
What do these two events have in common?
Unless you have been out of contact with all forms of information dissemination, you know that they involve two of Serena's most talked-about episodes of getting upset on-court.
These two moments have become like bookends, setting definitive parameters to the career of one of the greatest tennis players of all time in Serena Williams. Was it proper for her to react and say the things that she did in the manner that she did? Absolutely not. However, is she human? She definitely is.
Let's look at the latest U.S. Open situation.
Put yourself in Serena's place for a moment. You're on this tremendous comeback journey following serious medical concerns. You've now reached the final of the U.S. Open and are struggling. You're frustrated and rightfully so, so you verbally let it out.
Then, you quickly realize that you are going to be penalized. Now the situation is agitated more.   Would this not probably upset and frustrate you even more and, voluntarily or involuntarily, cause a reaction?
Now, you may not have reacted as Serena did, but that's the individuality of it—everyone is different. However, there probably would have been some sort of reaction.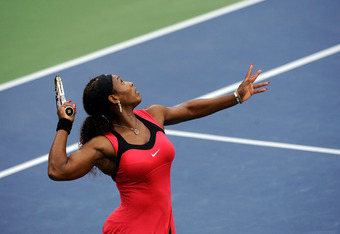 Patrick McDermott/Getty Images
Too many times today, individuals in the spotlight are placed on a pedestal and looked upon as not capable of, or "not allowed" to do, anything wrong or act outside of what is deemed the norm. Again, we are talking about humans.  No one is perfect.  (And one more time for clarification, this is not to condone improper physical or verbal actions. Wrong is wrong. This is simply for the sake of explanation and discussion.)  If for some reason, they break that ideal mold, they are ridiculed about their actions. Or are they?  
There are double standards in how situations are looked upon, reacted to and dealt with in tennis. Let's take Andy Roddick for example. He has a tendency to go on verbal tirades. Take a look at this Youtube video.  And what about those obnoxious noises defined as grunts by Maria Sharapova? One of them registered over 100 decibels—the same level as a small airplane landing. Neither has received nearly the attention or lit up social network discussions like Serena's on-court actions.
Now if the question is distractions or, more specifically, whether an action was done intentionally, clearly these are examples that could be a part of that discussion. What about intentional, you may ask? Well, as in the case of the umpire in Serena's situation, it's purely a decision of the person to whom that responsibility of making a decision is given.
Let's delve a little deeper into the grunting aspect. It has been scientifically proven that it is a distraction to one's opponent.  
Former Wimbledon referee Alan Mills, prior to his retirement, openly stated that he felt grunting was cheating because it irritated a player's opponent and should be banned. He felt that players were trained to execute it.  
Tennis great Martina Navratilova has also gone so far as to say that grunting is a form of cheating, as it impacts an opponent's game and should be banned. Martina's issues with grunting actually go back to the 1992 Wimbledon quarterfinals when she was playing "grunter" Monica Seles.  Navratilova complained that Seles' grunting interfered with her game, and it was something that Seles could control.
If the rules are going to be administered, they should be administered across the board. Maybe that could be a part of Serena's frustration, or maybe it's because she's been in this on-court, questionable-call situation a few too many times.
In fact, it was due to some calls being challenged by Serena at the 2004 U.S. Open quarterfinals, playing Jennifer Capriati, that led to a review, showing that some of those challenges did indeed have validity. The incident spurred investigation into utilizing an on-court review system. That technology was Hawk-Eye, more commonly referred to on-court as the Chase Review.
Seems as though Serena has a few situations to authenticate her frustration, if frustration played a part in or was the entire reason for her verbal response.
Whatever the reason behind her on-court reaction in these two situations, she was punished in the manner that tennis officials deemed appropriate. Though she was punished and apologized, some people will not let it go. The court of public opinion is still in session, continuing ongoing deliberation.
And so, we come to the question of why Serena's temper will continue haunt her.
The answer: Some people desire to keep it a hot-button issue.
Hopefully, however, despite it being kept in the forefront, Serena's lapse in judgement and/or emotions as a result of being human will not blur the fact that she's a great tennis player who has achieved much in her career thus far.