Terrell Owens: AFL Offer Shows How Far Star WR Has Fallen
October 26, 2011
Andy Lyons/Getty Images
One day after an open workout, Terrell Owens has received an offer from a professional football team. Just not what he had in mind.
Wednesday, October 26 at 2:30 p.m. EDT
Andrew Siciliano reported via Twitter that the Chicago Rush of the Arena League have offered Owens a deal.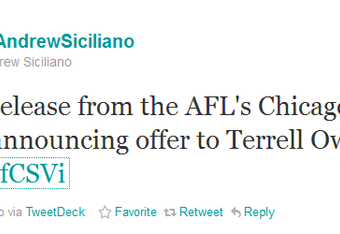 That was officially reported via the Rush's official website.
All of a sudden, Owens' situation and standing just became a little clearer. I don't think that any NFL team is in a situation right now where they need to sign Owens. Most teams can afford to wait a few weeks for someone to get hurt, or lose their effectiveness, before even exploring that option.
Still, you would figure that one NFL team would express some interest. After all, Owens is a future Hall of Fame wide receiver who's coming off of a decent season, even if he is 38-years-old. Given all of that, you would figure that one of 32 NFL teams would at least express some interest.
Of course, a team could still express interest but, right now, the only confirmed interest that we're seeing is coming from the Arena League.
Actually, if Owens truly wants to get back to the NFL, he should consider this offer. Yes, he can be a little patient to see if a more immediate NFL opportunity comes his way, but this is a way to show that he can still play.
The Arena League uses the pass almost exclusively. If he can handle that load, he's probably worth an NFL shot.
But, when Owens decided to do that workout yesterday, it's doubtful that he had what is basically a glorified minor league team in mind.
The fact that, 24 hours later, this is all we're seeing in terms of confirmed interest is not a good sign for Owens' NFL future.