Memo to Dodds and the Rest of the Big 12: Aggies Do Not Care
October 26, 2011
Aaron M. Sprecher/Getty Images
It is amazing what a difference a few months can make.
Two months ago the prevailing feeling was that if Texas A&M left the Big 12 it could cause an economic collapse in the state of Texas that rivaled the Dust Bowl days.
Now that the Aggies have officially cast their lot with the Southeastern Conference, it appears that none of the Big 12 schools in the state have room to fit A&M on their schedule.
Texas athletic director Deloss Dodds has informed A&M that their football schedule is full until 2018. Texas Men's Basketball coach Rick Barnes has done the same informing the Aggies that since "they chose to leave," that Texas would no longer face A&M on the hardwood.
Coincidentally Baylor Women's Basketball coach Kim Mulkey announced that Baylor would no longer face the Aggies in women's basketball.
Evidently Texas and Baylor are going to refuse to play Texas A&M in any sport as "punishment" for joining the SEC. The company line has been that A&M has "gone against the state of Texas" in joining a conference that does not have fellow conference mates from the state in it. The Aggies have reportedly "left the state."
While this all may make for good propaganda on the recruiting trail, it comes across as delusional at best. Last time I checked, the Texas A&M campus is still located in College Station right smack dab in the middle of central Texas. 
The Aggies will be traveling to play some of their games on the road but will still feature seven home football games every year. That is seven chances for Texans to see an in-state team take on all comers and seven chances for 80,000 fans to gather at Kyle Field and generate sales tax revenue for the state's coffers.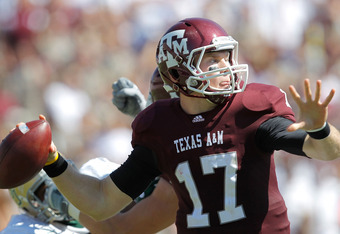 Sarah Glenn/Getty Images
The great irony in this whole scheduling debacle is that most Aggies do not care if they ever schedule Baylor are any of the other schools in the Big 12 going forward. Baylor considers A&M a rival but the last time that series was actually competitive was over 25 years ago.
A&M and Baylor has developed quite a rivalry in women's basketball but you will struggle to find A&M fans who are going to miss seeing Kim Mulkey flash officials during games.
Most Aggies want to see the football rivalry with Texas continue. While Texas claims to have no room on their non-conference schedule, they still have not filled their Thanksgiving Day game slot. Texas could easily buy out one of their non-conference games, move a Big 12 game to that slot and then play the Aggies in their last regular season game of the year. This is how Georgia, South Carolina and Florida manage to play their in-state rivals every year.
Now it appears that it is not simply a scheduling issue for Texas. They are simply afraid of losing to the Aggies on the field. Evidently, Dodds has decided that since the Aggies hold the advantage in the series over the last 35 years, that it would simply be easier to take the path of least resistance and just give up.
This philosophy works for Texas Women's Basketball coach Gail Goestenkors, who has never beaten A&M on the court and evidently is being paid close to $1 million dollars per year to try to keep the margin of defeat to under 20 against the Aggies.
A&M fans knew that if the Aggies moved to the SEC that Texas might follow through on their threat not to play them anymore, and that is what has happened. Texas will try to claim that it is a scheduling issue, but the reality is that it is an issue of pettiness borne out of A&M's refusal to follow Texas' lead.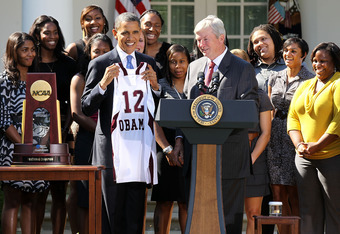 Alex Wong/Getty Images
Texas A&M has a long history of competition with Texas, Baylor and Texas Tech. They also have a long history of competition with Arkansas and LSU. Aggies would much rather travel to Tuscaloosa to watch the Aggies play a football game against Alabama than Waco or Lubbock. The competition on the field will be much tougher in Alabama, but at least you will not have to worry about a goal post being shoved into the stands after the game.
The bottom line is that other than Texas, most Aggies have no interest in playing any of the other Big 12 teams going forward. A&M will find better competition in all sports in the SEC. The Aggies will also be able to reunite with old rivals Arkansas and LSU.
I am sure there are a few fans who will miss Mulkey showing everyone what she looks like under her shirt and the shenanigans of Tech fans. I feel quite confident that those same fans will get over it when they experience their first tailgate in The Grove or hear "Two-Bits" lead a cheer at the Swamp. 
The Aggies chose the best path for their next 100 years, and that path does not wind through Waco, Lubbock or Austin.