UFC 137: B.J. Penn, Nick Diaz and the Beauty of Change
October 27, 2011
The human race commonly dislikes change. But not all change can be difficult to deal with. In fact, according to B.J. Penn, changed worked out for the better when it comes to him and his UFC 137 opponent, Nick Diaz.
The two are scheduled to meet in Saturday's main event, and this comes after the deck of the fight card was shuffled at the top. 
At first, Penn was set to meet Carlos Condit, but after Nick Diaz pulled no-shows to two consecutive press conferences, things changed. At that point, Diaz gets pulled in favor of Condit for the main event against welterweight champ Georges St-Pierre. Diaz then slides in to face Penn, but when St-Pierre gets hurt, Penn and Diaz find themselves headlining the card in Las Vegas.
OK, barring any last-minute foul-ups, they're done shuffling the UFC 137 deck.
For Penn, the more things changed leading into this this weekend, the better they got. It's what worked out best for everyone involved, according to "The Prodigy."
"I don't know anyone that would be bummed fighting [in] the main event," Penn recently told MMAWeekly.com when asked about the change in opponent. "Better things just kept happening. It was kind of strange when Carlos got switched and all that went down, but at the end of the day…this is the fight the fans want.
"This has always been a main event fight."
When friends come to blows, things get ugly and relationships alter thereafter. This might be the case with your typical pair of buddies, but not B.J. Penn and Nick Diaz.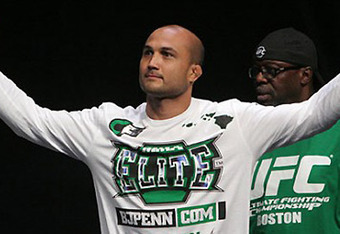 The way Penn sees things, it was difficult to fathom fighting someone he considers a friend, but it's part of the game. Perhaps when he was in his 20s, he had to be mad at everyone he fought, but at this stage in his career, he's just trying to fight the best fights that he can.
If getting in a cage fight with Nick Diaz will allow B.J. to live and support his family, then so be it.
"Everybody knows me and Nick have a personal relationship," he said. "It kind of turned me off at the beginning. It's just a job at the end of the day; it's just business."
One of the bigger criticism Penn has dealt with as a welterweight fighter is that he doesn't come into fights in the best condition. Many analysts give advantages to Penn's opponents in the later stages or championship rounds, predicting the Hawaiian fighter will gas out the further the fight goes.
Baby Jay shrugs this opinion off with a chuckle and dismisses any idea that he's not in shape to fight Nick Diaz.
According to recent history, Diaz is always in top condition to take on whoever stands across the cage from him. Penn says he's coming into UFC 137 just as prepared as the triathlete he's scheduled to face on Oct. 29.
"I always come in phenomenal conditioning!" Penn said while mocking the stigma of not coming to fights in shape. "I'm in great shape, he's in great shape. I got prepared."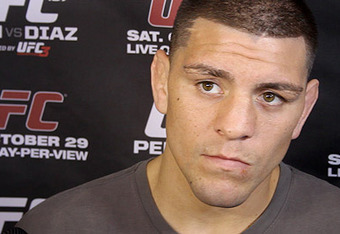 And as prepared as the former two-division champ is, one can't help but wonder if he has one more title run left in him. If anything, he'll probably have to get by Diaz in decisive fashion. "It's going to take an impressive victory," he said when asked what it will take to get back in the title picture.
If Penn finishes Diaz in the UFC 137 main event, the welterweight title picture might get a little more complicated. A finish will perhaps make B.J. Penn fight Carlos Condit in the near future just as they were originally scheduled to do.
The more things change, the more they stay the same.
--
Erik Fontanez is a senior writer and reporter for MMAWeekly.com. Follow him on Twitter @Erik_Fontanez