Detroit Tigers 2012 Trade Rumors: Two Bold Trades to Bolster Tigers Lineup
October 28, 2011
Kevin C. Cox/Getty Images
With a free agent class devoid of second basemen and third basemen (with respect to Aramis Ramirez), two of the Tigers' top needs, trading for those positions seems like the only option for a serious upgrade. I would like to propose two bold, possibly over the top, trades the Tigers would love to make.
First deal: Detroit sends SP Rick Porcello, SP Andrew Oliver, OF Daniel Fields, SP Casey Crosby and SS Gustavo Nunez for SS Hanley Ramirez and SP Rob Rasmussen.
This might be too one sided, but I think Jacob Turner and Drew Smyly are the starters Detroit wants to hold on to, and Nick Castellanos won't be moved unless it is for a third baseman.
Rick Porcello is still a young pitcher (only 22) who has already won 14 games twice in the majors. Andrew Oliver had some control problems, but according to MLB.com is Detroit's No. 2 prospect. Casey Crosby has struggled with some injuries, but seemed to have put that behind him in 2011. He is still a young pitcher who needs to refine his control and mechanics, but could be a middle to top type pitcher. He is ranked as Detroit's No. 4 prospect. Daniel Fields is a super athletic outfielder who is still several years from the majors. He is ranked as Detroit's No. 5 prospect. Shortstop Gustavo Nunez has a glove that could play in the majors today, but his bat is still a ways a way. If he's able to hit like he did at West Michigan, before moving up, he'll be an everyday player in the majors. He is ranked as Detroit's No. 10 prospect.
I think there is a pretty good amount of talent going to the Marlins in this deal. Four of the Tiger's top prospects are being included, as well as a starter who can easily slide in and be a No. 3 starter in the National League. The Marlins would need to find someone to fill in for Ramirez until Gustavo is ready to play in the Majors.
Kevork Djansezian/Getty Images
The Marlins obviously lose a big talent in Hanley Ramirez and Rob Rasmussen is their No. 10 prospect, according to MLB.com. He projects to be a middle to back end of the rotation pitcher if he is able to clean up his mechanics and location issues.
Detroit would need to address its rotation if this deal went through. While I think, right now, Detroit is planning on having the best of its minor league pitchers become their fifth starter, they would now have two holes in the rotation (Brad Penny's fifth and Rick Porcello's fourth). I think they would need to find a veteran starter to replace Porcello. One name, who I think would be a nice fit, is Bruce Chen. Chen is a lefty, something the Tigers need anyways, and has posted good ERA and solid win totals playing for the Kansas City Royals.
They would also have to decide what to do with Jhonny Peralta. Peralta played very well at shortstop this year, but short is Ramirez's natural position. Detroit could do what the Yankees did when they acquired Alex Rodriguez, and shift Ramirez to third. While I think moving to third is a shift Hanley could handle, I'm not sure he would agree to it. The other option is moving Peralta to third and letting Ramirez play short. If they go the latter route, the Tigers would have to decide what would happen with Brandon Inge.
Detroit's line up and rotation would look something like this.
1. Austin Jackson
2. Brennan Boesch
3. Hanley Ramirez
4. Miguel Cabrera
5. Victor Martinez
6. Delmon Young
7. Alex Avila
8. Jhonny Peralta
9. Second Base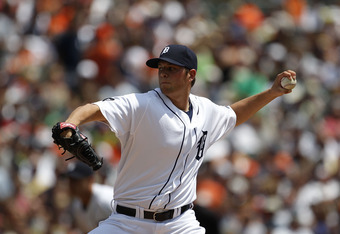 Leon Halip/Getty Images
1. Justin Verlander
2. Doug Fister
3. Max Scherzer
4. Free Agent
5. Minor league pitcher
Second deal: For some reason and, honestly it doesn't make a lot of sense to me, but the Nationals have been reported to be taking calls on third baseman Ryan Zimmerman.
Detroit sends 3B Nick Castellanos, OF Daniel Fields, RHP Jose Ortaga, 2B Will Rhymes, OF Clete Thomas and 1B Ryan Strieby in exchange for 3B Ryan Zimmerman and RHP Cole Kimball.
This is a six for two deal that again might be a bit more in favor of Detroit. I don't think the Tigers would agree to add Jacob Turner, but might be willing to add Andrew Oliver or Casey Crosby in place of one of the players listed. In this deal, Detroit would give up three of its top 10 prospects and two players who have seen time in the majors (Rhymes and Thomas).
Castellanos is a super blue chip prospect who projects to be in the majors by 2013 as a call up and 2014 as a starter. The Nationals outfield is weak, even with stud prospect Bryce Harper on his way. If Fields continues to progress as expected, he could pair with Harper to give the Nationals an above average outfield. Ortaga struggled with control problems this year, but has excellent stuff to be a back of the bullpen pitcher. Will Rhymes has shown some success at the major league level (end of 2010) and could provide an adequate back up or starter at the position as he plays good defense.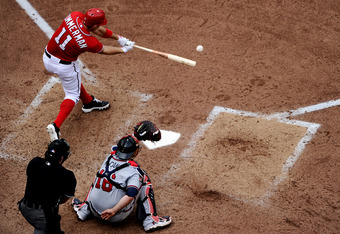 Patrick Smith/Getty Images
Clete Thomas should now be fully recovered from Tommy John surgery and can play all three outfield positions well. Thomas is probably a fourth outfielder type and defensive replacement kind of player. He has shown the ability to hit for average in the minors and bats left handed. There was some conversation about transitioning Strieby to the outfield, if that is still an option he could provide a nice stop gap until Harper is ready, or until Fields is ready. Strieby has power and could also be an option to back up first base.
The Tigers would be giving up their third baseman of the future, but Zimmerman is still young (27). Cole Kimball had to have season ending shoulder surgery, so his future is a little cloudy. However, before the injury he was showing the command and pitches to be an excellent back to the bullpen pitcher. Once healthy, Kimball would be in position to be the seventh inning guy Detroit has been in desperate need of.
Once again, Detroit would be left in a position where they had to decide what to do with Inge. It's possible, but unlikely, that he could be included in the trade to be a one year stop gap player at third for the Nationals. Detroit would most likely resign Santiago to be its second baseman, as Zimmerman's contract starts to get expensive in 2012 (12 million, and 14 million in 2013). Detroit would also need to be able to sign Zimmerman long term as they would no longer have a minor league replacement coming up.
For Washington, this deal makes some sense. The Nationals are still a couple of years from being serious contenders and Zimmerman will be a free agent about that time. Because of the cost of players like Jayson Werth, and the price to keep Strasburg and Harper long term, they may be looking to save a little money. Castellanos should be ready to be an every day starter by 2014, which is about the time the Nats will be ready to be serious contenders. Clete Thomas is a stop gap player, the Nationals got very little production out of their outfield in 2011 and Thomas, who is able to defend all three positions, would be valuable.
The Tigers line up would look like this if the deal went through.
1. Austin Jackson
2. Brennan Boesch
3. Ryan Zimmerman
4. Miguel Cabrera
5. Victor Martinez
6. Delmon Young
7. Alex Avila
8. Jhonny Peralta
9. Ramon Santiago (if resigned)
I think either of these deals would make the Tigers better now and in the long run. If Detroit is going to upgrade via a trade it will be expensive, but the cost of wining is rarely cheap.