UFC 137 Results: Win or Lose, Mirko Cro Cop Can Hold His Head High
October 29, 2011
Gary M. Prior/Getty Images
40 fights later, Mirko Cro Cop could be calling it a career against Roy Nelson.
40 fights that include one of the best heavyweights ever, Fedor Emelianenko, plus Josh Barnett, Antonio Rodrigo Noguiera and current No. 1 contender for the UFC heavyweight title, Junior dos Santos.
40 fights, and fans of Cro Cop cheered as they watched highlight-reel head-kick knockouts and watched how kickboxing in MMA is suppose to be done.
40 fights now, and Cro Cop—win or lose— can hold his head high.
Cro Cop has had an impressive career and has dazzled MMA fans since day one and even before that in his kickboxing career.
Now, Cro Cop is 2-3 in his last five fights, all against some pretty good or awesome heavyweights. Brendan Schaub, JDS, Pat Barry, Anthony Perosh and Frank Mir all grace those five fights.
Cro Cop has given us fans a great career, and I certainly love watching old Cro Cop fights, whether it be MMA or kickboxing.
Regardless, win or lose, Cro Cop has shown determination in coming back for one more fight and not wanting to go out on a devastating knockout loss in the third round to Schaub at UFC 128.
It's that pride and determination that everyone would love to have.
You can't deny the man an awesome going-away party, and tonight in Las Vegas, Cro Cop will hear the loudest applause he has ever heard.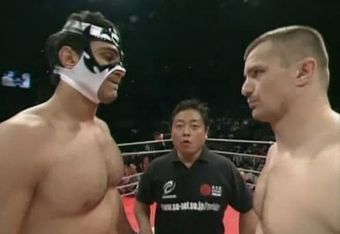 Everybody gets old at some point, and for athletes, the decline is inevitable. No matter what sport you look at, every legend eventually has to ride off into the sunset and leave behind the ones who cheer their names and move on. 
Cro Cop, much like the other athletes, has been a great fighter and very respectful. It was only a matter of time, though, for him.
Win or lose tonight, he can hold his head high and be proud of the career he masterfully created.