Top 10 Reasons the Raiders Should Sign JaMarcus Russell (Humor)
October 30, 2011
Jeff Gross/Getty Images
JaMarcus Russell was recently interviewed by Sports Illustrated about his experience in the NFL with the Oakland Raiders. In this interview he said he's working on a return to the NFL.
Let's take a look at the top 10 reasons JaMarcus Russell would be a perfect fit for the Oakland Raiders, again.
10. Money. JaMarcus Russell made so much money in his initial contract with the Raiders he can probably afford to play this season for free. The Raiders are spending a HUGE amount of money on NFL castaway failures and cannot afford to pay for a top notch QB. Russell may be willing to structure a contract that will help the Raiders.
9. Darrius Heyward-Bey CAN catch.
8. Jason Campbell makes JaMarcus Russell look like Michael Vick as far as scrambling is concerned. Campbell is as durable as the original light-bulb filament.
7. Oakland has some of the best hot dogs in the land. We know this guy can eat, and according to the Jets' Mark Sanchez, Oakland's got some wonderful tasting hot dogs (pause).
6. Khalif Barnes read How To Block for a Quarterback by Lincoln Kennedy, and it really improved his game this year. Now he has only allowed 12 sacks this year as opposed to his normal 37.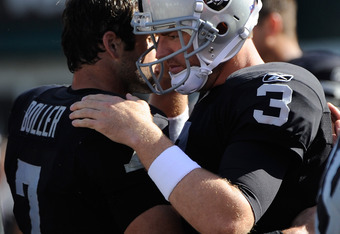 Thearon W. Henderson/Getty Images
5. Robert Gallery is starring in an upcoming film titled Tackle-less in Seattle.
4. Hue Jackson DOESN'T look like Curly Howard.
3. Kyle Boller probably can't even bowl either.
2. Louis Murphy discovered "stick'em."
1. "Parson Calmer" makes JaMarcus Russell look like Joe Montana.
Considering these 10 minor factors, JaMarcus Russell may be the answer for the Raiders' seemingly endless woes at QB since Rich Gannon. The Raiders have a solid team this year, and it would be a shame if they don't make the playoffs because of a quarterback once again.