UFC 137 Results: What We Learned from Mirko Cro Cop vs. Roy Nelson
October 30, 2011
Al Bello/Getty Images
Mirko "Cro Cop" Filipovic entered what was his 40th career MMA fight against Roy Nelson, and unfortunately, ended it as the loser at UFC 137.
Nelson was able to stop Mirko's poor takedown and pound him out for the win. Nelson controlled the fight on the ground really well and broke the will of Cro Cop.
Unfortunately this is one of the sadder "What We Learned" articles I've written, but here it is...
What We'll Remember From This Fight
The fact that this is probably Mirko Cro Cop's last fight. Cro Cop was pretty great standing, but when Nelson got him to the ground we saw some vintage "Nelson lay-and-pray."
What We Learned About Mirko Cro Cop
Cro Cop is planning to retire and seemed pretty defeated after the fight. The match ended in the worst way possible, as it looked like he just gave up and let his entire career die at the hands of Nelson's ground-and-pound.
What We Learned About Roy Nelson
Nelson showed great ground game like usual and controlled Mirko for most of the fight. His standup was working well for him, but when the fight went to the ground it was clear he was in control.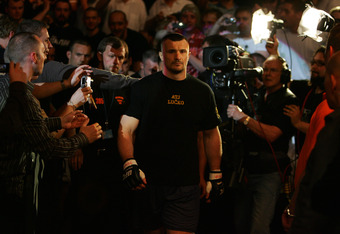 Gary M. Prior/Getty Images
What's Next for Mirko Cro Cop?
Like it's been said already, Cro Cop is most likely done in MMA. His attitude afterward and everything he said post-fight just leads you to believe it is over for the MMA legend.
What's Next for Roy Nelson?
Although Nelson may want the winner of Junior dos Santos vs. Cain Velasquez next week and a shot at the title, he won't get that. Nelson could get the winner of the Matt Mitrione and Cheick Kongo fight tonight.