Notre Dame Football: Oscar McBride Remains a Champion in the Community
November 2, 2011
If we are lucky, there will be a couple of times in our lives that we will have the opportunity to have a life-changing conversation. This was the case today when I spoke with former Notre Dame standout and one-time Arizona Cardinals tight end Oscar McBride.
Opening people's eyes to the positive side of athletics is what McBride does, and he does it well. 
As a four-year letter winner at the University of Notre Dame, McBride placed his hand on the fabled "Play Like A Champion Today" sign thousands of times. Today he uses the "Play Like A Champion" slogan to touch the lives of thousands of young people around the world.
To Oscar and his colleagues at the Play Like A Champion (PLC) Education Series, it's not just a group of words, it is a life-changing educational series geared at creating a positive climate in sports.
"Look at the word 'coach,'" McBride said. "In the early 19th century a coach was a means of transporting people and goods from place to place. That is what we as coaches do today—we try to transport kids to a positive place. A bad moment in coaching should be the exception, not the rule."
The enthusiasm in McBride's voice when he speaks about PLC is not only genuine, it is contagious.
PLC is under the direction of Dr. F. Clark Power, currently in his 27th year at the University of Notre Dame. Dr. Power is a Professor in the Program of Liberal Studies and Concurrent Professor in the Department of Psychology. He also served on the Notre Dame Faculty Athletic Board from 2001-2007.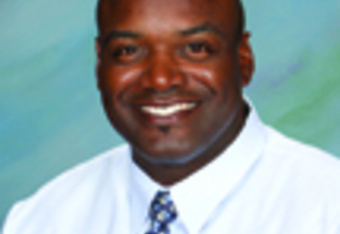 "I met Clark at a teaching/coaching workshop in Southern California in 2008," McBride said. "I don't think that I even would have attended the workshop had it not been for the title of the program, 'Play Like A Champion.' Me being a Notre Dame man, it caught my attention.
"I immediately bought into the philosophy of PLC," he said. "You have to adapt to bring out the best in your players on the court, diamond or track in order to bring out the best in your players in life."
A short time later Coach McBride made his first trip back to Notre Dame after 16 years. "I went back for a Summer Youth Conference," he said. "It was completely different going back to Notre Dame as a married father. I was honed in on the philosophies and the programs of PLC."
McBride, who received a Masters degree in coaching, athletic administration and exercise science from Concordia University after playing for the Arizona Cardinals in the NFL, was coaching at a Catholic high school in Orange County, Calif. at the time of his meeting with Dr. Power. Their philosophies meshed perfectly.
One of the core values that Dr. Power instilled in PLC is fostering growth in athletes physically, mentally, socially, morally and spiritually.
Both Dr. Power, a former coach, and McBride travel by the same code. "Children's natural inclinations to play and compete have given way to adults' interest in getting ahead in life," said Power.
"As a coach, you have to give the kids the opportunity to make a choice—ownership and winning go hand in hand," Mcbride said. "Their opinion matters. The best way to mold lives, to shape lives is to give these young people ownership. When we coach, we shape who you become as a man or a woman."
As the full-time Associate Director of PLC, McBride considers himself to be one of the most fortunate men on earth. He is doing what he loves and helping countless people at the same time.
Also on board with PLC is Kristin Komyatte Sheehan serves as the Program Director for Play Like A Champion Today. She coordinates PLC's educational and evaluation programs, develops curricula, and teaches a course on coaching and ministry for Notre Dame's Education, Schools, and Society undergraduate program in education. Kristin, who received her Masters degree in Counseling Philosophy is a three time letter winner at Notre Dame as a varsity cheerleader. Her athletic career was highlighted by being a member of the squad that cheered on the 1988 National Champions. In addition to her collegiate athletic experience, Kristin's role as a parent/coach for her children in gymnastics, soccer and baseball helps her bring a unique combination of skills and perspective to development of the PLC Initiatives.
In a powerful statement Kristin Sheehan stated, "A sports parents role is integral to a child's growth and effective development. Our Parenting Workshop offers practical, researched- based psychological advice that offer a winning combination for sports parents and coaches working together to help young athletes wholly grow ." 
The pure power of PLC was evident in McBride's voice when he spoke of a trip to Uganda last year. "We went to Uganda to minister, to serve," he said. "We were able to do so through American football. We would walk through a village to the school and the headmaster would give us a hard time, but after we explained what we were trying to do, somehow it worked out.
"We would set up a 20-minute slideshow in a chapel," McBride said. "We would teach with the help of a translator and take these kids out to play football. It was incredible. We taught them to become the best product that you can be.
"I was unsure about going to Uganda at first, I didn't even have a passport," McBride continued. "I asked Kevin Dugan, Director of Men's Lacrosse Operations at Notre Dame and a PLC consultant, what Uganda was like. He said, 'Once you know, you can't not know.' That was profound.
"[Dugan] told me to come to Uganda and teach them the meaning of what it means to be a champion, teach them American football," McBride said. "In Uganda we were able to minister through sports, we were able to teach good decision making and cardinal virtues. It was phenomenal."
McBride is strong in his convictions, one of which is the belief that professional athletes today need to get more involved in noble causes off of the field. "I would love to see more professional athletes become more involved, show the kids that there is more to being an athlete than what you see on television," he said. "They need to take time to minister, this generation of kids needs for us to give back to them. As a coach I give 100 percent of who I am."
Who McBride is, is a man with a mission. That mission is to spread the word of "Play Like A Champion." He is a man that sends you away from a conversation a better person than when you went in.
Jim Sheridan is a Featured Columnist for Notre Dame Football. All quotes were obtained firsthand unless otherwise noted. Jim can be reached at jimsheridan68@gmail.com