Formula 1: Why Force India Would Be Foolish to Let Go of Adrian Sutil
November 1, 2011
Clive Rose/Getty Images
Force India's boss Vijay Mallya made a positive proclamation in that he will name his team's 2012 drivers within a week of the Indian Grand Prix.
This decision, it has emerged, arrived at the request of Adrian Sutil who is undoubtedly concerned about his security in the sport with rumours of Nico Hulkenberg instead joining Paul Di Resta for next season.
Whilst many do not consider Adrian to be a driver capable of winning Grand Prix or Championships, there is a certainty that he can perform consistently and to a credible level. 
He is the type of driver that, once out of one team, would slot efficiently into place at another. You would indeed be taken aback if he could not gain a seat full stop. 
But then we must remember what happened to Nick Heidfeld. Heidfeld was outclassed by Robert Kubica in his last season at BMW but was far from out of the game. As a driver who was by no means the weak link in the field, he showed promise. 
Yet BMW chose not to keep the German, and he then found himself without a first team drive. In a sport where the likes of Nelson Piquet, Jr. had sustained a drive after lacklustre mediocrity some were surprised at this, and others were rightfully appalled. 
Adrian Sutil may have a saving grace if Mallya opts for former rookie Hulkenberg. He may seize an opportunity at the flailing Williams team. Frank William's outfit are in need of a talent to subvert a season which has witnessed disastrously slow pace and results. 
A slight cause for concern is talk that former World champion Kimi Raikkonen may also be in the running for the Williams drive, leaving Sutil with even less possible transfers.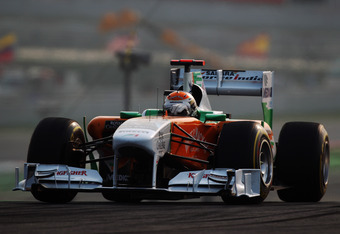 Mark Thompson/Getty Images
Whilst most have focused on this possible move to Williams, what seems to have been forgotten is the injustice that would be served if Force India were to deny him a further season at the team. 
Paul Di Resta has been a stunning new star. The Scot has thrust himself into the sport and into a reputation that predicts big things for him in the future. 
He has certainly kept Sutil on his feet, ensuring that he has not just assumed the No. 2 position. Out of all the teams this season, the pairing subsequently appear as the most level pegged of teammates. 
Yet it is Adrian who has scored more points, it is Adrian who has relied less on strategy to gain points scoring finishes and it is Adrian who therefore should sustain his seat at Force India and allow a further season of enticing competitive action between himself and his teammate.
Another aspect to consider is the position of Force India within the pack. When they first brought the Spyker team in late 2007, their first season just months later saw very little in the way of performance. They were back-end runners who faced an uphill struggle to survive.
From an outsider's point of view, the team was in doubt of having the ability to continue. The grim reaper seemingly had his eyes on them. 
Circumstances did change for the better though, and their improvement over the next couple of seasons was dramatic. 
And whilst in their second season most will remember Giancarlo Fisichella's pole and podium finish in Belgium, it was Adrian who over the course of the season spearheaded the team in the right direction. 
It was only fair that in the following race he took the limelight back with a confident and effective fourth-place finish in Monza. 
Points finishes then began more commonplace as the team bulldozed their way into the midfield. Sutil remained the stronger driver against Vitantonio Liuzzi in 2010 and has remained a regular points scorer this season. 
Apart from Nico Hulkenburg's surprise pole in Brazil, Force India's alternative candidate did little to cement himself in the forefront of spectators' minds. Unsurprisingly, he did not subsequently gain a seat for the 2011 season. 
Whilst you may ponder the idea that he deserves a second try in Formula 1, you can't help but think that this should not take the role away from someone who is evidently more capable at succeeding in it. 
The sad fact of the matter is that if Sutil were to join Williams, he would be dropping into decline. Unless the outfit were to improve vastly for 2012, Sutil would be relegated to scraps for pride as opposed to points. 
At Force India his impact would be so much more. Sutil, Di Resta and the team as a collective are looking to close in on Renault for fifth. So why change the dynamics which have elevated them to their promising position right now?
If they could continue upwards in future campaigns, then what is to stop them from tackling the likes of Mercedes and afford Sutil the opportunity to gain a much-warranted and much-deserved debut pole position?
As an overall case for Sutil's need to stay at Force India, I would implore Vijay Mallya to think carefully about who will actually take his team to newer heights and utilise the mass of above-par results that Sutil has gifted to the team.