Manny Pacquiao, Floyd Mayweather and the Pound-for-Pound Top 25
November 1, 2011
Michael Loccisano/Getty Images
It's time for the often contentious, entirely subjective, pound-for-pound rankings. The first rule: there are no rules.
"Pound-for-pound" is a way of evaluating fighters, regardless of weight. Obviously Vitali Klitschko would stomp Manny Pacquiao if they ever fought, but what if Pacquiao was a natural heavyweight? This is based on recent career, quality of opposition and the infamous "eye test".
It's no secret that guys like Lucian Bute or Yuriorkis Gamboa are generally more visibly spectacular than technicians like Bernard Hopkins or Floyd Mayweather. But are they really "better" fighters? Here's my take—the pound-for-pound 25 best fighters in the sport:
1) Manny Pacquiao (53-3-2)
Pacquiao hasn't faced the most sterling opposition of late, but in a real "pound-for-pound" sense he remains the preeminent fighter in the sport, having rocketed through the weight classes and dominated bigger foes over the last few years.  
2) Floyd Mayweather (42-0)
A strong case can be made for Mayweather as the sport's finest practitioner. Though he looked superb in the early rounds against Victor Ortiz in September, the abrupt ending to that fight left me with too small a sample for Floyd to usurp Manny in the ratings just yet.
But let's not forget that Pacquiao became the P4P No. 1 when Mayweather retired briefly after beating Ricky Hatton. The evidence from Mayweather's post-comeback fights (Juan Manuel Marquez, Shane Mosley, Ortiz) only suggests a master still at the peak of his powers.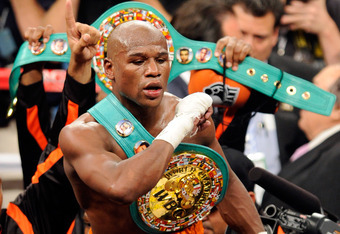 Ethan Miller/Getty Images
3) Sergio Martinez (48-2-2)
Over the past year, Martinez has faced the toughest opposition of any top-ranked fighter. Ironically, he may have looked his worst against his least regarded foe, Darren Barker. It was later revealed that Martinez had suffered a few nagging injuries in training. Even so, Martinez was winning the fight on points and eventually knocked Barker out in the 11th round.
4) Nonito Donaire (27-1)
Donaire is a fighter with the total package: speed, power and charisma are his most formidable attributes. Currently the top-ranked bantamweight in the world, Donaire will likely have to move up two divisions in weight to find any kind of legitimate challenge. He's an absolute beast at 118 lbs.
5) Juan Manuel Marquez (53-5-1)
Marquez is many things: a master boxer-counterpuncher, a brave warrior with remarkable will and the legitimate lightweight champion of the world.
He's also the man who's fared the best against the 2003-present version of Pacquiao, dueling to a draw and a disputed split-decision loss in two fights. Erik Morales beat Pacquiao of course, but he also got brutally knocked out in two rematches.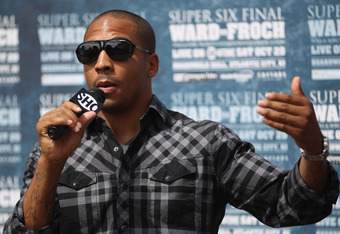 Tom Shaw/Getty Images
Marquez and Pacquiao complete the trilogy on November 12, and I'm not expecting the type of even battle the first two contests delivered. Pacquiao has grown into a full-fledged welterweight, retaining his speed and power. Pacquiao has taken punches from bigger guys (Miguel Cotto and Antonio Margarito, to name two). 
Marquez' lone welterweight fight was a 12-round drubbing from Mayweather. He looked slow and flabby. Marquez will never quit, but if I were a gambling man, I'd say there's a good chance he gets stopped for the first time in his career.
6) Andre Ward (24-0)
Ward has broken out from a Super Six tournament dark horse two years ago to the top-ranked super-middleweight in the world. He fights like a crafty veteran, working a stiff jab, sound defense and footwork and employing all the classic tricks, such clinching, accidental butting, etc.
Ward's style isn't always pretty, but it gets the job done, stifling all challengers and rendering them ineffective after a few rounds. He faces by far his stiffest test against the tricky Carl Froch on December 17.
7) Bernard Hopkins (52-6-2)
That sixth loss tainting Hopkins' record will likely be changed to a no-contest soon enough—the result of an incidental foul from Chad Dawson on October 15.
Hopkins, the wily 46-year-old light-heavyweight champion, is not exactly beloved by fight fans. The entire object of his style is to create exactly the kind of fight that bloodthirsty fans detest.
He's not in there to take, or even give, a savage beating for our entertainment. He's in there to win, by whatever means necessary, legal or illegal.
One look at his illustrious resume and it's clear just how much Hopkins has accomplished throughout his hall-of-fame career.
8) Vitali Klitschko (43-2-0)
Wladimir Klitschko, Vitali's younger brother, is the legitimate heavyweight champion of the world.
But I personally believe that Vitali is the better fighter—and I have to rank him as such.
Wladimir soundly defeated David Haye, unanimously regarded as the next best heavy behind the brothers, in July. Yet it was not an entirely impressive performance, largely because Haye wouldn't open up.
Vitali, on the other hand, thoroughly decimated Tomasz Adamek, consensus No. 4 heavyweight, in an embarrassing mismatch from the opening bell. Adamek had nothing to be ashamed of—he fought his heart out. Vitali was just too big, too skilled and too relentless for the former cruiserweight to stand any chance.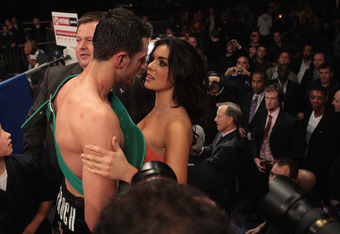 John Gichigi/Getty Images
9) Yuriorkis Gamboa (21-0)
Gamboa is a special fighter, a beast at 126 lbs. He has lightning-quick hands and is built like a tank, with striking, concussive power. The man has one of the brightest futures of any fighter on this list.
Gamboa's last fight was a clunker against Daniel Ponce De Leon, another entry in this year's list of boxing duds. Prior to that, he lived up to every bit of the hype in a dazzling five-knockdown whupping of Jorge Solis.
Gamboa recently signed hall-of-fame trainer Emanuel Steward. With Gamboa's natural gifts and his ever-increasing arsenal of boxing skills, the sky's the limit for the Cuban former amateur star.
10) Carl Froch (28-1)
I had to get my boy Carl in the top 10, even if there's a few guys below who may have stronger claims.
No one can boast the type of opposition Froch has faced, except the aforementioned middleweight champ Martinez. Over his last six fights, Froch has gone 5-1 over top divisional contenders Glen Johnson, Arthur Abraham, Mikkel Kessler, Andre Dirrell, Jermain Taylor and Jean Pascal. And his next fight is against consensus division No. 1 and pound-for-pound ranked Andre Ward.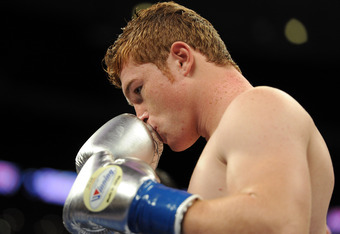 Harry How/Getty Images
If Froch can defy the odds and topple Ward for the Super Six tournament championship, he may finally get the respect he deserves as one of the best fighters in the sport. And he has the hottest girlfriend of any fighter this side of Bella Gonzalez.
That's gotta count for something.
The Best of the Rest
11) Wladimir Klitschko (56-3)
12) Giovanni Segura (28-1-1)
13) Amir Khan (26-1)
14) Tim Bradley (27-0)
15) Miguel Cotto (36-2)
16) Pongsaklek Wonjongkam (83-3-1)
17) Brandon Rios (28-0-1)
18) Lucian Bute (29-0)
19) Abner Mares (22-0-1)
20) Chris John (45-0-2)
21) Toshiaki Nishioka (39-4-3)
22) Chad Dawson (31-1)
23) Erislandy Lara (15-1-1)
24) Robert Guerrero (29-1-1)
25) Tavoris Cloud (23-0)
Five Guys Likely To Be There Soon

Saul Alvarez (38-0-1)
Gary Russell Jr. (18-0)
Adrien Broner (21-0)
Roman Gonzalez (30-0)
Ismayl Sillakh (16-0)