BCS Projections: Alabama, Oklahoma State Destined for Championship Showdown
November 2, 2011
Kevin C. Cox/Getty Images
The Alabama Crimson Tide and Oklahoma State Cowboys are on a crash course to meet on Jan. 9, 2012, at 8:30 p.m. in New Orleans.
Sorry, LSU fans, but you all won't be getting the opportunity to compete for the BCS championship in your home state.
Alabama and Oklahoma State have both been dominant this year and have the favorable schedule down the stretch.
The Tigers and Crimson Tide clash this weekend in Tuscaloosa, Ala. in a game that will likely be the unofficial national championship. That stadium is going to be shaking. The energy level will be through the roof, and the Crimson Tide will bring home a victory.
Both teams are elite. They both have incredible defenses and very good run games, but home-field advantage will be too much for LSU to overcome. Alabama is giving up just 6.9 points per game this season while scoring nearly 40 points per game. The Tide are annihilating teams on a regular basis and will knock off the Tigers in this epic matchup.
Up to this point in the season, Alabama's rushing attack and pass offense have been slightly better. The Tide are averaging 40 more rushing yards per game and 45 more passing yards per matchup than the Tigers.
The thing that makes Alabama so elite is its defense. The same can be said for LSU, but Alabama's defense is incredibly impressive. The most telling statistic about how good the Crimson Tide defense can be relates to three-and-outs.
Entering the Tennessee matchup, Alabama was forcing three-and-outs on 44 percent of possessions. As an offensive coordinator, how can you possibly scheme against that?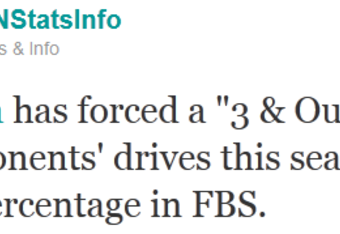 It's nearly impossible. The Tigers will struggle to pick up first downs, which will likely lead to good field position for the Crimson Tide. Trent Richardson will take the game over from there and will prove why he should be the Heisman Trophy winner.
Much like Alabama, Oklahoma State has a distinct advantage over Stanford and Boise State. The Cowboys' schedule is more difficult than both those teams, and they are already locked into the No. 3 spot. There is almost no chance they will be leaped this weekend, and they will move into the No. 2 spot after LSU falls to Alabama.
Like Alabama, their schedule simply favors them. They have two remaining matchups against ranked opponents, but both of them come at home in Boone Pickens Stadium.
Don't expect the Cowboys to lose there. They bring arguably the most dynamic offense in all of college football to the stadium each Saturday. They have the No. 4-ranked passing attack and the 41st-ranked rush game. They are the second-highest scoring team in the country and are winning each game by an average of 23 points.
Good luck, Oklahoma and Kansas State. The Sooners actually rack up more passing yards per game, but have struggled to pull away from teams. They have found themselves in some tough games against inferior opponents, including 10-point victories against Florida State and Missouri.
The Sooners are good, but OSU will use its home field to "Gundy" its way to New Orleans.
| Rank | Team | Points |
| --- | --- | --- |
| 1 | LSU | .9734 |
| 2 | Alabama | .9591 |
| 3 | Oklahoma State | .9310 |
| 4 | Stanford | .8615 |
| 5 | Boise State | .8522 |
| 6 | Oklahoma | .7760 |
| 7 | Arkansas | .7033 |
| 8 | Oregon | .6916 |
| 9 | South Carolina | .6177 |
| 10 | Nebraska | .6156 |
| 11 | Clemson | .5961 |
| 12 | Virginia Tech | .5683 |
| 13 | Houston | .4698 |
| 14 | Kansas State | .4600 |
| 15 | Michigan | .4512 |
| 16 | Penn State | .4022 |
| 17 | Michigan State | .3076 |
| 18 | Georgia | .2899 |
| 19 | Arizona State | .2362 |
| 20 | Wisconsin | .2159 |
| 21 | Texas | .2117 |
| 22 | Auburn | .1490 |
| 23 | Georgia Tech | .1276 |
| 24 | West Virginia | .1139 |
| 25 | Southern Miss | .0944 |