Mike Quade Fired: Cubs Manager Won't Return in 2012
November 2, 2011
Andy Lyons/Getty Images
This shouldn't be a shocker to anyone.
Mike Quade has officially been relieved of his duties as the manager of the Chicago Cubs. According to Paula Faris of NBC Chicago, Theo Epstein flew down to Florida to inform Quade in person that he was being let go by the club.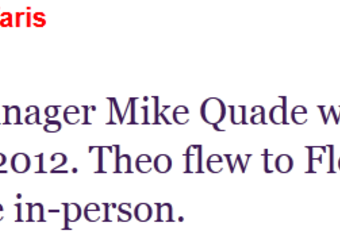 After releasing Quade, Epstein spoke with the USA Today about the move as well as the direction of the Cubs.
"When I joined the Cubs last week, I knew that Mike had a reputation as an outstanding baseball guy, as a tireless worker, and as a first-rate human being," Epstein said. "After spending some time with him this past week, it became apparent to me that Mike's reputation is well deserved. His passion, knowledge of the game, commitment, and integrity stood out immediately. While Mike is clearly an asset to any organization and any major league staff, Jed and I believe that the Cubs would benefit long-term from bringing in a manager for 2012 who can come in with a clean slate and offer new direction."
Epstein is right. The club needed to move on without Quade. He wasn't winning games, and Epstein wants to bring in his own guy to get the job done.
This shouldn't be considered a surprise at this point, especially with talk of Ryne Sandberg floating around. Ryno is currently managing for the Lehigh Valley IronPigs, a Triple-A affiliate of the Philadelphia Phillies.
Epstein recently admitted to ESPN 1000 that it was too soon to talk about Sandberg or any other potential Cubs managers. However, Quade was still under contract at that time, and Epstein was saying all the right things if he was looking to lure Ryno back to Chicago.
"Ryne Sandberg obviously was a great Cub, great player, great guy by all accounts, but he's a Philadelphia Phillie. He's a Triple-A manager."
With Quade out of the picture, Epstein now has a chance to land his guy.
Don't be surprised to see Sandberg back in the dugout at Wrigley Field next season.