Preparing for Life Without the Minnesota Vikings (Thanks to Rep. Kurt Zellers)
November 4, 2011
Scott Cunningham/Getty Images
[keep in mind this article was first drafted days ago before talk of a revived special session, now possible in late January according to reports today from the Star Tribune)
With the news breaking late last night that Minnesota Governor Mark Dayton will no longer call a special session nor present his funding proposal Monday, its pretty safe to say that the Minnesota Vikings will soon announce that they will be exploring relocation options and we all know that is code for snooty, plastic, Hollywood Los Angeles.
Vikings fans will correctly blame the 2011 conservative Majority-Republican Minnesota Legislature; after all, this is the same bunch of ideological idiots that caused the state to go into Government Shutdown with their inability to compromise with the other side.
The main obstructionists are, if you have been following the drama: Minnesota Speaker of the House Kurt Zellers, Representatives Linda Runbeck, Joyce Peppin (all Republicans) and Ann Lenczewski, a Democrat. Here are a list of more Republicans who are trying to chase our Vikings away. Do you see the party that is causing all the problems?
On the Senate side, Vikings fans can blame Republicans: Senate Majority Leader Amy Koch, but more importantly, inept Freshmen Senator Dave Thompson-Lakeville and David Hann. Hey, maybe idiocy starts with being named David in the Minnesota Senate?
You can contact the House members here. Just remember, when its time for re-election, who to kick out of office.
I've emailed them over and over warning that if they should oppose the Vikings stadium, or even worse, do nothing and simply allow the Vikings to walk away, they will lose their Majority, but they don't care. When you send out roughly 170 emails in a mass email to both the Minnesota House and Minnesota Senate, and you only get 15-16 replies, like I have, then you know where they stand. There are even rumors that Zellers may be running for Governor in 2014. If that happens, good luck Governor Dayton. I wouldn't want to run on the platform that I (Zellers) ran the beloved nostalgic Nordic Vikings out of the state and expect to win.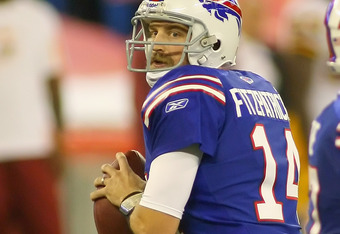 Rick Stewart/Getty Images
While normally in economic times like this, I would admire this legislature's fiscal responsibility, when it comes to professional sports, and saving a sports franchise, I support throwing rules and cost limits out the window. Whatever it takes, whatever it costs is my motto. Now it appears that this fiscal responsibility came back to bite Vikings fans in the behind as it affected an issue they loved.
Just the first, but not last team, to fall to the Economic Recession
Ladies and Gentleman, it appears we have our first professional franchise victim of the three-year economic recession, the team formerly known as the Minnesota Vikings. But I am not really worried, because soon there will be other teams that will join my pain. The San Diego Chargers face similar long-odds of getting anything done with a new stadium in San Diego County, and even if they did, its expected to be met with a mandated voter referendum, which almost always gets voted down, especially in times like this.
Next, in 2014 the St. Louis Rams lease is first eligible to be broken, which it probably will because of their inability to get a new stadium, and finally, the Jacksonville Jaguars lease runs out in 2029, and its hard to imagine with their meager fan base and annual blackouts them renewing or staying in North Florida for that matter.
What a shame it will be in 2012, when the Jacksonville Jaguars, of all teams, and the San Diego Chargers will still exist, but the 51-year old NFL pillar, the Minnesota Vikings, will not. While Mark Dayton will go down as the Governor who lost the team, he can't build a stadium if the moron Republican leadership, like House Majority Leader Kurt Zellers, don't let him because he rallied the troops at the 11th hour and opposed a special session, which he did in a mass-email to his House members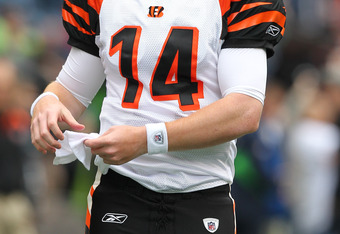 Otto Greule Jr/Getty Images
yesterday.
The thing I hate about the NFL and relocation is how secretive the whole process is compared to other sports. In the NHL, we heard about the Atlanta Thrashers and Phoenix Coyotes problems for years. In the NBA, it's probable that the Sacramento Kings and New Orleans Hornets will not survive the NBA lockout, but in the NFL, the first time you are going to hear about NFL relocation is after it already is signed off. In this case, with an inept ideological legislature, the Vikings lease officially runs out February 1, 2012 and owner Zygi Wilf will likely make an announcement of an intent to relocate two weeks later on Ferbrary 15, 2012, which is the first day he is eligible. My guess is he'll sell to AEG owner Phillip Anschultz whose connected to Farmer's Field.
I don't want to say "I told you so, but I told you so"
Not so much on this forum, but on the Vikings ESPN message board, and with members of my own family and a few of my friends who never thought it would get this far—I told you so. After rehashing arguments about the Minnesota North Stars and Minneapolis Lakers, only to get my arguments rebuffed, it appears I was right and they were wrong.
But for weeks, half of my kind of wanted this to happen. The Minnesota Legislature needs to be embarrassed for their unwillingness to do anything, and this is an issue that should get plenty of national attention since sports franchise relocations are rare. The NFL hasn't had one since the 1997 Houston Oilers and it appears come 2012, the Minnesota Vikings will be next.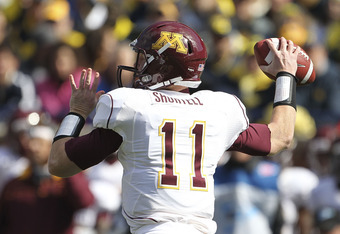 Leon Halip/Getty Images
If it wasn't for the finality of it all, I'd sort of be sitting back laughing and waiting for the public outcry that will come when reality finally sits in and Minnesota realizes they don't have a team and 5-10 years from now they will want one again. Its possible that any of the teams: St. Louis, San Diego, Jacksonville, or Buffalo could relocate to Minnesota, but its more likely that the 15th largest media market will be shut out as those cities use Minnesota as a pawn to get their stadium upgrades the same way L.A. was used all these years.
But you also have to realize that Minnesota is a stupid state politically. They support teams when they win—just look at the ghost town that has become the Target Center and the Minnesota Timberwolves, but in 2003-04, it was the place to be.
Minnesota has a long history of doing things backwards, like they have here, despite their BS reputation of being a progressive state. It took them so long to approve Target Field and TCF Bank stadium when other markets would have snapped their fingers and found a way. What University of Minnesota Golden Gopher fans have been enjoying since 2009 with an open-air collegiate stadium with tailgating, on campus, their Big Ten rivals like Wisconsin, Iowa and Ohio State have known no other for the past 40-50 years or so.
That's how far behind Minnesota is sports-wise. They just don't get it.
People claim to be Wild fans as Minnesota is supposedly "The State of Hockey" but what that really means is it is popular at all levels, especially High School and College. When it comes time for athletes to get professionally paid, Minnesotans get turned off with all this and I think a lot of this logic goes back to their Scandanavian backgrounds, or so I've been told.
The Twins somehow miraculously had the #4 attendance in MLB last year despite a putrid team lead by a clueless putrid General Manager in the overmatched Bill Smith. Another bad year like we saw in this past one, and those numbers will start to decline despite the beautiful brand new park. But lets be honest here.
It really should have been worse, Target Field really never should have been built
In all reality, Target Field never should have got built. This Minnesota Legislature would have required a public vote that would have failed, nor would they have negotiated with Carl and Jim Pohlad the same way they gave the finger to Zygi Wilf.
The thing that is going to help bridge the NFL gap is knowing, in reality, Minnesota really should have lost baseball as well as football in just a five-year span. So every time you go to Target Field, or next fall when you pine for football, just remember, as Minnesotans it could have, and it really should have, been worse.
Now that Minnesota is about to lose professional football, its all the more important that their remaining teams start winning and step up. The WNBA champion Minnesota Lynx did a nice job of covering the wounds of the rest of the teams that simultaneously were terrible this past calendar year, but they can't be expected to do that every year, and what's more, the WNBA is a niche summer league.
I am not ready to give up on the Twins because Target Field, which is still an attractive destination for sports fans, and free agents, and with roughly $30 million to spend this off-season, provided it doesn't all go to overrated Michael Cuddyer, the Twins should be players for some B-level free agents for the first time in a long time.
The Timberwolves have no hope of legitimately competing for the NBA title under the current system where players like LeBron James, Dwayne Wade and Carmelo Anthony run the asylum. They are too busy running around the world being "Rock Stars" with their World Tours" and promoting their own brand, when they should be staying here and supporting their teammates, especially those that make league minimum—those who this lockout is affecting the most.
Still, I've also made it very clear that I'd rather the entire season lock out, that perhaps two seasons get lost, rather than go back to the no-parity-big-market favoritism, Super Team crap that we had this past year. LeBron, Wade, Bosh and Co. are in for a cold dose of reality if they think that a 4.5% pay cut (57% BRI (basketball related income) to 52.5% hurts, because you can't out-wait a Billionaire owner in a game of "who blinks first", for they will win every time. On this issue, I am on the side of David Stern, because he works for the small owners, and I don't ever want to see a player like LeBron ever control a market like the way he did Cleveland.
The Wild mess with fans every year. This year I still feel they should back in to one of the lower seeded spots, that is, if they can find another compliment scorer. Still, they always seem to be one 30-goal sniper short, and this year is looking to be no different, despite the hype of Devin Setoguchi and Dany Heatley, who haven't done enough yet.
Finally, the Gophers big win over their rival University of Iowa this past weekend was huge because not only did they keep Floyd of Rosedale, one of four coveted Big Ten trophies, but in doing so, reminded people "Hey, we're still around, and we'll do what we can for what's left of the football-starved fans" (whose void needs to be filled by bitter Vikings fans).
Not totally against L.A. returning, I just didn't want it to be my team
For me personally, I am encouraged by the Buffalo Bills and Oakland Raiders return to relevancy, since they were great when I was first becoming a football fan. It won't be the same cheering for them, but I'll do my best. There are also a lot other good NFL stories, such as in Cincinnati, with Andy Dalton's development, The Miami Dolphins, provided they get who I believe to be the next Peyton Manning, in Andrew Luck, and even the Detroit Lions. Will I still be an NFL fan? Sure, casually. I won't have my own team, at least not until 2030 at the soonest.
I wanted the Raiders and Rams to return to Los Angeles, and it has absolutely nothing to do with the Vikings beating them there first. This is how I first remember the NFL, and it just seemed right.
With Carson Palmer officially going back home, as he is a Southern California kid, similar to Jim Plunkett in the 1980's. Chris Long of the St. Louis Rams never played in L.A. like his daddy did, so it means nothing to him, but it still would have been cool. For those who have seen Ice Cube's "Straight Outta L.A.", this is what I wanted, a nostalgic return for these historic teams.
Now the best I can hope for is pray the greedy L.A. market can come up with their own mascot name and leave the Vikings name, colors, logo and historic legacy in Nordic Minnesota where it belongs, but, looking at the Lakers and the Brooklyn Trolley Dodgers, I think we have our answer. The Minnesota Blue Ox or Minnesota Northern Lights 30 years from now just doesn't have the same ring to it, just ask the NHL's Minnesota Wild.
The saddest part is, we all know that football will fail long term in L.A. Not only has it failed twice, but its a majority Hispanic population, and one that not only can't afford ticket prices (who can?), but their first love is soccer. After the first few years, once the Kardashians, Hilton's and McCall's, among other reality show divas, have got their fill of the shiny new stadium, and especially if the team loses, L.A. will go back to being a Laker town, and that isn't even their team to begin with! Where is there one lake in either L.A. or Orange County?
Vikings fans, just remember who the politicians are that made this happen and vote them out of office as soon as you get the chance. We know who they are; after all, some have written opinion pieces in the Star Tribune while others are quoted on a near-daily basis opposing everything from gambling, to Legacy Funds, to taxes rising, to everything in between. It shouldn't be too hard to figure out which party made this happen, after all, we got TCF Bank stadium and Target Field built under Democratic control.
Democrats haven't exactly been helpful either. Make no mistake, it's a collective effort of error and idiocy, but when Republicans are in control, and they had the numbers and the power to stop this inevitable move yet did nothing, they deserve the lion's share of the blame. Of the 16 emails I received back, all but one were from Republicans, suggesting Dumbocrats couldn't even take that much time to email me back.
As I've told them, but now I repeat, expect a Minnesota legislative flip in 2013 on the basis of this failure to do anything to save the Vikings, as well as their involvement in the 2011 Government shutdown. That means a Republican Governor in 2013, but, also, with a liberal Democratic legislature. Yay! More BS gridlock, such is life in the Minnesota legislature.
Information and references from the Minnesota House and Senate website, Minneapolis Star Tribune, ESPN's and Ice Cube's documentary, "Straight Outta LA" contributed to the content of this article.