Occupy Fantasy Football: Three Players Fantasy Owners Should Protest Against
November 5, 2011
Grant Halverson/Getty Images
This has been a historic year for protests in the United States and across the world. I think it is time another faction comes together and voices their displeasure about another group of high-priced men who are costing millions of people millions of dollars. 
There are plenty of players upsetting fantasy football owners this season, and these owners are just as disgruntled as those protesting down on Wall Street in New York City and in other parts of the civilized world.
The owners wasted high draft picks or spent costly auction prices on these guys and have received terrible returns on their investments. Now they may not finish in the money in their leagues due to these players, which will indirectly affect the nation's economy since these people will have less money to spend.
Sorry Johnny, you are not going to get that brand-new bike you wanted for the holidays because Mommy and Daddy thought a talented Tennessee tailback was going to rush for 1,500 yards. Instead, please enjoy this Memphis Maniax XFL jersey from 2001!      
So, I am imploring fantasy owners to unite and start picketing outside the stadiums where the following three players suit up at on Sundays. This threesome deserves to watch throngs of their impatient fantasy owners boo at them in unison and hold up signs like, "Thanks for putting my fantasy team in last place! Will you pay my mortgage when they come to foreclose on my house?" 
Chris Johnson, Tennessee Titans
Most players who hold out for a couple extra million dollars work out while their contract negotiations are ongoing. It appears Johnson instead opted to work on ways to become a step slower.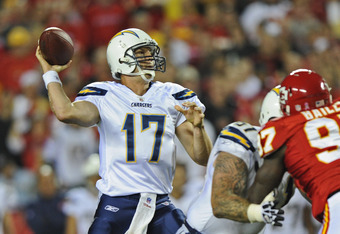 Peter Aiken/Getty Images
Johnson was the fastest man in football just two years ago. Remember his 2,000-yard year? The guy broke a 50-yard run faster than a Kardashian comes out with a new product to sell. And he caught passes and scored touchdowns, too. With all respect to Lex Luger, Johnson was fantasy football's total package.    
So how did Johnson lose all his speed? Did it vanish as he signed his new $53 million contract like something out of a Stephen King novel?  Is his paper-thin offensive line not letting him get out of the gate?  Or was he in poor condition when he finally returned from his holdout and that put him behind a couple eight balls?  I will halve my bet on options two and three.   
Johnson was probably drafted in the first round in most fantasy leagues. He currently has 302 rushing yards, one touchdown and a 2.8 yards per carry average in seven games. That is worthy of a 21st-round pick, not a first-round pick.  
The insult of all insults came last Sunday when Johnson could only muster 34 yards against the Indianapolis Colts, a team ranked 31st in run defense, who shuts down running backs about as often as Terrell Suggs shuts up.
Johnson might end up losing his starting spot to backup Javon Ringer to put the icing on the fantasy cake. If that happens, Johnson will easily be the biggest bust in fantasy football this year and quite possibly over the past decade. If you ever hold out again, Mr. Johnson, please take a page from the Terrell Owens' playbook and at least do some sit-ups in your driveway.    

Philip Rivers, San Diego Chargers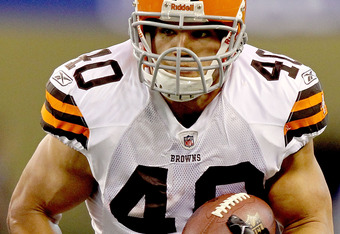 Matthew Stockman/Getty Images
Rivers' trash-talking, strange-throwing act is growing staler than Gallagher's watermelon-bashing routines.
Fantasy owners have no trouble putting up with Rivers' nonsense when he is throwing for 300 yards and a couple touchdowns on a weekly basis, but those games have been fewer and farther between than ever before for him. He has not had a two-TD passing game since Week 2. Meanwhile, he has had five two-INT games this season. Rivers' 7-to-11 TD-to-INT ratio has rankled his fantasy owners to no end.    
Passing yards have been easier for Rivers to come by. He has four 300-yard games in seven contests. Too bad the negative points his interceptions bring fantasy owners, and the lack of touchdown tosses have evened the yardage out.
Rivers was likely drafted right up there or right behind other superstar quarterbacks like Green Bay's Aaron Rodgers, Philadelphia's Michael Vick and New England's Tom Brady. Meanwhile, Tennessee's Matt Hasselbeck and New York's Mark Sanchez have had better seasons. 
Rivers' receivers and tight ends are all finally healthy—for now. His offensive line and running backs are still a mess thanks to San Diego being the most injury-prone team in the NFL, but most of the blame for Rivers' poor fantasy stats should be shouldered by Rivers himself.
Fantasy owners can only hope that Rivers has a superb second half of the season like he normally does to make up for the fiasco of a first half he has put together.  

Peyton Hills, Cleveland Browns
The "Madden Jinx" has claimed another victim. Fantasy owners should know by now that any player appearing on the cover of the latest Madden football video game should be downgraded about 100 spots on their cheat sheets, but I am sure millions thought the curse could not touch the bulldozing Hillis and selected him in the top four rounds of their drafts anyway.
Big mistake. 
Hillis was the breakout fantasy star of 2010. Now he is the guy breaking the hearts of fantasy owners. He has gone from a rumbler who piled up over 1,600 combined yards and 13 total touchdowns to someone who gets on the field as much as Peyton Manning these days.  
If Hillis was such a tough, throwback-type of player, how the heck did he miss a game this year due to strep throat?  And worse, maybe he wasn't too sick to play after all. Maybe he did not dress because his agent told him to sit out because Cleveland was not quick to give into his contract demands.
Now Hillis has missed multiple weeks due to a hamstring he keeps injuring over and over again. And even though backup Montario Hardesty opened the door for Hillis to reclaim his starting spot thanks to Hardesty's own injury, Hillis pulled a Tiki Barber and fumbled his opportunity away with another hamstring setback after looking mid-week like he would be able to go.   
Hillis has 211 rushing yards, 76 receiving yards and two touchdowns through eight weeks. Last season, it would take two weeks for him to post such numbers. Forget about the Dog Pound in Cleveland barking at him. At least one fantasy owner in every league in the world should be camping outside Hillis' home and protesting how someone who has been so worthless this season thinks he deserves multi-millions. 
If you see any Occupy Chris Johnson, Occupy Philip Rivers or Occupy Peyton Hillis protests pop up near you and you are an embarrassed owner of one or more of them, feel free to bring a sign, a loud voice and tons of angst. You will not be alone. The Wall Street hucksters should not be the only ones feeling the wrath of the disenfranchised. These three players are pillaging the wallets of their fantasy owners in their own special way, too.