San Diego Chargers Safety Eric Weddle Silences Critics
November 7, 2011
Rex Brown/Getty Images

First, they accused AJ Smith of reaching to high and giving up too much. Then, when free safety Eric Weddle signed a five-year, $50 million contract to stay in San Diego, they complained that the Chargers overpaid.
Now, though, with Weddle leading the league in interceptions and passes defended, his biggest critics have suddenly fallen silent.
Weddle has stated his case in no uncertain terms thanks to what has been an outstanding performance by the 26-year-old free safety through the first eight games of the 2011 NFL season.
Of course, he's had an uphill battle to climb in winning over many of the fans since being drafted back in 2007. While Smith and his highly accomplished, very well-respected scouting department believed Weddle was a special player, many of the fans and most of the media were certain, somehow, that they knew better.
Of course it doesn't help when high-profile members of the media put out disinformation for the sake of creating controversy, which is exactly what happened when completion of the Weddle contract was first announced. A well-known NFL Network analyst erroneously reported that the contract made Weddle the highest paid safety in the league.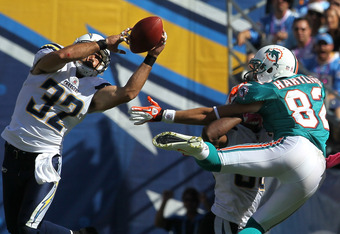 Stephen Dunn/Getty Images
Funny thing is, Weddle isn't even the highest paid safety in the AFC West division, let alone the league. Weddle actually signed for less money even though Eric Barry of the Kansas City Chiefs had set the precedent by signing a $60 million contract a year earlier.
Wait, it gets worse.
It's one thing for the average fan to have trouble differentiating between the free safety and the strong safety position. It's an entirely different thing when a well-paid, highly respected NFL analyst doesn't know the difference.
Nevertheless, a number of popular media representatives went on record stating that Weddle had no business being paid as much as Troy Polamalu.
Polamalu plays strong safety for the Pittsburgh Steelers. And while both positions are part of the defensive backfield unit, the similarities pretty much begin and end right there. The truth is that each safety position has an entirely different set of responsibilities, requiring completely different skill sets.
You may as well say that Antonio Gates is overpaid because his numbers are nowhere close to Larry Fitzgerald's. It's not much different from comparing defensive tackles and defensive ends or full backs to half backs. It's simply not a fair or accurate comparison, unless...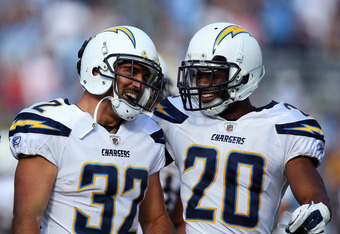 Donald Miralle/Getty Images
...unless the goal is not so much to inform as it is to grab your attention at the expense of a valid, worthwhile point.
Which would explain why some folks would never include information such as the fact that Polamalu is expected to make double what Weddle makes when his contract runs out at the end of this season.
Why? Because that information would destroy their argument, as would the fact that All-Pro safety Michael Griffin is also expected to sign a contract next year that is likely to exceed Weddle's contract by tens of millions of dollars.
For those that just wish to stir the pot and create controversy the truth becomes and afterthought. The end result is that there are now millions of fans under the false impression that Weddle is the highest paid safety in the league, which is patently false.
Weddle, though, does not need some half-cocked, overly idealistic journalist such as myself to come to his defense. His performance on the field is more than adequate in exposing the ignorance of his critics on its own.
Let it serve as a reminder that top-notch professional scouting departments such as San Diego's know more about evaluating NFL prospects in their sleep than all of  the fans, analysts and media pundits combined do even on the very best of days.
And while everyone is certainly entitled to their opinion, not everyone has enough information with which to formulate an opinion worth listening to.