Terry Ryan's Reunion as Minnesota Twins GM Will Restore Faith in Fanbase
November 8, 2011
Harry How/Getty Images
The Minneapolis Star Tribune called yesterday's firing of embattled General Manager Bill Smith "a surprising move." Any Twins' fan will tell you that Smith was in over his head and unqualified for the job in the first place.
While many on message boards called for his firing, myself included, many of us simply never thought the team would have the guts to do it. Instead, we expected the ownership to blame injuries and "bad luck" for the team's 99-loss season, its second highest total in the team's 52-year history in Minnesota. When you lose 99 games, someone has to pay the price, and Smith was a good start. A poll in yesterday's St. Paul Pioneer Press showed, out of 611 respondents, 91.2 percent thought the firing was the right move.
Smith Is Not the Only Twins' Employee Who Needs To Go
I wouldn't stop with Smith. The next two people I'd fire, without question or hesitation, are Joe Vavra, the team's hitting coach, and third-base coach Scott Ulger, one of Ron Gardenhire's personal "boys." The latter firing would almost certainly set up an ultimatum for Gardenhire of "If he goes, I go," as the two have worked together on the Major and Minor league circuit for decades within the Twins' organization.
As a lifelong Twins' fan, if it came to such an ultimatum, I would bid farewell to Gardenhire. It's not that I want Gardenhire to go, he's a fiery regular season manager but, when October comes, he freezes up.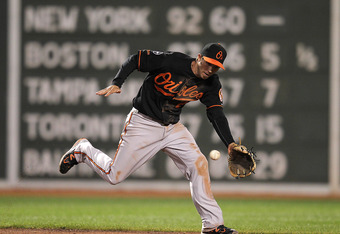 Jim Rogash/Getty Images
The important thing is, however, that we got rid of the big fish in Smith, who never got the good end of any trade he ever pulled off, outside of Tyler Landendorf (a shortstop) for Orlando Cabrera at the 2009 trading deadline.
In Comes Terry Ryan
Twins' fans know and love what they saw out of Terry Ryan the first time around (1994-2007). What they are most likely talking about is his four for one heist, sending Chuck Knoblauch to the Yankees for Eric Milton, Cristian Guzman, Brian Buchanan and Danny Mota in 1998. The first two players turned out to be All-Stars.
Another minor trade that made major immediate dividends under Ryan was utility outfielder Bobby Kielty for Shannon Stewart in 2003, which instantly shot the Twins into the playoffs producing a massive winning streak.
The question now is whether the game has passed Ryan by in these four years? Likely not, as he's been reassigned to the scouting department among other things. All I know is that the Twins have roughly $30 million to spend on free agents, and I'd much rather have Ryan in control of the cash than the inept and clueless Smith. That is the No. 1 reason yesterday's news was so exciting, at least for me.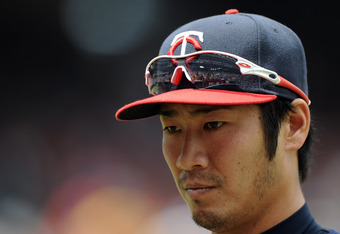 Harry How/Getty Images
When baseball purists and ESPN analysts talk of the Twins and their affection for overcoming the big market odds, they are basically praising Ryan for how he turned the team around in the early 2000's. Now with some cash, something he never had before, I really want to see what he is capable of!
The first trade I'd explore is the on-again-off-again Denard Span for Drew Storen of the Washington Nationals, only I'd expand it to include the Twins' Kevin Slowey and the Nats' Ian Desmond. This way the Twins get a closer replacement for the failed and expensive combination of Matt Capps and Joe Nathan in Storen, and a second-base upgrade in Desmond.
Is Ryan Here To Orchestrate a Big Trade?

What I really wonder is if Ryan wasn't brought in to orchestrate a "big one," and by that I'm saying the trading of St. Paul, Minnesota's own Joe Mauer, who had a miserable year last year and who the media really soured on for his softness. While I would welcome the trade because of its rebuilding possibilities and the need to replenish the farm system that Smith destroyed, I don't see it coming to this drastic of a move.
Next, it would almost assuredly drive away fans in just the third year of Target Field, and right now that is bad for business.  For now, this would be a far too reactionary move that can always be made later if Mauer continues to under perform.
No, the trade I'm thinking of is Justin Morneau, who would look great in either Texas or St. Louis as Albert Pujols' replacement.  I could also see Minnesota striking a deal with the Florida Marlins or Washington Nationals, both of whom are expected to have tons of money to spend.
I'm thinking a Skip Shumaker (second base), Allan Craig, or Ryan Theriot, and Jaime Garcia deal for Morneau. I'd start the deal around Shumaker, who seems the most expendable, but would insist on Craig, who could instantly take Michael Cuddyer's right field spot once he leaves in free agency.
Now, if you are doubting whether the Cards would roll the dice on the oft-injured Morneau, he's still got age on his side (29). Also, St. Louis' desperation of having to replace Pujols may call for desperate measures, and a former All-Star (whose under contract for two more years) may not be a bad alternative.
What Ryan brings to the Twins' is the confidence that, no matter the scenario, he'll get the better end of the deal. The fact that they brought him back now, before the winter meetings, is telling. Maybe a big move is coming and, if so, it is one that is sorely needed after a 99-loss season.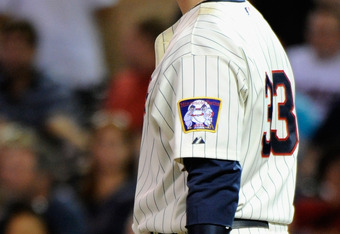 Hannah Foslien/Getty Images
Briefly Rehashing the Failed Smith Trades
When Smith took over, his first task was trading perennial ace and All-Star Johan Santana. Smith overplayed his hand to the Yankees and the Red Sox and botched deals that could have brought him Jon Lester, Justin Masterson and Jed Lowrie from the Red Sox, or Phil Hughes, Ian Kennedy and Melky Cabrera from the Yankees.
While I was against both deals at the time, because adding 20-game threat Santana to the East would vault the team receiving him to the top of the division for years, in hindsight either would have been better than the crap they got from the lowly Mets. Still, it's fitting to see Santana not only broken down himself, but stuck with a worthless and irrelevant team.
In 2009, Smith traded disgruntled and immature pitcher Matt Garza, catching prospect Jose Morales and solid defensive shortstop Jason Bartlett to the Tampa Bay Rays for Delmon Young and Brendan Harris. At the time, I immediately saw this as a win for both teams. Garza was unproven and erratic and Young was coming off a 93 RBI rookie season. I compared the deal to the Yankees stealing Babe Ruth in terms of untapped potential for Young.
Years later, Delmon is just like his brother Dmitri. Both are fat, lazy, inconsistent players that aren't worth your time and can't field. Young never saw a fastball he didn't like (see his resurgence with the Tigers in the playoffs) but he still swings at everything, as Detroit will find out next year.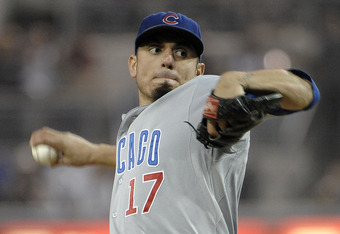 Denis Poroy/Getty Images
In 2010, at the trading deadline, Smith dealt the Twins No. 2 prospect, catcher Wilson Ramos, to the Nationals for Capps, a budding elite closer. While I admired Smith's guts at the time, this became a horrible move after seeing how fragile Mama's Boy Mauer is, and the fact that Ramos turned out to be a more than serviceable player.
Finally, last offseason, Smith traded a broken down and inconsistent J.J. Hardy, coming off of a 6 HR and 38 RBI season with the Twins. After stealing him from Milwaukee for the one-dimensional Carlos Gomez the winter before, Smith dealt him to my second favorite team, the Baltimore Orioles, for Jim Hoey and another worthless bullpen pitcher. Make no mistake, I didn't want Hardy back, as he was always hurt and frustratingly inconsistent, but getting more than nothing would have been nice, and something Ryan almost surely would accomplished.
So, those are the big four deals that blew up in Smith's face and became the reason for yesterday's welcome news. In addition, Smith's one claim to fame was the lone successful free agent signing of Jim Thome, unless you really think Carl Pavano was worth $8 million a year, which I don't. Oh, and he also failed miserably on the over-hyped and expensive Japanese import Tsuyoshi Nishioka.
Whose the Next Twins' GM?
No one knows how long Ryan will stay as the organization's top man. Some rumors have returning assistant GM Wayne Krivsky, who failed as the man in Cincinnati, taking over for him soon.
Others suggest that the reason the Twins denied the Orioles' request to interview Mike Radcliff, the Twins' minor league scouting director, is that he might fit the job. Finally, my own personal rumor, recently dismissed former Orioles, Cubs and Twins GM Andy McPhail. Hey, with all the nostalgia surrounding Ryan, why not another reunion?
Still, it's pretty obvious, with a popular and brand new stadium, and possible 2014 All-Star Game on the way, the Twins had no confidence with Bill Smith in charge. After all, he'd given them no reason to be. Now he can go back to being as obscure and insignificant as his very name implies.
Information from the Minneapolis Star Tribune and St. Paul Pioneer Press directly contributed to the content of this article.