Oakland Raiders 2011: Does Coach Hue Jackson Suffer from Mike Martz Syndrome?
November 9, 2011
Brian Bahr/Getty Images
You won't find a listing for Martz Syndrome in a medical dictionary. If it were there, however, it would be defined as a condition that leaves a coach trying to prove over and over why he was labelled a genius in the first place.
Former Rams head coach and current Bears offensive coordinator Mike Martz has so famously done this that the condition was named in his honor. It appears, however, that Raiders head coach and offensive play-caller Hue Jackson has also contracted the dreaded condition.
Last year Hue Jackson did something that many thought could not be done. As offensive coordinator, he made the Raiders offense dynamic for the first time since Rich Gannon was under center. The Raiders were the sixth highest scoring team in the NFL despite having a Bruce Gradkowski and Jason Campbell quarterback carousel.
The late Al Davis was so impressed at the "genius" work of Jackson that he fired Tom Cable and named him head coach. Jackson then set course to "build a bully." The 2011 Raiders would be dependent on a strong running game and solid mistake-free quarterback play from Campbell.
Things were going well. Then in Week 6, Campbell went down with a broken collar bone. The Raiders were still able to pull out the victory with Kyle Boller managing the game and a little Hue Jackson trickery, namely a touchdown pass from punter Shane Lechler on a fake field goal attempt.
At some point between the Campbell injury, the brilliant trick play, the getting away with taking an unnecessary gamble on a fourth down that almost cost them the game and the chance to have the quarterback he really wanted... Martz Syndrome started to set in!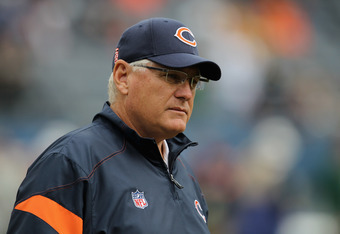 Jonathan Daniel/Getty Images
Flash forward to Week 7. The Raiders pull off the daring trade for Carson Palmer, made possible by Jackson's prior relationship with Mike Brown. Yeah, and the fact that they overpaid tremendously didn't hurt either! Palmer won't be ready quite yet, so the start goes to Boller.
OK, so you have Boller at quarterback, and you're playing the Chiefs, a team the Raiders should be able to handle. What do you do? You run the football, right? Even with Darren McFadden going out early with an injury, you still have Michael Bush. You run the football, right? Not if you've succumbed to Mike Martz Syndrome!
For some reason, Jackson has Boller throwing the ball enough to come within one interception of Campbell's total for the whole year! Not only that, when the Raiders did drive it to the Chiefs' one-yard line, Jackson has Bush line up in the Wildcat and take it straight into the pile to turn the ball over on downs! Seriously, what did the Chiefs think he was going to do there? Anyone?
A rusty Carson Palmer comes in early in the third quarter and manages to duplicate Boller's fine first half performance. I won't say the play calling was bad here because he only knew 14 plays! You'll have that.
The bye week then comes and goes, and the Raiders now host the Denver Broncos. Palmer supposedly knows enough of the offense to go ahead and make the start.
Things are going well. Michael Bush is running through gaping holes. The defense is playing well enough. Wait a minute, where's DHB been? What about Kevin Boss? Something is strange here. Oh well, winning, we'll worry about it later.
Thomas B. Shea/Getty Images
Well, the second half comes, and the Raiders quit running the football. Jackson seems like a BCS coach wanting to rack up style points. Palmer is throwing it all over the lot, with a seemingly special urge to get the ball to newly acquired, Jackson favorite, T.J. Houshmandzadeh. Things go bad.
The Raiders Jekyll and Hyde defense chooses to Hyde, or hide as the case may be. Maybe they're poorly coached, or maybe they're just worn down because Denver stayed committed to the run! Whatever the case, the end result is the Raiders lose another one they shouldn't have.
Coach Jackson, I know you have new, exciting toys. I know you have crazy-good skills as a play-caller. I know you have some ego and swagger. I get it, and as a fan I love it, but quit trying to prove you're the smartest guy in the room!
There is a cure for Mike Martz Syndrome. I know there is because I watched the Bears beat the Eagles last night. They ran the ball 33 times! Mike Martz is cured!
So Hue, do Raider Nation a favor. Sometime before Thursday night, would you please get ahold of Mike Martz? I think he knows a guy!