Fantasy Football Waiver Wire: 10 Players To Pick Up For Week 10
November 9, 2011
Patrick McDermott/Getty Images
The good news for fantasy football owners this week is that no teams are on byes, so all players without injuries will be available.
The bad news is that Week 10 begins the weekly Thursday night games, which force fantasy owners to pick players up earlier than normal in many leagues. So finding good free agents fast is more important than before.   
Here are 10 players fantasy owners should zone in on coming into Week 10: 

Earl Bennett, Chicago Bears (WR)

Devin Hester is faster and Roy Williams is bigger, but Bennett runs the best routes, has the best hands and is Jay Cutler's favorite receiver and good buddy. Bennett missed the past several weeks with a chest injury, but he returned in a big way with five receptions for 95 yards and a touchdown against the Philadelphia Eagles' All-World secondary. 

Donald Brown, Indianapolis Colts (RB)

The inconsistent former first-rounder has been a disappointment in his short pro career, but he had 16 carries for 70 yards in Indy's last game and is averaging 4.6 yards per carry on the season. With Joseph Addai's hamstring hurting and Delone Carter having fumble fingers, Brown could start again this week at home against the far from fearsome Jacksonville Jaguars.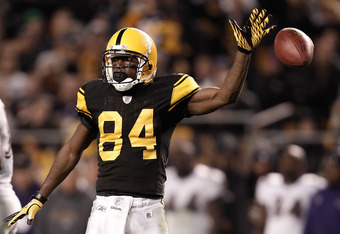 Jared Wickerham/Getty Images

Jabar Gaffney, Washington Redskins (WR)

Some wide receiver has to catch passes for the Redskins, and the veteran Gaffney is the best bet with Santana Moss sidelined. With his next three games against Miami, Dallas and Seattle, Gaffney should average five receptions per game. 

Antonio Brown, Pittsburgh Steelers (WR)

Hines Ward can take his time coming back from his concussion. In fact, the possible future Hall of Famer can try his hand at celebrity dancing again for all fantasy owners care. Brown has leapfrogged him as Pittsburgh's No. 2 receiver. Brown has 21 receptions for 278 yards and a touchdown over his last three games and has become the perfect yin to Mike Wallace's yang.  

Torrey Smith, Baltimore Ravens (WR)

Smith's fantasy value has been bouncing on a trampoline for a month now. He was probably the most popular pickup after his 152-yard, three-TD breakout performance in Week 3, but in the four following weeks he only mustered 10 catches and none for touchdowns. Yet on the heels of a 71-yard, one-score comeback against the Pittsburgh Steelers this past Sunday night, Smith is again a prime target for fantasy owners needing a wideout. 

Cleveland Browns defense

While Cleveland is ranked sixth in the NFL in total defense, the Browns are rated a lot lower in fantasy circles because they do not generate the sacks, turnovers and touchdowns other units do. Having home games against the hapless offenses of the St. Louis Rams and Jacksonville Jaguars the next two weeks makes the Brownies much more attractive, though. 

Marion Barber, Chicago Bears (RB)

The running back options on waiver wires are slimmer than Ron Paul's chances of becoming President. Barber is likely the best one in deeper leagues. Even though Matt Forte has the durability of Cal Ripken Jr., Barber is worthy of a look now that he has scored touchdowns in each of his past three contests.  

Dan Orlovsky, Indianapolis Colts (QB)

If you did not know before (and you should have) it is certainly clear now that Curtis Painter is not Peyton Manning. And though Painter had a decent stretch where he proved he is capable of the occasional 200-yard-game, he is now floundering.
With Painter throwing for less than 100 yards in two of his last three outings, Orlovsky could be called upon to start down the stretch. Orlovsky is no Manning, either, but you can never have enough starting quarterbacks on your fantasy roster, especially in leagues where you play two per week. 

Jake Ballard, New York Giants (TE)

He is not Mark Bavaro, but surprisingly Ballard has turned out to be a whole lot better than former Giants tight end Kevin Boss this season. Ballard must have gone undrafted in 99.9 percent of leagues and was invisible during the first month, but he has averaged 61 yards per game and scored three touchdown in his last five contests. 

Anthony Fasano, Miami Dolphins (TE)

Fasano did more in Week 9 than he had done in Weeks 1-8. Two catches, two touchdowns, 38 yards. Hardly worthy of a comparison to Tony Gonzalez, but with Miami playing four of its next five games at home and quarterback Matt Moore finding a rhythm, Fasano could be worth a flyer if you are shopping for a reserve tight end.