Carolina Hurricanes Coaching Change: Paul Maurice Must Be Fired Now
November 10, 2011
Bruce Bennett/Getty Images
Paul Maurice's time as a welcome member of the Carolina Hurricanes has come to an end.
Maurice is not a coach capable of inspiring enthusiasm.
He is not a coach capable of developing prospects to rebuild a team, nor is he a coach capable of keeping his star players as team leaders.
He is not a coach capable of handling the fundamentals of a successful hockey team—be that special teams, faceoffs or forechecking.
He is, simply put, not a coach capable of keeping a salary-floor club contending for the playoffs year in and year out. And that is the job he has taken over, and failed with, for three years in Carolina.
It's time for Paul Maurice to move out.
First of all, the fact that Maurice is an above-.500 coach is a misleading statistic that far overstates his prior record. After all, Maurice's career winning percentage with the 'Canes is actually just 47.2 percent, and, over his entire career, that number dips to a hair above 47.0 percent.
Those basic statistics are only the tip of the iceberg when it comes to Maurice's struggles, however. In 14 seasons as an NHL head coach, he's only taken his team to the playoffs a mere four times, and there are more than a few reasons why.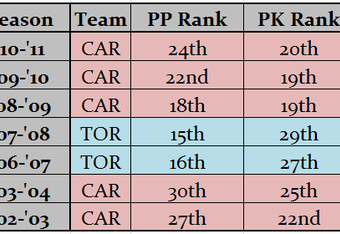 Most notably is Maurice's incredible inability to develop any sort of special teams presence with his squads. 
Starting with the '02-03 season—Maurice has coached seven full years with the Hurricanes and Maple Leafs since then—he has yet to field a power play or penalty kill that's ever ranked higher than 15th in the league.
Over those seven seasons, Maurice's power-play units have averaged ranking 20th in the NHL; his penalty kill units have averaged ranking 23rd.
The Maurice-coached Hurricanes of '03-04 were dead last in power play, but a number of other rosters have come close to matching that since then. Meanwhile, the Maurice-coached Leafs of '07-08 found themselves second-to-last in penalty kill—but that, too, was barely a career worst for their beloved boss.
You can take a closer look at Maurice's special teams rankings over the years in the chart on the right.
A large portion of these aforementioned struggles are due to the fact that Maurice has failed to put the right players in the right spots, an inability portrayed no better than in the ongoing '11-12 campaign.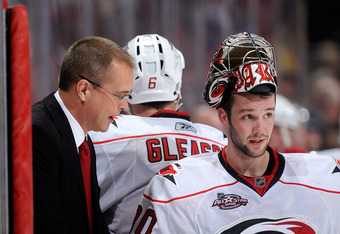 Greg Fiume/Getty Images
Despite power-play specialists like Joni Pitkanen and Tomas Kaberle on the roster, 29-year-old bottom-feeding defenseman Jay Harrison—a player who has never scored a power-play goal in his life—has been allowed to poach over two minutes of average man-advantage time-on-ice per game.
On the other end of the table, offensive speedsters such as Jussi Jokinen and Jiri Tlusty have been given over a minute of shorthanded "TOI" every game while some hard-hitting forwards, namely Tuomo Ruutu and Anthony Stewart, have been completely ignored.
As a result, the Hurricanes remain in a familiar position as we move through November: the cellar. They currently stand 22nd on the power play and 18th on the penalty kill. But don't worry, they're certainly used to it!
However, pathetic special teams play isn't the only key reason for Maurice's issues as a head coach. He evidently has some mental problems with colorful trees and falling leaves, for the current Carolina bench boss is only continuing his old ways with the team's appalling start to the season.
Over his last six years of coaching, Paul Maurice has a horrific 50-66-28 record in October and November; that equates to a miserable 34.2 winning percentage in the first two months of the regular season. To put that number into context, the Eastern Conference's worst team from last season (Florida, at 30-40-12) didn't even have a winning percentage that bad!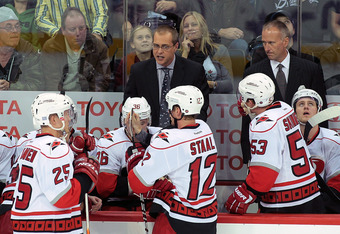 Marianne Helm/Getty Images
Autumns like that are sure to doom any team, and they certainly have. Maurice's dreadful efforts in the early season have often proven too much to overcome, despite strong efforts by the 'Canes in the season's waning months almost every year.
Furthermore, another large batch of critics dish on Maurice for his indecisiveness when dealing with his players, and that argument certainly strikes home.
As we've alluded to in previous articles, Carolina's most-used line combination has been their third line of Brandon Sutter, Patrick Dwyer and Jiri Tlusty. Their second-most used combination has been their third line, this time consisting of Sutter, Dwyer and Alexei Ponikarovsky, as well.
That's sad.
No wonder Eric Staal can't break out of his well-documented slump—he doesn't even know who he's going to be playing with each day. Maurice's endless scrambling of the depth chart is hurting the team far more than finding any ultimate top-line trio will.
Maurice's ignorance towards the franchise's promising prospects has also been a subject of concern.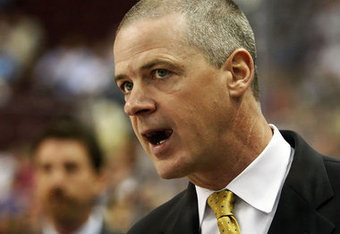 Every fall, the same trends continue, be it Zach Boychuk of '09-10, Jerome Samson and Drayson Bowman of '10-11 or Zac Dalpe of this season; even the most talented up-and-comers find it impossible to earn any ice time, and the subsequent experience, under the upbringing of the Maurice regime.
Thankfully, there is one possible change that could solve this particular shortcoming, and that leads us into our next bold statement: Not only must Paul Maurice be fired, but Jeff Daniels is the perfect candidate to be his replacement.
Daniels, the current head coach and general manager of the Hurricanes' AHL affiliate Charlotte Checkers, is fully recognized as a gifted up-and-comer in the Carolina franchise. At just 43 years of age, Daniels is a former Hurricanes player, but he has merged seamlessly into a coaching role.
Currently in the middle of his third career season as the club's minor league coach, Daniels has a quite respectable 128-100-25 record, but even that mark under-evaluates what he's accomplished in a little over two calendar years.
The Charlotte Checkers' '10-11 campaign was one of the best in Hurricanes minor league affiliate history, and Jeff Daniels was the mastermind behind their surprising run to the Eastern Conference Finals. Behind the league's second-best offense, the Checkers finished as the six-seed with a 44-27-9 regular season record before upending both of their Pennsylvania rivals, the Wilkes-Barre/Scranton Penguins and the Hershey Bears, in the postseason.
Promoting Daniels to NHL head coach not only puts a talented and promising man behind the bench, it also eliminates the typical transitional phase after a coaching change that could downgrade the 'Canes season from merely disappointing to wholly doomed.
Many of the strategies and tendencies used throughout the entire franchise system have already been taught by Jeff Daniels for the last two seasons, so implementing any team-specific tactics, such as the dump-and-chase method, won't pose any issues.
Daniels is familiar with both his surrounding staff members and many of his inherited players, too—Boychuk, Dalpe, Dwyer, Tlusty, Jamie McBain and both Brandon and Brett Sutter have played under Daniels' coaching at some point in their careers.
So what's getting in the way of this coaching change? Well, frankly, there isn't much.
GM Jim Rutherford put Maurice on the hot seat in a recent interview, first stating that a coaching shakeup isn't currently on the radar screen, but later adding that, "If we're talking again in a six- or seven-game losing streak, I'll probably be in a different frame of mind and answer those [coaching] questions differently."
Plus, even history points to the Hurricanes making a switch at head coach position sometime soon. The team has long established a tendency to fire struggling coaches before the new year rolls around, exemplified in their firing of Peter Laviolette in 2008 (on December 4th) and Paul Maurice, for the first time, in 2003 (on December 15th).
So, clearly, Paul Maurice is not capable of consistently coaching a team through the year-to-year turbulence of the National Hockey League.
Is Jeff Daniels capable of that?
There's nothing to lose by giving him a chance.
Mark Jones is currently Bleacher Report's featured columnist and community leader for the NHL's Carolina Hurricanes. In his 38 months so far with the site, he has written over 320 articles and received more than 370,000 total reads.