Joe Paterno: Scapegoat. Fall Guy. Patsy.
November 10, 2011
Rob Carr/Getty Images
When the Grand Jury's presentment was released last Saturday, a bye week for the Penn State Nittany Lions football team, Joe Paterno, the legendary educator, coach and humanitarian's coaching days officially ended.
It would take nearly a week of horrifying, gut-wrenching, exposure via 24-hour endless hysterical coverage and a phone call to a little old man in the middle of the night to deliver the message, but America's Lion would no longer roam in Happy Valley.
It had to be this way. Joe had to go.
As he said, in one of his statements yesterday, he should have done more. 
Make no mistake though, Joe Paterno—major college football's all-time winningest head coach—was used by the Penn State Board of Trustees as a scapegoat.
Sure they fired the president, Graham Spanier, how could they not?  His "cover my flank" actions and statements in light of the Grand Jury's findings is nothing short of delusional hypocrisy.  His role in the cover up that left more than a decade's worth of rape victims in harm's way and without treatment and healing is even more shocking given the fact that his own academic background is in the field of sociology and family counseling.
Yet in their "well thought-out" unanimous statement last night the Board of Trustees implied that Spanier was deciding to step aside instead of just plain old boot in the rear terminated.  He didn't deserve to quit, he needed to be fired, fired, fired.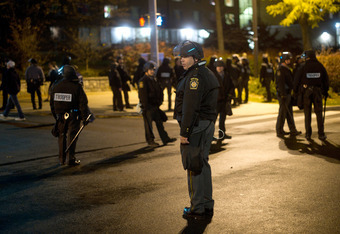 Jeff Swensen/Getty Images
Which brings us to the two gentlemen actually indicted for the cover up and for committing perjury in front of the Grand Jury: Gary Schultz 'retired' and athletic director Tim Curley requested administrative leave. Both men's legal fees are being paid by the university and one would asume their benefits and compensation continues.
Certainly the swift acting "well thought-out" unanimous Board of Trustees rectified that situation and fired, fired, fired Curley and Schultz?
Nope, their status is "unchanged".
The then 28-year-old former football player that testified to the Grand Jury that he in fact walked in on Jerry Sandusky—the alleged serial predator—raping a boy that appeared to be about ten years old, who did nothing to stop the attack and next to nothing to report it to the authorities, will presumably be on the side lines this Saturday when the football team takes the field.
According to the Board of Trustees, there is "no change" in Mike McQueary's status.
And really, there is no change in the status at Penn State.  The president was replaced with the vice president and the little old guy that has been sitting up in the press box was made into the scapegoat of one of the worst scandals to ever hit Penn State, college football or America for that matter.
Joe Paterno: Scapegoat. Fall Guy. Patsy.