"Roll Tide/War Eagle" Puts Rivalry in Context for Newcomers, Perspective for All
November 10, 2011
Kevin C. Cox/Getty Images
One of my earliest and most indelible Iron Bowl memories was watching from the Legion Field upper deck as Dennis Riddle scored the game winning touchdown with 26 seconds to play in 1996. Alabama beat Auburn 24-23. I was 11 at the time.
On Tuesday night, ESPN Films aired its latest installment, "Roll Tide/War Eagle", about the Alabama-Auburn football rivalry that dates to 1893.
The documentary features interviews with protagonists from both sides, including Mark Ingram, Cam Newton, Gene Stallings, Pat Dye, Shaun Alexander, Bo Jackson, Gay Talese, and Charles Barkley. It includes what seemed like dozens of Skynyrd "Sweet Home Alabama" riffs, an abundance of war metaphors insinuating that 20-year olds playing a game is somehow comparable to 20-year olds waging actual war, and classic Paul Finebaum hyperbole from the Birmingham-based sports radio pundit: "[The rivalry] is difficult to describe, particularly to someone who doesn't live here. It's really the Israelis and the Palestinians living together in one place, day in, day out." (No, Paul, it's really not.)
Sensationalism aside, the film fulfills one of director Martin Khodabakhshian's goals: provide insight into the passion, tradition, and hysteria that is the Alabama-Auburn football feud, even to people who have had little or no exposure to the rivalry.
At one point, Alabama head coach Nick Saban describes the effect that a dearth of professional sports teams has on the state of Alabama—college football is king, as it is in most of the South. No microcosm captures the sentiment of southern college football better than the Alabama-Auburn rivalry.
In Alabama and the South generally, allegiance to a team embodies so much more than 12-plus Saturdays in the fall. It usually involves over a century of tradition and pageantry and an institution that binds its brethren together through car decals, class rings, and greetings that begin with words like "war" and "roll." This is why most southerners don't really get the NFL, or when Yankees say things like "Sunday Funday" in reference to watching football on the holy day of the week, or the lack of discernment that would cause a grown man to wear a replica of another grown man's work uniform to a football game.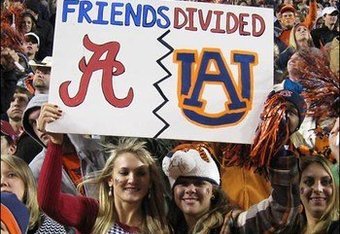 "Roll Tide/War Eagle" documents the rivalry's historical highlights, like a 41-year Iron Bowl hiatus due to squabbling over players' per diems, Alabama's subsequent 55-0 victory in the first game after the series was renewed, and 1972's Punt Bama Punt, when Auburn scored two touchdowns off of blocked punts in the last 10 minutes of the game and upset the No. 2 ranked Crimson Tide 17-16.
The film then turns to the most recent two years of the rivalry, which produced the previous two national champions. Alabama won the title in 2009 behind a Heisman trophy-winning season for running back Ingram and after winning the Iron Bowl with a memorable drive that ended with a Roy Upchurch game-clinching touchdown. A Cam Newton-led Auburn team followed the same national title script 12 months later, behind Newton's own Heisman-winning performance—under an ever present did-he-or-did-he-not get paid fog of scrutiny—and Auburn's own 28-27 Iron Bowl victory after rebounding from a 24-0 second-quarter deficit.
Then, the documentary focuses on the most shameful affair in Alabama-Auburn relations in recent memory. Harvey Updyke is the Alabama fan who called into Finebaum's radio show after the 2010 Iron Bowl and claimed he had poisoned the southern live oaks at Toomer's Corner with Spike 80DF herbicide. The two oaks were transplanted to a couple of patches of Auburn soil caddy-corner from Toomer's drug store about 80 or 130 years ago—no one really knows. Auburn students and fans started rolling the trees with toilet paper decades ago each time the Tigers won. Auburn horticulturalists do not expect the oaks to live.
The film focused excessively on Updyke—a single manic fan—and the rivalry's recent black spot. But watching Updyke's lack of self-awareness during his interviews should make every Alabama fan cringe.
No one, however, will accuse former Auburn and NBA basketball star Charles Barkley of lacking of self-awareness. "One of the negatives about Auburn," says Barkley at one point, "is we have an inferiority when it comes to Alabama. We're always the underdog." Khodabakhshian even noted during a transition to commercial that Auburn fans complained to him about the film's title. Their choice, naturally, was "War Eagle/Roll Tide."
But the given title fits. As the film notes, coach Bear Bryant alone won six national championships for the Crimson Tide and 19 Iron Bowl victories in 25 tries. Alabama's 13 total national titles dwarf Auburn's two, but Tiger fans can take solace in holding the most recent one, as well as bragging rights from last year's Iron Bowl.
"That game in Tuscaloosa," says former Auburn coach Pat Dye in reference to Auburn's unlikely comeback last year, "was like witnessing a hundred-year flood."
Instead of literally witnessing a hundred-year flood last fall, Tuscaloosa tragically witnessed an EF-4 tornado tear through town last spring. It killed 51 people, six of them University of Alabama students. In the documentary, Auburn athletic director describes what his head football coach Gene Chizik told him as soon as he learned about the disaster: "Let's go to Tuscaloosa and help."
The following scenes of Auburn faithful clearing tornado debris beside Alabama students and Tuscaloosa residents should put the on-the-field rivalry in perspective for even Updyke.
Bear Bryant coached his last year at Alabama, and his last Iron Bowl, in 1982, a 23-22 Auburn win. He once joked that he would "probably croak in a week" if he ever stopped coaching. Bryant retired after the winning Liberty Bowl in December of 1982. Four weeks later, he died of a massive heart attack.
For Bryant, a life without another Iron Bowl on the horizon may not have been a life his body could endure. After last spring's tragedy in Tuscaloosa, and after seeing that Orange and Blue can meld with Crimson and White, fans on either side of the rivalry and all across the Yellowhammer State should understand the good fortune they have to be able to look forward to a next week, let alone a next Iron Bowl.
Perhaps now, after "Roll Tide/War Eagle," people across the country can fathom their fervor.