John Daly: On-Course Tantrum Adds to Golfer's Colorful Legacy
November 10, 2011
Stuart Franklin/Getty Images
John Daly is one of the most infamous athletes in the world. His personality on the golf course has made him a fan favorite for years, and his antics make him one of the most watchable players in any sport. Even when he is not winning, you still tune in to see what he will do next. 
Daly's latest incident occurred early Thursday morning in an event for the Australian PGA Tour. He hit seven balls into water and responded by storming off the course. 
According to the report, Daly became annoyed following a triple bogey on the 10th hole. When he hit his second shot on the 11th hole into the water, things seemed to spiral even further out of control for him. He didn't even finish the hole because he ran out of balls. 
In typical Daly fashion, he was able to have a little fun with the incident on Twitter.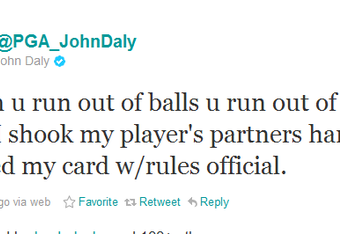 I am not a golf expert, but I am pretty sure that if you don't have any balls left, it is hard to play. The Australian PGA Tour officials did not take too kindly to Daly's actions and suspended him from playing for two weeks. 
At times, Daly's antics can get out of hand and they make you feel sorry for him. We all know that he has had a hard life and has worked on cleaning up his act in recent years. 
That said, this incident is one of the reasons that fans gravitate towards Daly. He has never been the best player on tour and hasn't won a major in 16 years because he is one of us. 
When we step on to the golf course, we want to hit the ball as hard as humanly possible with no regard for where it is going to go. When we screw up a shot, we wear our emotions on our sleeves. 
Daly does the exact same thing. He should have handled this situation better than he did, but no one is going to get him to change who he is on the course. 
The legacy of John Daly grows whenever he steps onto a golf course, and this latest incident is further proof that he is the most entertaining player in the sport.