Formula 1: Jenson Button Loves Britney, and Other F1 Tweets of the Week
November 11, 2011
Mark Thompson/Getty Images
Most of us are probably sick of hearing about Twitter, given the way it has somehow invaded so many aspects of our lives even if we've never visited it.
"Follow us on Twitter!"
"Join the discussion on Twitter!"
"My Twitter account is..."
Still, it has uses.  Most of the current crop of F1 drivers maintain a Twitter feed, providing us with a somewhat new insight into the lives of men who, in public at least, maintain a bland, sponsor-approved image.
It's likely few drivers actually say everything they mean, or mean everything they say.  And it wouldn't be unkind to say that like most Twitter accounts, an overwhelming majority of the messages are about as interesting as watching paint dry.
But from time to time the odd interesting or revealing bit of information creeps out.  Here's a selection of some from the last two weeks.

"My tatoo means sex on the city" - @AlguersuariJA
Jaime Alguersuari's left this brief and to-the-point tweet about a piece of body art I've yet to spot, which is probably a good thing.  Of course, English isn't his native language, so we can't be entirely sure he translated it right, but I never had Jaime down as a chick-flick type.
But at least now we know what he's watching when we see him sit in his car during qualifying, looking at what we all assumed were sector times on the monocoque-mounted TV.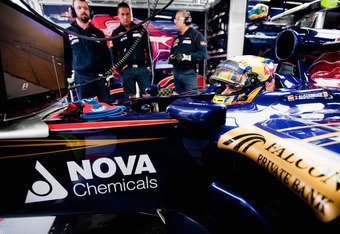 Peter Fox/Getty Images

"At the airport in Delhi, air France captain flying to Paris tonight was being a dick in a security queue, luckily we not on his flight!" - @H_Kovalainen
Heikki Kovalainen rarely seems flustered, but when he is he does the right thing and takes it out on an airline.  In unrelated news, he drives for Lotus, owned by the founder of Air Asia, and is keeping his seat for next year.

"One of my twitter followers has just brought to my attention that there will be 2 Britney's in the paddock this weekend!!" - @JensonButton
Jenson Button was—rather over-enthusiastically, you might say—referring to the presence of Britney Spears at the race, as she's playing a gig on the Friday before.  Which should be interesting in a country not known for its liberal stance on female clothing issues.
The other Britney will apparently be Nico Rosberg, according to a number of Jenson's followers.

"It's 3:30am...Would the idiots outside our hotel stop playing the loud techno music please !!" - @karunchandhok
Though not a regular driver, Karun Chandhok's one of the more interesting Twitter-using drivers.  This one is from the night before the Friday practice sessions for Abu Dhabi—it's nice to know those living in the F1 bubble aren't immune from the little things that blight the holidays of us common folk.

"They have got it so wrong, this girl is a very close friend of mine and like a sister to me, not a new girlfriend!" - @LewisHamilton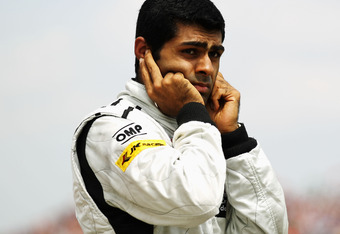 Paul Gilham/Getty Images
Lewis Hamilton rushes out a statement following a slightly creative interpretation of an entirely innocent photograph of him with a female friend.
A few days later he undid all the hard work and painted a giant paparazzi target on every woman within 50 metres.  Saying "I don't plan on being single for very long" is kind of asking for it, Lewis. 

"You can Vote for Paul Di Resta to be the Autosport 2011 Rookie of the Year Award here..." - @pauldirestaf1
A thousand and one entrants to online modelling and poetry competitions will be thanking Paul di Resta for proving that no one's too big to beg for votes.

"Give me some more "like" on http://www.facebook.com/pa..." - @Sebastien_buemi
Sebastien Buemi was also having a fragile moment and took to Twitter to fish for Facebook fans.

"lot's of rumors my friends...we will need to wait until I can say something here ...working so hard to have a competitive car next year" - @rubarrichello
Rubens Barrichello maintains a positive outlook despite mounting rumours he'll be replaced at Williams next season.  He probably said something more interesting, but most of his tweets are in Portuguese.

"Good morning all. Today football in Abu-Dhabi with F-1 drivers :) looking forward :)" - @vitalypetrov10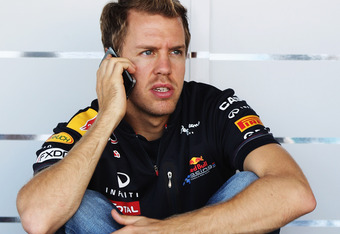 Mark Thompson/Getty Images
"again a great game with @NazionalePiloti tonight! was fantastic to play alongside cannavaro and nakata!" - @thereal_JDA
Vitaly Petrov and Jerome D'Ambrosio talking about the charity football (soccer) match played on the Wednesday prior to the Grand Prix.  Also playing were Sebastian Vettel, Fernando Alonso and Felipe Massa.
Incredibly, Vettel escaped without injury, while Hamilton perhaps wisely stayed away.

And we'll leave the final word to Tony Fernandes, owner of Lotus/Caterham F1.
"Just up in geneva. Heikki cooking breakfast. I feel so well rested. His house is damm cool. On my way to london for airasia roadshow." - @tonyfernandes
"Getting my shoes cleaned by katherine. Heikki girlfriend. Now that's service." - @tonyfernandes
Yes, Heikki is most definitely keeping his seat next season.
Brought to you by @JamesNeilsen