UFC on FOX: Cain Velasquez Relishing in Mexican Pride
November 11, 2011
Victor Decolongon/Getty Images
LOS ANGELES – When the UFC started promoting Brock Lesnar versus Cain Velasquez for the UFC heavyweight title, the phrase "Mexican-American" was used in the campaign with little hesitation. In fact, it was the biggest tool to advertise the now-UFC heavyweight champ.
This was met with some controversy. Some of the ads praised Velasquez as attempting to become the first "Mexican heavyweight champion" when Ricco Rodriguez—a fighter with Mexican and Puerto Rican roots—already held the UFC heavyweight title years prior.
Eventually, people moved on from the controversy and Velasquez welcomed the label given to him by the UFC's marketing team.
More than a year later, things haven't changed much for the heavyweight champion. He's more than happy to represent the Mexican people while he's in the Octagon.
Like he said during UFC on Fox fight week, he fights for "la raza."
"I'm happy to be that person for the Mexican people," Velasquez said at the UFC on Fox open workouts. "I'm proud to be Mexican and be a role model for some people.
"I'm glad I'm in this position."
And the marketing has worked, according to Velasquez. He's visited south of the American border and has seen the rise in popularity of the UFC. Clearly, with Velasquez's help, the Hispanic population has turned their attention to a sport that didn't get much of any a decade ago.
But the sport's ability to appeal to a wide audience reaches beyond Mexico's borders. Mixed martial arts has become a world-wide phenomenon because anyone, no matter where they're from, can watch and enjoy the sport, according to the heavyweight champ.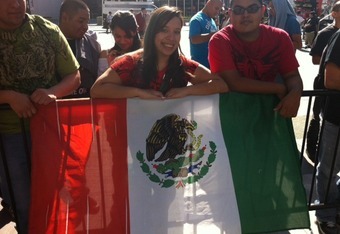 "Every time I go to Mexico, it seems like the sport's getting bigger and bigger," he said. "I've definitely seen a rise. It's a good thing. Anybody around the world can just watch the sport without even knowing the rules, so it's no surprise that it's grown that big."
Since winning the title, Velasquez has been recovering from a shoulder injury. This Saturday, however, he'll finally get a shot at defending his belt when he faces No. 1 heavyweight contender Junior dos Santos. 
Like before, the Hispanic population is behind Velasquez as he prepares to fight in Anaheim's Honda Center. Expectations remain the same for the Mexican-American champ. Velasquez's fan support is as strong if not greater than the last time he ventured to Southern California for a title fight.
"It feels good just [have] the people that I had behind me," Velasquez said of the support he gets from fans. "I expect the same and it's good to have [those] people behind me."
Velasquez said he anticipates his fight with dos Santos to go the full five-round distance. The idea of a heavyweight title fight going five rounds is considered laughable to some because heavyweights don't typically go the distance, but that idea doesn't cross the champ's thoughts.
Admittedly, keeping the frame of mind of a five-round war encourages harder training and helps with focus. All the better when preparing for dos Santos in what UFC president Dana White is calling the biggest night in UFC history.
"This is a great opportunity for MMA as a whole [with this] great exposure," Velasquez says. "I'm happy to be part of it."
Erik Fontanez is a senior writer and reporter for MMAWeekly.com.
Follow him on Twitter: @Erik_Fontanez.