Boise State Hosts TCU and It's Bye Bye BCS, Bye Bye Heisman, Bye Bye BSU!
November 13, 2011
Otto Kitsinger III/Getty Images
It is a beautiful November day in Boise, Idaho, mostly sunny and 45 degrees.  The sun is warm now but when it goes behind a cloud there is a distinct chill in the air.  Temperatures should cool off quickly into the 30s when the sun goes down. Boise State is wearing the orange uniforms which look downright gaudy against the blue turf. TCU is playing in the usual road whites.
TCU comes into the game having lost two games to cross-state rivals Baylor and SMU.
TCU lost the first game by two points 50-48 to a Baylor team that has proven to be extremely tough and they lost their second game to SMU in overtime. TCU's strength is a sizable line that should give Boise State their first test in the trenches.  TCU also has more athletes of high-caliber than Boise's last seven opponents combined.
Could this be a trap game for BSU?
Boise State comes into the game untested, unchallenged and unproven since the first season against a mediocre (by Georgia standards) Georgia bulldog team.  Following a Week 2 bye, BSU has rattled off seven more wins against substandard, at best, competition. 
Despite their weak schedule, Boise State is No. 5 in the BCS standings.  A win would still make them a contender (albeit overrated), but a loss to unranked TCU would be a devastating blow and could drop them to No. 15 easily, if not farther.
Opening kickoff returned by Boise State to the 40-yard line. Opening drive results in a touchdown for Boise State with key plays being TCU's 15-yard personal foul and Kellen Moore's touchdown pass of 22 yards. Extra point is good.
False start penalty dooms TCU and they go three-and-out. However, they return the favor to Boise State and then their defense holds the Broncos to a three-and-out. TCU gets the ball for the second time and quickly burns Boise State's secondary for a touchdown.  Pachall to Boyce. Extra point is good. 7-7.  It's a game.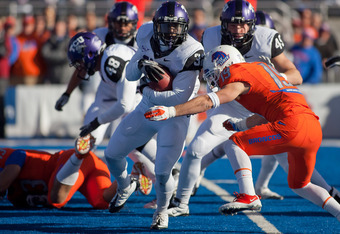 Otto Kitsinger III/Getty Images
Boise State fans are noticeably quiet.
It's the end of the first quarter and it is clear that TCU's offensive and defensive lines are owning the trenches and Pachall is a better passer today than Moore.  TCU's receivers are getting open deep and Boise State's secondary is constantly being torched.
Boise State's secondary is torched again. TCU is up 14-7.  The burnt BSU cornerback comes up lame on the play.  He had no chance at a tackle and was 5 yards back when he went down holding his hamstring. 
BSU's secondary has been exposed as a weak point. 
Boise State needs to sustain long drives in order to score; in contrast, TCU is scoring quickly on long pass plays to wide-open receivers.  Kellen Moore is also getting hit more than usual and his passing is beginning to suffer.
Halftime.  20-14.  TCU missed the extra point on the third TD in a rare mistake in the first half.
Boise State is trailing at the half for the first time this season.
Second half begins.
Fumble by TCU and poor defense to open the second half and Boise is up quickly 28-20.  TCU answers on their next possession only to give up the big play.  BSU has their first big play for a TD to regain the lead. 
Result, BSU is up 35-28 early in the fourth quarter.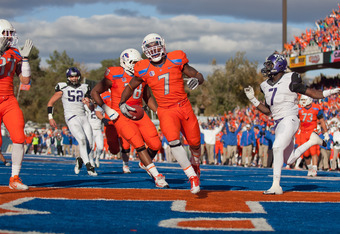 Otto Kitsinger III/Getty Images
TCU is driving to answer the touchdown by Boise when Pachall makes his first real mistake throwing an interception on the 10-yard line.  BSU with the ball and the lead.
Moore and BSU drive to midfield when Moore fumbles and recovers the ball only to take a hit to the head.  Crowd wants a penalty but it is clear that the TCU player was going for the ball.  BSU's kicking game stumbles and a poor punt sets up TCU in good field position.
At this point Kellen Moore, BSU's Heisman Candidate, is 24-30 passing for 285 yards with 2 TDs and TCU's Casey Pachall is 18-28 passing for 397 yards and 4 TDs and an INT.  Moore is clearly not playing like the best QB on the field today but he has the ball, 1st-and-10 at midfield with four minutes to go, driving for the win.
Timeout TCU.  Two-and-a-half minutes remaining, BSU 2nd-and-6 with the ball deep in TCU's territory. 
On the next play BSU's Wright fumbles and TCU recovers.  Wright, a third stringer, is playing because the other backs are hurt or tired.  TCU is playing tough and hitting hard.
Life returns to the TCU sideline as Pachall and his high-powered passing game takes the field.
Touchdown and two-point conversion with 1:05 left.  TCU is up by one, score is 36-35 when they kickoff out of bounds giving BSU the ball on the 40.  Holding penalty on TCU and Boise is on the 50, 1st-and-10.  TCU stops BSU on 4th-and-10 but wait!  The officials give Boise the gift of a lifetime, pass-interference penalty on TCU.  Clearly a bad call on a poor pass that the receiver had no chance at catching and contact was made after the ball had passed his position. 
Will the refs give the game to BSU?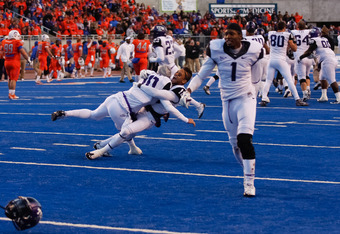 Otto Kitsinger III/Getty Images
Three plays later the ball is on the 22 in the middle of the field and BSU calls their last timeout with 3 seconds left.  The kicking team sets up for the win from 39 yards out.
WIDE WIDE RIGHT.
Bye Bye BCS.  Bye Bye Heisman. Bye Bye Boise. 
Final
TCU 36
BSU 35
I enjoyed my visit.