Pacquiao vs. Marquez: Marquez Deserves Ultimate Respect for Lasting 12 Rounds
November 13, 2011
Harry How/Getty Images
Lost in Manny Pacquiao's 12-round decision win is the fighter who took him the distance, and that's 38-year-old Juan Manuel Marquez.
To be fair, it's not the fact that Marquez took him to a decision, because we've seen Pacquiao go the distance before, but it's the way that Marquez did it.
At the end of the fight Pacquiao was wearing a t-shirt that said undisputed champion. Unfortunately, after the way that Marquez beat him up, there are many people that are disputing that fact.
Yes, Pacquiao won, and in the end that's all that is going to matter in the record books.
Many people feel Marquez should have gotten that decision, and he gave them plenty of evidence to back that up.
Marquez is a counter-fighter and is much more defensive minded than Pacquiao.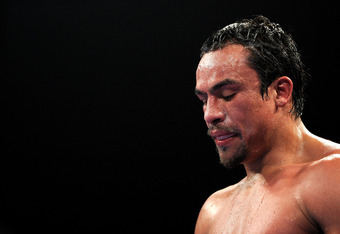 Harry How/Getty Images
With that being said, with every punch that Pacquiao landed, Marquez was able to counter with an equal, if not better shot.
In the end, many people felt that Marquez should have won the fight, and that he got screwed out of yet another decision with Pacquiao.
The crowd at the fight obviously felt that way, and they let Pacquiao know it, according to Ron Borges of the Boston Herald:
The final words from Juan Manuel Marquez the night before he faced Manny Pacquiao for a third time were: "I just hope the judges give me a fair shake.''

They didn't.

A stunned and angry sold-out crowd at the MGM Grand Garden Arena hollered angrily after it was announced that Pacquiao had been handed an improbable majority decision, beating Marquez for the second time under a cloud of suspicion.

The crowd booed lustily as it was announced that Glenn Trowbridge had scored the bout 116-112 for Pacquiao and Dave Moretti had it 115-113 for the WBO welterweight champion. The third judge, Robert Hoyle, had it a draw, 114-114. The Herald card scored the bout 117-112 for Marquez.

Marquez refused to speak to HBO's broadcasters after the fight, storming out of the ring as the fans cheered. When Pacquiao tried to answer HBO's questions, the crowd booed so lustily not a word of his could be heard. When they tried a second time, the boos cascaded down even louder, no one in the crowd interested in hearing from him as even Pacquiao hung his head in sadness.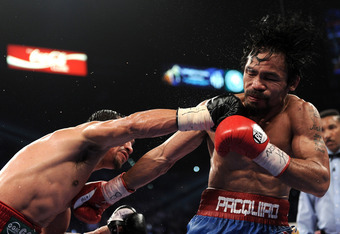 Harry How/Getty Images
When all is said and done, it doesn't matter who boo's and it doesn't matter what we think, because Pacquiao went home that night as the winner and champion.
All the respect in the world needs to go to Marquez though, as he's the only fighter in recent memory who has been able to hang with Pacquiao.
He gave him fits all three times that they've squared off, and I wouldn't be surprised to see much of the same if they ever fought again.
Marquez has Pacquiao's number, and that's saying a lot, especially for a 38-year-old fighter.
He may not have won the fight, but he certainly won over all of my respect.