Bob Davie: New Mexico Lobos Make Great Decision to Hire Former Notre Dame Coach
November 16, 2011
Scott Halleran/Getty Images
Bob Davie, current ESPN and ABC football analyst and former Notre Dame Fighting Irish head coach, has been hired by the New Mexico Lobos to be their newest coach.
Joe Schad broke the news on Twitter.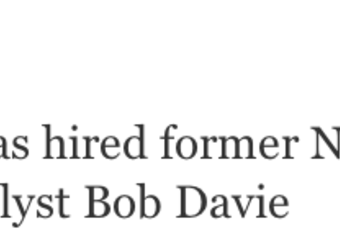 Mike Locksley was fired in late September after leading the team to a disgustingly bad 2-26 record in his two-plus years on the job.
Davie got his first and only head coaching job at Notre Dame after being an assistant and coordinator at Pittsburgh, Tulane, Arizona, Texas A&M and with the Fighting Irish for a number of years.
He went 35-25 during his four-year tenure as the head coach of the team, but failed to win a bowl game.
He was fired in the midst of the 2001 season after winning a game over Purdue and replaced by George O'Leary, who never coached a game after an embarrassing resume scandal forced him to resign. Tyrone Willingham was then hired to lead the team.
Davie took the Irish to their first BCS bowl in school history, but was embarrassed 41-9 by the Oregon State Beavers in the 2001 Fiesta Bowl.
He will certainly be an upgrade over Locksley and could help turn the Lobos around, who have been awful and won their first game this season just this past week against UNLV.
They have only won a single game in each of the past three seasons and haven't made a bowl since 2007.
While he has no chance to save the program this season, he could easily change the culture with a solid recruiting class and a good season in 2012.
This is a great hire and it should pay off for the lowly Lobos.