San Diego Chargers: Is It All Norv Turner's Fault?
November 28, 2011
Jonathan Daniel/Getty Images
The San Diego Chargers started the 2011 season with their best record under head coach Norv Turner in five years after five games (4-1). It seemed as if the slow-start ghosts of seasons past had finally disappeared.
The Chargers have now lost six straight games, dropping them to 4-7 and the sole owners of last place in the AFC West.
So I ask this very important question—who is to blame for the current situation of the Chargers? Who is responsible for the situation that the once widely regarded perennial Super Bowl contender San Diego Chargers now find themselves in?
Quarterback Philip Rivers?
An anemic rushing attack?
The offense and defensive lines?
An incredibly bland secondary?
The offensive and defensive coordinators?
Head coach Norv Turner?
Or quite possibly Chargers general manager A.J. Smith?
While the blame usually falls upon Chargers' head coach Norv Turner, based on his lack of improvisation, determination and clock management.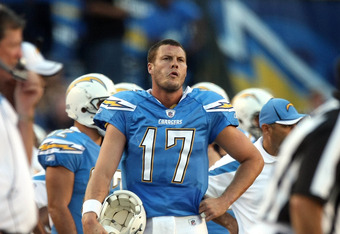 Donald Miralle/Getty Images
Have you ever seen Turner's postgame interviews?
The man shows no emotion whatsoever!
If I was the head coach of a team that had just lost six straight games and I was the offensive play caller, I would be incredibly pissed!
The San Diego Chargers need to fire Norv Turner and replace him with a coach that actually cares about the team's performance.
For example, have you ever seen how upset Bill Cowher or Jon Gruden would become with players who would screw up?
What is the difference between Cowher, Gruden and Turner? Cowher and Gruden have won World Championships as head coaches, Turner has only won championships as an offensive coordinator.
Can you see a pattern here?
Instead of blaming the easiest scapegoat there is in Turner, why don't fans focus their attention to the ongoings of the Chargers' front office? Namely, the grey-haired ghost of Chargers general manager, A.J. Smith.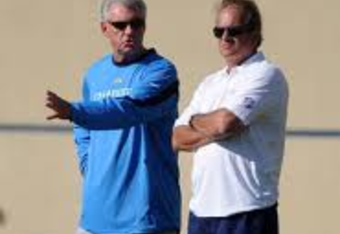 Let's not forget that Smith's personal strife with Marty Schottenheimer was one of the main reasons Schottenheimer was fired as head coach and Norv Turner was hired to replace him.
Dean Spanos decided to side with his general manager rather than with his head coach. This would mark the second time under Spanos' tenure that he sided with his general manager on a coaching decision.
Do the names Bobby Bethard and Bobby Ross come to mind?
Fire Schottenheimer and hire Turner? Are you kidding me?
Granted, Schottenheimer didn't have a proven track record in the playoffs, using his "Martyball" tactics in the hopes of winning important playoff games.
In all honesty, hiring Norv Turner to replace Marty Schottenheimer was a serious downgrade, not a vast improvement.
Once again, in my opinion the blame should fall on A.J. Smith!
You could point the finger at Chairman of the Board and President Dean Spanos, but do you really think he is going to take the heat? He's going to point the finger at the front office even though Spanos was the one that has kept Smith and Turner around this long.
Should the Chargers look to return to the glory of seasons recently past, a serious shake up of the front office management needs to be considered.
Dean Spanos needs to direct his attention away from the possibility of a brand new downtown San Diego football stadium and toward the current problems of his father's NFL football team.