Constructing the Perfect NBA Player Mini Series Part 2: Defensive Skill Set
November 17, 2011
Defense is the most difficult aspect of the game of basketball. There is no task more daunting, or rewarding, than attempting to thwart the opposing team's effort to score.
This article, in addition to the Offensive Skill Set portion that I have already posted, will make up the "Talents" section of the miniseries.
I will detail all necessary areas and components of a "perfect" player's defensive skill set.
Stealing
Alvin Stockton
I couldn't help but choose another hybrid player for this category.
Alvin Robertson is the all-time leader in both steal percentage, at 4.1 percent, and steals per game, with a 2.7 average. He led the league in steals and steals per game on three different occasions, and posted a remarkable five seasons with an average of at least three steals a game.
John Stockton was the epitome of consistency in regards to stealing the ball. He is the all-time leader in steals and the only player ever with over 3,000.  
Blocking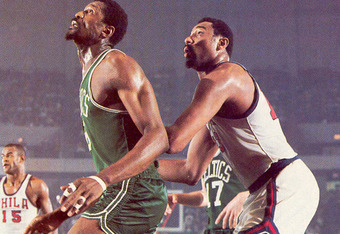 Wilt "Dikembe" Russell
This was definitely the hardest category in which to make a confident and wholehearted decision.
On one hand, you have players such as Mark Eaton and Hakeem Olajuwon, whose blocks were accounted for and recorded throughout the duration of their careers.
On the other hand, you have Bill Russell and Wilt Chamberlain, whose total number of blocks and blocks per game are unknown and incalculable because the statistic wasn't recorded during their era.
Despite the uncertainty and the speculation that will be associated with my decision, I chose Chamberlain and Russell because the reports and estimations by referees, fans and experts suggest that each of them averaged six to eight blocks a game. If these numbers are accurate, or even relatively close to the actual numbers, then Chamberlain and Russell would undoubtedly be the greatest blockers of all time.
No player would be complete without the swagger that Dikembe Mutombo brought to this aspect of the game. His notorious finger wag was the trademark of every one of his blocks, and left the victim contemplating the idea of ever stepping into the lane again.
Defensive Rebounding
Wilt Russell
I couldn't help but use this incredible combination again. They were unarguably superior to any other player of their era in all defensive facets of the game.
They each averaged over 22 rebounds a game, and although they didn't specify defensive and offensive rebounds at the time, I am willing to speculate that they would have been one and two in the all-time defensive rebounding total and average categories.
They dominated the boards unlike any other player in the history of the game, each having posted games of over 50 rebounds—a number that isn't even fathomable in today's game.   
Perimeter Defense
Gary Jordan
Gary Payton and Michael Jordan. In my opinion, they were the two greatest perimeter defenders ever. They each amassed a remarkable nine All-Defensive first team selections, and both won  NBA Defensive Player of the Year awards. They also place fourth and second on the total steals leaderboard, respectively.
Payton's nickname speaks for itself. "The Glove" contained and harassed the opponent's best perimeter offensive player night in, night out through his smack talk and uncanny, defensive awareness.
Jordan is the most complete player ever to play the game. He is one of two players to win the MVP and Defensive Player of the Year Award in the same season. MJ's ability to drop 30 on the offensive end, while simultaneously being a stalwart defender, is a tribute to his stamina and competitiveness.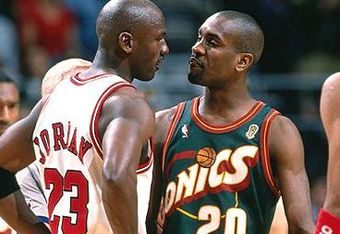 Post Defense
Ben Wallace
This was a no-brainer for me. Wallace epitomized hustle, hard work and determination. He was the defensive cornerstone of the Pistons' dynasty during their heyday earlier in the 2000s. He won the Defensive Player of the Year Award a record four times, and is fifth all time in Defensive Rating. 
Miniseries Navigation:
Part 1: Physique
Part 2: Offensive Skill Set
Part 4: Intangibles