Jets vs Broncos: Latest Injury News for LaDainian Tomlinson and Willis McGahee
November 17, 2011
Doug Pensinger/Getty Images
Whether it's from a fantasy football or real football perspective, injuries can really plague a team and put them in dire straits.
As for the Jets and Broncos, each has their fair share and ironically enough, the two most notable are at the RB position.
According to Evan Silva of NBC Sports, who quoted ESPN's Adam Schefter on Twitter, Denver RB Willis McGahee's status won't be known until before kickoff.
Also, in an article by The Sports Xchange of The Orlando Sentinal, McGahee is feeling optimistic:
"I think it's going to be good," he said. "I'm not worried about it, so I don't think you should worry about it."

Denver's rush offense is ranked No. 2 in the NFL, due in large part to the resurgence of McGahee. Lance Ball would start if McGahee is unavailable, backed by Jeremiah Johnson, newly signed off the practice squad.
McGahee went on to add:
"Physically, I always feel I'm ready," said McGahee. "You never know until you're out there."
That being said, fantasy owners better have their eyes glued to their lineup until the waning moments before kickoff and have their ears zoned in on the TV with NFL Network in the background.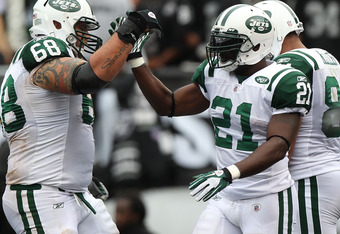 Jed Jacobsohn/Getty Images
It's also probably not a bad idea to have ESPN's Adam Schefter's Twitter page up because having multiple sources readily available will get you McGahee's official game status quicker.
As for the real football game where players tackle one another, if McGahee plays he will be used in balance along with QB Tim Tebow for Denver's rushing attack. Being that he may not be 100 percent, the Broncos can't risk overdoing it with McGahee, plus adding Tebow to the mix will keep New York honest.
At the same token, Willis should see a few receiving targets on check-downs as Tebow only makes one-to-two reads when dropping back. Also, don't discount screen-passes especially against a Jets defense that likes to blitz.
The injury status of Jets RB LaDainian Tomlinson is a little more clear as opposed to Willis McGahee.
According to Brian Costello of the New York Post, Tomlinson didn't even make the trip to The Mile High City:
"Running back LaDainian Tomlinson and wide receiver Jeremy Kerley stayed in New Jersey yesterday, nursing knee injuries, and will not play tonight against the Broncos. That leaves the Jets without two key pieces of their offense."
So with that being confirmed, Tomlinson is an obvious bench in fantasy football. In addition though, how does this affect the Jets offense and gameplan against Denver?
Well, Tomlinson is their most versatile RB, so chances are Mark Sanchez doesn't check-down as much or call a screen pass unless it's to a WR. Also, this excludes the draw play from the gameplan because fellow Brahma Bull Shonn Greene is mainly used for dives, traps, and off-tackle runs.
Not to mention LaDainian is as good as RBs come when we're talking pass-blocking in the pocket. Not to say that Greene is a good pass-blocking RB, but Tomlinson is much better.
Therefore, expect a lot of quick passes from Sanchez as well as fade routes when going deep. There won't be too many seven-step drops or even five-steps for that matter. The Broncos have too respectable of a pass rush with rookie LB Von Miller and Elvis Dumervil to leave Sanchez as a sitting duck for more than 2.5 seconds.
And when running the football, anticipate mostly up the gut as Greene isn't a counter or toss RB like Tomlinson either.
Be sure to check out John on Bleacher Report. 
You can follow him on Twitter @ Sportswriter27.