SF Giants: Could Jonathan Sanchez Trade Give Them Room to Sign Prince Fielder?
November 18, 2011
Jamie Squire/Getty Images
After years of trying to turn Jonathan Sanchez from a raw reliever into a consistent starter, the San Francisco Giants decided send him to the Kansas City Royals in exchange for a package deal centered around Melky Cabrera.
The addition of Cabrera, along with the acquisition of Gregor Blanco, should be enough at center field for now. That narrows down the Giants' needs to shortstop, fifth starter and first base.
Shortstop:
The Giants have been linked in rumors to both Jimmy Rollins and Jose Reyes. It is very unlikely that they even reach out to either player, and will most likely be stuck with Brandon Crawford for another year. Rollins definitely wants to stay in Philadelphia and Reyes looks to be heading toward Miami or another high-profile location.
Fifth Starter:
While it would be interesting to see the Giants step up and provide the rotation with a solid fifth starter, that is very unlikely as well. Management is confident in Tim Lincecum, Matt Cain and Madison Bumgarner. Ryan Vogelsong should fit in well with the top three if he can produce numbers anywhere close to those of last season. With those four, the Giants may just want to stick with Eric Surkamp or Barry Zito as the fifth starter.
First Base:
Aubrey Huff and Brandon Belt are the top candidates to play first base in 2012. The problem is that everyone has a good enough idea of what both are capable of, and neither have high-caliber talent. Huff had a disaster of a year in 2011, and would probably be better off sitting on the bench if he plans to have the same type of season. Belt has the skill set to be a good first baseman, but he's shown youth and inconsistency in his first two seasons.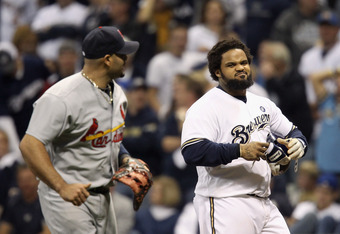 Christian Petersen/Getty Images
While the addition of Prince Fielder is also highly unlikely, due to the Giants' recent behavior in attempting to sign big-name players, it still could happen. It all depends on how badly Fielder wants to win a championship.
I can't believe I'm associating the Giants with the best chance of winning the World Series, but Fielder isn't going to play for the Yankees, Red Sox or Phillies, leaving the Giants as one of the top candidates.
Fielder could stay with the Brewers, or possibly move to another NL Central team like the Chicago Cubs, but he may not get the opportunity to go back to the playoffs any time soon. The Giants look to be NL West favorites heading into 2012 if they can get Buster Posey and Freddy Sanchez healthy again.
San Francisco had a 2011 payroll of $118 million, and have room to sign a big-name player if they really want. Fielder would be a great fit in orange and black if he chooses to go that route (which would probably shock everyone), and would take over first base immediately.
Trading Sanchez and bringing Fielder into San Francisco would definitely boost the Giants into one of the favorites to win both the division and the pennant.