Tim Tebow: How the Denver Broncos QB Makes NFL Experts Look Bad Just by Winning
November 18, 2011
Garrett Ellwood/Getty Images
This will be a controversial piece.
Why? 
Because anytime you write about Tim Tebow, arguably the most polarizing person in the NFL—maybe in professional sports—there will always be controversy.
If you share Tebow's faith, are a Denver Broncos fan or a Tim Tebow fan, then you'll probably love what I have to say. If you're none of those, you'll hate it—that is, of course, unless you're incredibly objective and are willing to take off your "I hate Tebow" T-shirt. 
I've lost hair and sleep trying to figure out why people dislike Tebow so much. It doesn't make sense to me that in a league full of "character" guys (meaning people of questionable character), one of the few "high character" guys (pretty self-explanatory) is vilified and ridiculed by so many. 
After much soul-searching, research and listening to the NFL "experts," I think I just might have come up with some pretty plausible answers. 
Insert drum roll here, please... 
Tebow makes coaches, analysts and armchair quarterbacks look stupid! For the amount of money they get paid, they're supposed to have more insight and knowledge than the rest of us. He makes them appear overpaid.
Did I mention that they don't like that? 
The NFL is the highest level of football. The experts pride themselves on their innate abilities to recognize NFL talent, pick draft orders and even determine potential players' futures.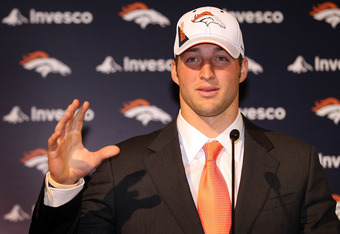 Doug Pensinger/Getty Images
The experts said Tebow's game wouldn't translate from college to the pros. They graciously conceded that because of his immeasurable leadership skills and work ethic, some team would pick him in the later rounds as a tailback. 
Tebow was chosen in Round 1 with the 22nd pick, as a quarterback, by the Denver Broncos.
Perhaps prophetically, Tebow had opined long before the draft—when he was constantly badgered by the press about his throwing motion and his NFL potential—that he didn't need 32 teams to like him—he only needed one. 
Once he made it into the NFL, the experts told us that he wouldn't be a successful quarterback because of his unorthodox style and his inability to throw the ball with "NFL quarterback accuracy." 
Tebow has proceeded to win five of his eight NFL starts. That would be a glowing resume for any starting NFL quarterback. 
What makes it worse, though, is the fact that he's won those five games playing just like he did in college. Shotgun snaps, option runs and designed quarterback runs. And he's done this against some of the best defensive players in the league, players like Darrelle "Island" Revis. 
The experts said that wouldn't work! 
How do you complete two of eight passes in a game and still win? That still confounds the experts. If you have the answer, call the Kansas City Chiefs, as they'd love to figure that one out, too. 
The truth is, the game isn't played on paper, nor in NFL Network studios by analysts dressed in dapper suits. Deion Sanders, Michael Irvin, Marshall Faulk and Steve Mariucci all picked the New York Jets to win last night's game.
They were wrong! 
After the "surprise" win, the Denver Broncos sit at 5-5, only a half game out of first place in the AFC West, behind the Oakland Raiders, with whom they've split their regular season matchups. 
Tebow's stats make liars of the experts. Tebow went 9-for-20 for 104 yards. Mark Sanchez went 24-for-40 for 252 yards and threw one interception. Those stats would suggest that Mark Sanchez won the game. 
He didn't.
There are intangibles in the game of football that are incalculable; as such, our stats are about as worthless as the paper they're written on. Tebow has demonstrated an uncanny ability to recognize this fact. Apparently Mike Mayock hasn't. 
Mayock's "color commentary" of the game demonstrated his profound bias—he failed to see that Tebow's strengths far outweigh his perceived weaknesses. 
For every incomplete pass of Tebow's, Mayock found fault with his mechanics or his accuracy. But for every poor throw by Sanchez, Mayock found fault with the receiver.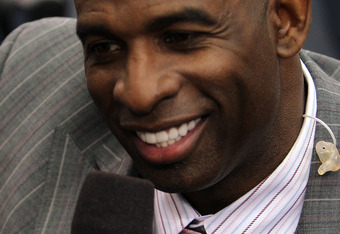 Michael Heiman/Getty Images
He didn't reckon on Tebow's will to win, which helped him drive 95 yards for the game-winning drive.
Tebow is bad for the experts' egos. He's not meant to succeed throwing and playing the way he does. But, apparently, what the experts think or feel has little bearing on his effectiveness in winning games—pretty or ugly.
Heck, Tebow was the leading rusher in the game. Nobody but Michael Vick is allowed to get away with that at the quarterback position. Tebow doesn't just win with his arm and his feet—he beats you with his head, too! 
Commenting on the new phenomenon of "Tebowing," in response to reporters who informed him that most people mean it in the most derogatory of ways, Tebow declared:
It's not my job to see people's reasons behind it, but I know [of a kid] with cancer that tweeted me, 'Tebowing while I'm chemoing'—how cool is that?
While Tebow may not be the only player who expresses his faith publicly, he's arguably the most high-profile—and one of the few that never seems to publicly speak out of turn. Life really seems to work for Tebow the way he interprets it—and many people appear not to like that. 
I don't, by any stretch of the imagination, think that Tebow is even close to being one of the best quarterbacks in the NFL. I do, however, think he's a brilliant, hardworking athlete with an incomparable will to win. And that alone makes him a tremendous asset to his team. Add to that his ability to win and, well...you fill in the blank.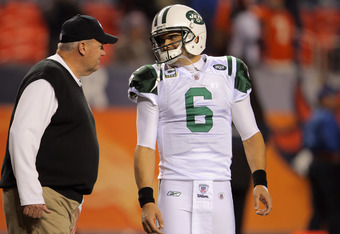 Doug Pensinger/Getty Images
Here's how Rex Ryan of the New York Jets put it after their loss last night,
You know he's going to keep it in that situation. That's what he does. You keep the ball in your playmaker's hand...we thought he was going to carry the ball and he didn't disappoint us. But he ran for a touchdown. The kid's a competitor and makes big plays with the game on the line.
Since I'm not an NFL analyst and don't have my pride at stake, it's safe for me to say that I think Tim Tebow's an amazing young man (to whom any right-thinking father would love to give his daughter) with great morals and great scruples. 
For all the controversy that surrounds him, I don't think we're in danger of reading about Tebow being seen in a nightclub around a gun fight anytime soon.
But I do think we'll be reading a lot more about games that he's won as an NFL starting quarterback—in spite of what the experts say!
That's my story and I'm sticking to it.