Norman and Couples Talk Windy Conditions and Pairings at Presidents Cup
November 18, 2011
Scott Halleran/Getty Images
Leave it to Fred Couples to get to the heart of the matter with one comment, which may surprise those who do not know him. Those who do would agree it's vintage Couples.
"Look, there have been a lot harder rounds of golf played," Couples said after the end of round 2 at the Presidents Cup. "But just the golf course did not lend itself to any birdies so everyone thinks, they must not be swinging well. All of these guys played great. They have not lost their games because they just played in a 25-mile-an-hour wind."
Greg Norman recalled that the conditions were similar to the first day in 1998. He was also pleased with his team's performance.
"We are extremely proud of the way Aaron Baddeley bounced back from yesterday," Norman said. "I know he was kind of gut-wrenched a little bit by what happened on the 18th, but to see what he did, holing that three and a half footer for a win on the last hole did him a world of good, did the team a world of good and followed up by Geoff Ogilvy doing what he did and holing the same-length putt, just as difficult, really helped us generate a lot of momentum."
Norman said day one took confidence away from their team and day two gave it back to them.  They are just two points down with 22 points remaining to be won.
"It was a very exciting day," Couples added about the play of both sides. "I'm proud of all 24 players as a witness to this. It was not much fun out there, I'm sure, for any of them. Obviously there were three teams that won on each side, so they had fun. But it was brutal."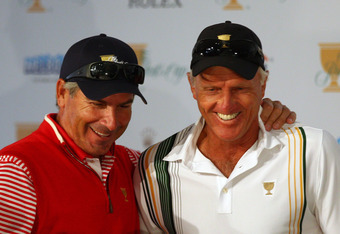 Ryan Pierse/Getty Images
He said he was fine being two points up in the matches.
Norman explained the reasoning behind keeping Ernie Els and Ryo Ishikawa together.
"He's ( Els) completely comfortable with him. In the alternate-shot on the first day, they shot 4-under," Norman said. "They got beaten, yes, but they shot 4-under.  I like's Ryo's golf ball. He (Ernie) doesn't have a problem with it. So as far as Ernie's concerned, they played well and were beaten."
Both players asked to continue to play together, and Norman added, "As I'm concerned, the two guys ask to play with each other, then you let them play with each other."
Steve Stricker sits the first round today, and according to Couples, that is by plan.
"I think Steve Stricker can't go five rounds," Couples said. "I wouldn't do that to him. So we went back with Tiger and Dustin tomorrow, and we are hoping that they come out and play well and get a point."
Part of his decision is the long day and length of the rounds.  Stricker, at age 46, is older than Ryo Ishikawa and Jason Day combined.
"For Steve to go out and play in the afternoon, weather permitting, he might be out there 5 1/2 or six hours," Couples said. "So some of these guys on both teams are going to have one long day tomorrow. So that's why we put Strick in the afternoon instead of with Tiger in the morning."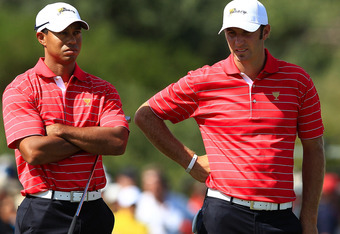 Quinn Rooney/Getty Images
On Tiger Woods being winless so far, Couples noted that they are up by two points as a team and that's all he cares about and says Woods feels the same way. 
"He played very well today," Couples said of Woods. "Jason Day and Aaron Baddeley threw it all at them, and they won 1-up."
Showing he can still come out with some Yogi Berra-like comments Couples quipped:
"As far as the golf, when you play, someone is going to win a match."   
"You know, this golf course—we are all learning it. And today, we learned that you can't stop a ball on the green."  
Kathy Bissell is a golf writer for Bleacher Report. Unless otherwise noted, all quotes were obtained firsthand or from official interview materials from the USGA, PGA Tour or PGA of America.