NBA Lockout: Lessons in What Not to Do
November 18, 2011
Patrick McDermott/Getty Images
After a weekend of what could be considered deliberation, the NBA Players Association rejected the owners' offer Monday.
They will now begin the necessary steps leading to disbandment.  The fact they needed a whole weekend to come to this decision, while seemingly insignificant, is indicative of the process as a whole.  
If the NBA lockout has taught us anything, it's the importance of being proactive.  If the players really wanted to play this year, they would have approached the league offices at some point last season and let it be known they were serious about negotiating. 
At that point, if the owners had been unreasonable in their demands and unwilling to concede anything, as we've seen they are, the Players Association could have de-certified in June.
In essence, four months have been wasted. 
Due to the time line of events over the past year, it is easy to compare this lockout to the one we saw in the NFL. 
For many reasons, the two situations could not be more different.  First and foremost, there was nothing inherently wrong with the NFL.  Sure, rookie contracts were too high, but no one was actually losing money. 
While the NBA enjoyed some of its highest television ratings since the Jordan era, things were out of hand behind the scenes.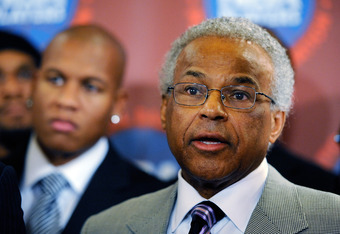 Patrick McDermott/Getty Images
Amir Johnson, who averages 9.6 points and 6.4 rebounds for his career, got a five-year deal worth $34 million.  Darko Milicic, best known for being a No. 2 pick bust, got four years and $20 million from Minnesota after not panning out in Detroit. 
To put this in perspective, it's important to forget the fact NBA players make more in a few years than most of us will see in a lifetime.  We must hold them to the same standards that we hold ourselves. 
You can't blame the players for taking the money.  After all, who wouldn't?  In essence, the owners are punishing the players and fans for their own errors in judgment. 
Even so, they're errors that need correcting.
In the NFL, it was easy to side with the players.  The owners came off as slimy and greedy, and it seemed as if there was no real need for a lockout at all. 
The NBA lockout, on the other hand, is like a debate between Rush Limbaugh and Michael Moore.  What's the point of taking sides when they're both idiots? 
The NFL Players Association had a plan, stuck to it and got to training camp only a few days late. 
And actual negotiating was taking place during their meetings.  Apparently, the only thing NBA players were paying attention to during negotiations was the food spread.  Right, JaVale McGee?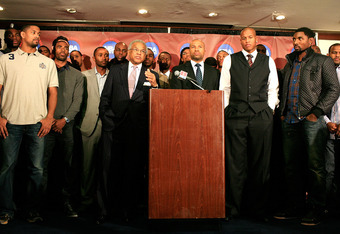 Patrick McDermott/Getty Images
Both the players and owners in the NBA seem unable to grasp the definition of negotiation.
Last week, the owners resorted to strong-arm tactics, saying this offer would be their last and that the players better agree to it or else. Making threats is not negotiating. 
Then, in a baffling move, the players didn't even give themselves a chance to call the owners' bluffs.  Rejection is also not negotiation. 
What ever happened to one side makes an offer, the other side counters and it goes round and round until a compromise is met?
The porous negotiating methods between the players and owners is a direct reflection on the leadership abilities of commissioner David Stern and Players Association executive director Billy Hunter. 
Hunter gave the players no chance from the very beginning. 
One could say the players were disinterested and ill-informed in terms of the ramifications of their situation.  But the responsibility to inform them belonged to Hunter.  These are athletes, not businessmen. 
While players should've questioned the motives and agenda of their leader more, even when they did ask, Hunter had trouble finding answers.  Instead, it seemed as if he and Derrick Fisher were playing the whole thing by ear.
As for Stern, it's impossible to tell how many owners he still has on his side, but at this point it's got to be less than half.  No matter what happens from here on out, Stern is the villain of this whole mess. 
Even if Billy Hunter jumps over a court bench and cuts Donald Sterling's head off, he still won't usurp the commissioner's throne.  Then again, it is only Donald Sterling.
Every time I see Stern on television, with his smarmy grin and soulless eyes, I'm amazed there aren't giant flames on his back and minions at his feet.  Even as the owners slowly abscond his flock, in the fan's eyes, Stern remains the personification of evil.
Ah yes, the fans.  Though certainly not silent, the fans seem to be the forgotten voice in the situation. 
The NBA has shown no concern for its fans, instead betting on the idea that no matter how much time is missed, their audience will come crawling back. 
As an angry, bitter fan, I can tell you they're probably right.  But that doesn't make it acceptable.  It's like neglecting your children simply because they have no one else to turn to. 
When professional basketball does come back and fans can again watch Blake Griffin dunk and LeBron James get booed, the lockout will become a distant memory. 
It shouldn't, however, and the actions taken during this time should forever serve as a reminder to unions and employers everywhere of how not to handle a work stoppage.