Presidents Cup 2011: Tiger Woods Tops Aaron Baddeley to Clinch Cup for US Team
November 20, 2011
Scott Halleran/Getty Images
Tiger Woods is back, or at least that would seem to be the case after golf's crestfallen champion defeated Aaron Baddeley at Royal Melbourne to clinch the 2011 Presidents Cup for the US team.
Woods was brilliant against the Aussie favorite on Sunday, going four-up on the 15th hole to put the Americans up 18-14 and out of reach of a game International squad. The win for Woods culminates a long climb back over just this weekend, from mediocre play on Thursday and Friday to hitting greens and missing puts on Saturday to tasting victory, in some form or fashion, for the first time since 2009.
Tiger had been playing solid golf coming into the competition, with a third-place finish in the Australian Open under his belt that could easily have been a full-blown win if not for a pair of bogies on the back nine on Sunday.
Does this mean that Tiger has regained his form, that he's ready to resume his winning ways on the PGA Tour? Not necessarily, though the boost of confidence that comes from playing well with victory hanging in the balance should serve as a step in the right direction.
How big a step that is remains to be seen, at least until the 2012 season gets under way. We've seen Tiger play well in fits and starts in the years since his thrilling triumph at the 2008 US Open and the fallout from his marital infidelities that followed in late November of 2009. He notched three top-four finishes in Majors between 2010 and 2011—two at the Masters, one at the US Open—though after being in position to win going into the weekend.
Sure, it's telling, if not downright encouraging, that Woods played his best golf of the event on the last day when it mattered most, which he used to do with regularity.
But before we go around proclaiming that Tiger Woods is Tiger Woods once again, let's take a step back and remember that, in the end, the Presidents Cup wasn't all about him, that the Americans probably would've won even if he hadn't come through and, as such, the pressure wasn't really on like it used to be. Tiger looked great off the tee but miserable on the greens, missing putts with alarming regularity.
He certainly wasn't alone in that regard, as the greens were tough for just about everyone in the field, but if Tiger is truly the elite golfer that he once was, if he is, in fact, going to dominate the competition like he once did, he need not be phased by the concerns of his mere-mortal competitors.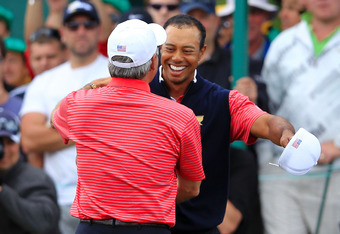 David Cannon/Getty Images
A high standard, to be sure, but one that Tiger set for himself by putting the world of professional golf in his back pocket for more than a decade.
It's unlikely that he's already that Tiger again, or that he ever will be, but the powers that be in the PGA must be pleased to see their once-crumbling cash cow back on the right track. Love him or hate him, you've got to admit that golf is more exciting, at least for the casual fan that the game is trying to reach, when Tiger Woods is actually relevant.
Something he proved to be over the weekend at the Presidents Cup.