American League MVP: Why Justin Verlander Should Not Win
November 20, 2011
Leon Halip/Getty Images
In 2011, Justin Verlander easily, and deservedly, won the AL Cy Young award. He posted a league-best 2.40 ERA in a league-best 251.0 innings pitched. Like Felix Hernandez last year, that pretty much ends the Cy Young conversation.
As great as Jered Weaver, James Shields and Doug Fister were, Verlander also dwarfed them in terms of WHIP (0.92, best in baseball), strikeouts per nine innings (8.96) and strikeouts per walk (4.39). Not to mention his solid home run rate (less than one HR allowed per nine innings) and his eye candy W-L record (24-5). 
This record, I fear, is pushing him over the edge in some MVP voters' eyes. I generally ignore a pitcher's record when judging his skill. To a certain extent, a workhorse pitcher who gets deep into games will collect more wins than a guy who sputters out around the fifth inning, but recent years have shown us that the team's offense plays a greater role in helping pitchers win games.
The team has to score a fair number of runs, and those runs have to be timely (scored when the pitcher is pitching). It is a common occurrence that a pitcher could win a handful more games than one of his peers and still be a weaker pitcher. Last year, Felix Hernandez won 13 games, but was better than three pitchers who won at least 19.
A pitcher should be judged on how many runs he allows (with some adjustment for his home ballpark and the lineups he faces), and how often he pitches.Those are the two main things.
Statistics like WHIP, walk rate, strikeout rate and home runs allowed all help tell the story, but these are less significant on their own than they are as components of ERA.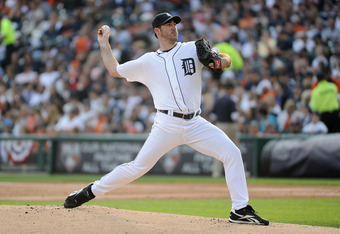 Harry How/Getty Images
A pitcher's job is to limit runs scored by the opposing team; everything else is secondary, and though some other statistics help predict ERA, they are not as important. This leads nicely into my first argument against Verlander as MVP: pitchers have had comparable seasons in recent memory.
Tim Lincecum and Felix Hernandez have proven that wins are not the most important thing to Cy Young voters. Therefore, I'm going to ignore Verlander's W-L record.
Last year, both Cy Young winners posted ERAs of 2.44 or lower in at least 249.2 innings. Neither received a single first place vote in the MVP race.
It is not especially uncommon these days for a pitcher to toss upwards of 220 innings with an ERA in the 2.00's. They rarely get significant MVP votes. So, why is it that Justin Verlander, with a 2.40 ERA in 251 innings, is getting significant support?
Part of it is his W-L record. A stunning 24-win season catches people's eyes. Verlander got significant run support. Yes, he pitched phenomenally (Cy Young worthy, no doubt), but those wins just don't matter to anyone other than Tiger fans rooting for Detroit to edge out Cleveland by year's end.
The Tigers scored 787 runs in 2011, good for fourth in the AL (and fourth in all of baseball). In Verlander's 24 wins, his team scored 129 runs, which averages out to 5.38 runs per game. A team should win when their offense is putting up that many runs in a game. Most of the top pitchers in baseball this year would have won upwards of 20 games, given run support like that. The 24 wins are meaningless in the MVP conversation and should be ignored.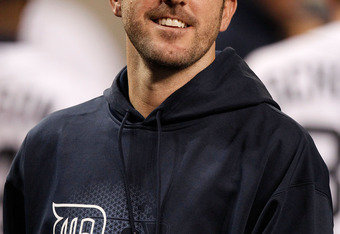 Gregory Shamus/Getty Images
Then there's the "value" argument. Because this award isn't called "the best player award" or "most productive player award," voters use all sorts of weird assessments to try to capture "value." I just interpret it as an award for the player, usually a hitter, who has the best season. 
Voters will make asinine judgments, my favorite of which has to do with a team making the playoffs. Somehow, a player becomes more valuable if his team makes the playoffs. This completely disregards the notion that baseball is a team game, won and lost by 25 uniformed players and a small group of coaches and support staff who pull the strings.
A player's value really has little to do with whether his team makes the playoffs, because each individual player is only worth a handful of additional wins (at best). Conceivably, a player could be less valuable and still make the playoffs over a more-valuable counterpart.
I know voters often use playoff standings in cases where all else is equal, but all else usually isn't equal (for instance, this year Matt Kemp was better than Ryan Braun, playoffs be damned). In a long season, how can we possibly compare two players by where their teams stand at year's end?
In addition, hopefully voters notice that Detroit probably would have made the playoffs without Verlander. Their division is so weak that they would only have needed 81 wins to play in October. That they won 95 is a testament to a group of players of which Verlander is not the sole productive member.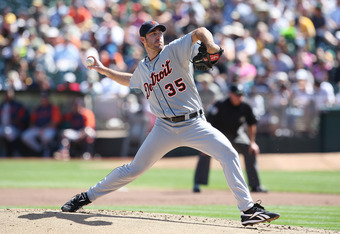 Tony Medina/Getty Images
Every other division's second-place team won at least 86 games, Detroit overshot their "must-win" mark by 14 games. Justin Verlander is not solely responsible for those 14 wins, so therefore his team make the playoffs because of a group effort. Those 95 team wins and 24 personal wins do not belong solely to Verlander.
The advanced metric gurus have come up with something called WAR (wins above replacement-level), a metric indicating how many wins a team gains by using a given player instead of a waiver-wire or AAA level player. Justin Verlander was worth 7.0 wins this year.
His teammate, Miguel Cabrera, posted a WAR of 7.3. C.C. Sabathia posted a higher WAR in 2011 (7.1), and six hitters posted WARs of 7.0 or above. But 7.0 isn't even the highest WAR Verlander has ever posted.
In 2009, when his ERA was 3.45, he was worth 8.3 wins above replacement level. So this method of actually quantifying how many wins a player is worth is flawed. For pitchers, it takes things like strikeout rates, walk rates and home runs allowed into account. That's why Verlander's 2009, when he struck out 10.09 hitters per nine innings, was better than his 2011 according to WAR.
It's a flawed metric, but subjective judgment isn't any better. We cannot say whether a player is responsible for his team making the playoffs, nor can we say to what degree a player is responsible for this. 
Similarly, the argument that a player is the only outstandingly-productive member of his team doesn't hold water either. Without Verlander, the Tigers' rotation would have been far worse off, yes. But does this make him more valuable than a comparable pitcher (say Roy Halladay or Cliff Lee) who surrounds himself with co-aces? Simply put, the value of a player shouldn't depend on his teammates.
If Verlander were to be traded, should he cost more for the Yankees than he would for the Astros? Would he be more valuable as a Yankee than as an Astro?
In theory, the level of production he adds to either team would depend on a number of factors (ballpark, his familiarity with opposing lineups, luck), but we just can't say that, as a rule, a player is more valuable while a member of a playoff team.
Nor can we say a player is more valuable when he lacks outstanding teammates. MVP awards should be won or lost based on statistics (with some consideration of lineup protection and things like that).
I would look at things like OBP, power and batting average (as context-influenced statistics) and defense and speed (which, come to think of it, are also based on context). 
The last argument has to do with whether pitchers should be allowed to win the MVP award.
To a certain degree, I think it would be kind of boring for Verlander to win both major awards. For another, it involves comparing apples and oranges. Beyond that, which is more nutritious, an apple a day or an orange every five days?
For another, which is more valuable, an apple I eat in a five-star restaurant or an apple I eat in McDonalds? We have to rid ourselves of all these ridiculous unquantifiable notions. Voting is still going to be subjective, but let's look at the statistics. Let's not consider the team a player is on. Team performance has to do with far more than one player on that team. 
And even when I try to compare these apples and oranges. Verlander still doesn't seem to me the most valuable player. My ballot would look like this:
1. Jose Bautista
2. Miguel Cabrera
3. Jacoby Ellsbury
Justin Verlander was the best pitcher in the AL this year, but he really wasn't the best by far. Nor was his pitching performance unusually spectacular, it was roughly in line with where the best pitchers wind up year-by-year.
He isn't the sole reason his team made the playoffs, nor is there compelling evidence that the Tigers wouldn't have made the playoffs without him. The fact that he lacks a co-ace doesn't directly affect his value, to his team or any other he might hypothetically pitch for.
How can we compare him with hitters, some of whom had excellent seasons but may dilute the vote in Verlander's favor? Obviously, there is a legitimate possibility he wins the MVP, but I think it would be a mistake.