Detroit Red Wings: Is Moving to the Eastern Conference Good or Bad?
November 21, 2011
Dilip Vishwanat/Getty Images
There have been whispers since the last NHL realignment that Detroit was promised to be the next team to move east once a need arose. Since that time, they have logged volumes of extra miles trudging out to the West Coast to play teams. Playoff season is a nightmare as most of their road games end up starting after 10 p.m. With Atlanta moving to Winnipeg, the discussion about who moves east or how an entire restructuring should happen is at the forefront.
Over the next several months, major announcements are expected. The next league meeting is in two weeks, and we might have a better idea how things will shake out after that meeting. Columbus, Nashville and Detroit are vying to make the move east. Also of concern is the fate of the Phoenix Coyotes, and if they decide to move how that will affect any proposed changes. Many want Detroit to move east, but is it a good idea?

The Good
Time zone games

Detroit fans have to suffer many late-night games throughout a season. It is rather amazing that they have such high TV ratings; a testament to their devoted fan base. Currently only one other team in the Western Conference is in the same time zone as them. In the East, the entire conference is in the same time zone
A move east would mean better start times and the ability for more fans to watch more games. More eyes watching would mean more advertising dollars. More money is good for the team, and after all of the extra expense that Detroit has had to pay in travel over the years the league owes them a chance to make it up.

Original 6

While they do still have Chicago on the current yearly schedule, historically Toronto and Montreal have been bigger rivals. Through the original six years, it was those three teams that won the most Stanley Cups. Separating Detroit and Toronto and not having them play each season has been a bad mistake. Last season when Toronto came to Detroit, it was amazing how different the game atmosphere was.
The Leafs and Canadiens alone would be reason enough to move, but adding Boston and the New York Rangers in makes it an easy four-for-one trade. An even crazier idea would be for the league to put all six of them back together in the same division, but for now a Detroit move will work

Travel

Detroit has long been one of the most traveled teams in the league. Multiple trips to the West Coast every season is rough. There are only a few teams in the west that can be reached in a decent eight-hour drive. In the East, they could reach over half the conference with ease. This means more fans traveling to more games.

A Chance

Detroit has made the playoffs for 20 straight years. This means that some team is always left out. In essence, the season starts out West with all the teams fighting for seven spots since it is just about a lock that Detroit will grab a spot. With a move to the East their spot would be open.
Perhaps struggling fan bases in places like Columbus will come around if there team can now have a better chance at competing for a playoff spot. Taking a perennial 100-point-scoring team out of the mix  can give life to some of the other lower tier franchises.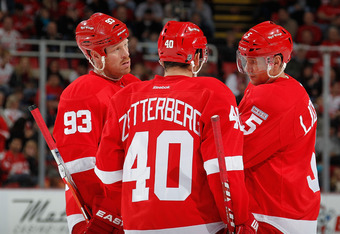 Gregory Shamus/Getty Images
New Rivals

Beyond reconnecting to more Original Six teams, there are other rivalry teams out there. Detroit and Pittsburgh played in back-to-back Stanley Cup Finals, which really increased the interest in a rivalry between these two teams.

The Penguins did the their best to keep Detroit fans from buying tickets to Cup games during their battles, which riled the Red Wings nation. Detroit fans have such a disdain for Penguins star Sidney Crosby that the hate factor between these two teams is there. Plus, there is a close proximity between the two cities as well. Fans can make the short five-hour drive to enter enemy territory.
After that, Tampa Bay would make an interesting battle as former Red Wings legend Steve Yzerman now runs the team. He is likely to build his new team in the image of his very successful old team. Having the two of them play more often could create a good rivalry.

The Bad
The Draw

A common argument for having Detroit in the West is that they are a huge draw. It is true that Detroit fans not only travel well, but they also are spread out throughout the country. This usually means a sellout for the home team when Detroit is in town. Even to non-fans, the Red Wings are often viewed as the Yankees of hockey, so they are also among the more hated teams. If people come to cheer for or against them, it does not matter as long as they are buying a ticket.
While it is great to have that sellout, how viable is a team if it relies on the Wings to sell out for them a couple of games a year? It is one thing to take one for the league as Detroit has done, but it is another thing to just about place the weight of an entire conference on them. Perhaps it is time to review the over expansion of the league and either retract teams or place them in real hockey markets.
Perhaps a bigger ramification of such a move is that it will force other teams to stand on their own and not look to other teams for support. Still, many will argue that making the move will hurt too many teams so the benefit to one team should not out weight the negative effect on other teams. Of course in this case, the league will then be asking Detroit to carry a larger burden then other teams are expected too.

Rivals: Chicago, St Louis

While Colorado, Dallas and San Jose have spent a few years as rivals, they tend to rise and fall. In the Blues and Blackhawks, Detroit has two tough teams that they have battled for decades.
Much like Detroit has missed playing Toronto, they would miss seeing Chicago and St. Louis multiple times every year. If the league adopts a schedule closer to the NBA model, where teams play everybody, then this issue would be eliminated.

Cities wanting teams

Quebec City and Hamilton top the list of cities who want an NHL franchise; both are further east than Detroit. There are other areas often mentioned, but these two Canadian cities seem to be the favorites. There are issues with other teams being able to block such a move, but the NHL needs teams in markets that are strong.
There is a decent list of teams that are struggling and may need to move. If any team moves east of Detroit, then they would be the obvious choice to switch conferences over Detroit.

Columbus

While Nashville is another team that wants to move east, they really have no leg to stand on in comparison to Detroit and Columbus. Columbus has the same travel and start-time issues that the Wings suffer from. The difference is that Detroit is a stable franchise that will keep on rolling regardless of which conference it is in, while Columbus is staggering.
The league could look at the situation and decide that moving the Blue Jackets could infuse new life into them. Perhaps not having road games starting at 10 p.m. could allow people to become fans. It would be hard to argue saving a franchise versus helping a healthy, established one.

Complete Restructure

Perhaps the best move would be to completely reorganize the conference and schedule. There are so many different ideas and proposals that have been tossed out by various pundits, the league, writers and my dog that it is futile to list them all.
A balanced schedule would greatly help the plight of Columbus and Detroit. If they can limit the amount of times that they have to travel out west then they would be happier. If they added in home and home matchups against all of the eastern teams then the situation is much better.
Of course come playoff time these advantages would disappear as Detroit, and maybe someday Columbus, would most likely be traveling to the West Coast for several rounds. In the end, there is likely no one right move, as whatever is decided will anger some and negatively affect others. A smart, balanced schedule may be the easiest way to go. Regardless, we should hear more news in the few weeks, so stay tuned.