Alex Smith: How Jim Harbaugh Has Found Gold in the San Francisco 49ers QB
November 22, 2011
Donald Miralle/Getty Images
9-1. 
9...and...1. 
Nine and one. 
The San Francisco 49ers are 9-1. I don't know about you, but I can't stop saying it. No one expected the 49ers to be branded with such a record at this point in the season. 
As Bill Parcels would say, "You are what your record says you are." But this particular football team is identified by more than the record that continues to improve each week.
United under rookie coach Jim Harbaugh, the resilient 2011 San Francisco 49ers have risen to the top of the NFC. Harbaugh has successfully instilled the blue-collar work ethic that Mike Nolan and Mike Singletary failed to instill when they were the head coaches.
It's not that the 49ers didn't work hard under their past coaches, but it's hard to maintain a rigorous work ethic when the W's aren't showing up. 
The last time the 49ers appeared in the NFL playoffs was in 2002 when they were led by Jeff Garcia and Terrell Owens. Since then, San Francisco has accumulated potentially talented players who had been underperforming. Alex Smith has physically embodied this underachievement throughout his career as a 49er.
Smith was the first pick in the 2005 NFL Draft. During his first six seasons, his offensive coordinator changed every year. He battled injury and criticism and has been blamed for the lack of success in San Francisco during the last six seasons.
New coach, same quarterback. What was I saying earlier...? Oh yeah, 9-1.
Smith hasn't said it yet, so I'll say it for him: "Look at me now."
There were serious rumors that Smith would be let go or traded at the end of the 2010 season. Maybe a fresh start was all he needed. However, he never lost faith in his organization or himself—even when everyone else had. When the NFL was still picking up the pieces of its preseason lockout threat, Smith called his team together and began coordinating workouts.
He didn't even have a contract.
Harbaugh recognized Smith's work ethic and his underlying talent and kept him around, which turned out to be the most underrated decision of the preseason. Smith boasts a 93.9 quarterback rating and only four interceptions to go along with his 13 touchdowns. 
These definitely aren't Tom Brady-caliber numbers, but he has been able to make the right completions at the right times. A prime example of this was during Week 6 when the Niners were on the road in Detroit facing the previously undefeated Lions. 
Fourth quarter, 4th-and-goal. Game on the line, ball in Smith's hands, and what does he do? Throws a bullet to tight end Delanie Walker who barely keeps his knee off the ground before the ball crosses the goal line. 49ers win and improve their record to what was 5-1 at the time.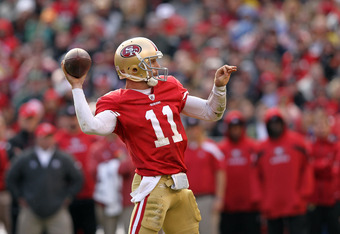 Ezra Shaw/Getty Images
The old Alex Smith would have found a way to lose a game like that. But this is the new Alex Smith. The Harbaugh version. The winning version. 
Smith plays in an offense led by relentless running back Frank Gore. This has opened up the Niners playbook and allowed Smith to play within himself. Smith has matured into the quarterback he is now because of the support of his teammates. He no longer tries to single-handedly win games. Instead he single-handedly tries to let his teammates win games. 
Smith has not gained the national recognition he deserves because of his infamous past. These days success is measured by a quarterback's passer rating, when it should be assessed through wins and leadership. This season Smith has brought both aspects to San Francisco. 
Alex Smith and Jim Harbaugh look to serve up some cold turkey on Thanksgiving night when the 49ers face Jim's brother, John Harbaugh, and the Baltimore Ravens.
San Francisco has come a long way because of the improvement of its now-veteran quarterback Alex Smith, and he continues to improve every week. The 49ers have finally struck gold. All they needed to do was find someone sharp enough to reveal the overlooked sparkle of Alex Smith.