2011 NFL Thanksgiving: Detroit Lions vs. Green Bay Packers Preview & Prediction
November 23, 2011
Leon Halip/Getty Images
As is the tradition on Thanksgiving Day, the Detroit Lions will be playing tomorrow, but the Lions look to do something they haven't done in seven previous attempts: win on Thanksgiving.  More specifically, they look forward to "not being destroyed," as in the past seven years, the Lions have averaged 14 points on offense while opponents have averaged... 36.  
So what's with all the random optimism this year?  Well, the Lions reeled off their best start since 1956. They have a competent quarterback for the first time since Gerald Ford was president and they have the best wide receiver in the league.  After seven long, harrowing years of being embarrassed on Thanksgiving, the Lions have the best team they've fielded since the Barry Sanders era.  So which hapless team will be on the wrong side of the Lions' pent-up seven-year rage this year, the year they finally win on Thanksgiving?
The Green Bay Packers?  They're undefeated?  Who's their quarterback?  Oh, this guy?
The Lions just can't catch a break on Thanksgiving... or can they?  A brief preview of some key points and matchups in what is sure to be a phenomenally entertaining game tomorrow:
Rodgers Lives and Dies by the Trenches
The Lions defensive line is among the more impressive in the league (because of Suh), but Aaron Rodgers has done an excellent job of just about everything a quarterback should do right, including not getting hit.  
If Suh, Avril and company can get to Aaron Rodgers and put him on his back, the Lions might be able to make things easier on their secondary.  All things considered, the Lions have the fifth-best passing defense in the league (192 YPGA).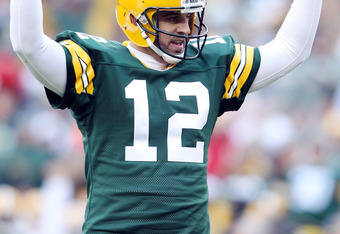 Elsa/Getty Images
Aaron Rodgers is clearly a gifted passer, but as NFL pundits are prone to do, they have emphasized the accomplishments of what is actually a very well-oiled offensive unit and chalked it up to a quarterback.
You don't get a filthy 72 percent completion rating by having a bunch of incompetent receivers.  Like Rob Base and DJ EZ-Rock once said, it takes two to make things go right, and it's hard to go wrong with guys like Jordy Nelson, Greg Jennings and Jermichael Finley.  
Lions Can't Lose by Themselves: Lock Down Fundamentals
If the Lions want to win against Green Bay, obviously, they can't make any of the miscues they made against Chicago two weeks ago.  When special teams and defense account for a vast majority of the points scored against you, there are some serious fundamental problems which need to be addressed.
Although it looks as if they addressed them last week against the Panthers, well, it was the Panthers.  Despite giving up the second most passing yards in the league, the Green Bay secondary leads the league in interceptions.  The Packers' defense tends to punish opposing quarterbacks who swing for the fences.  Stafford will need to check down instead of always looking to hit home runs against this secondary.
Secondary Matchups Have Primary Billing
Truth be told, Green Bay isn't exactly the best pass defense in the league, despite the presence of Charles Woodson.  If Green Bay's secondary dozes off tomorrow, Calvin Johnson is going to be their worst nightmare.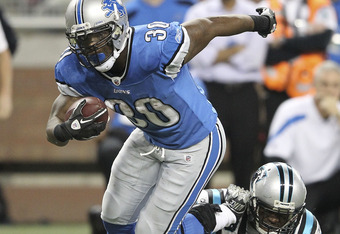 Leon Halip/Getty Images
I made a remark the other day that the Packers actually look a lot like the Saints in 2009 that started 13-0 and then dropped the last three games en route to winning the Super Bowl.  You might remember that the Saints were simply outscoring other teams with sheer firepower.  
The Packers' main weakness this year is actually being lax on the pass defense and letting other teams back into the game, something which has concerned Mike McCarthy in recent weeks.  Remember, Tampa Bay was a three-and-out and a field goal away from dashing the Packs' unbeaten season last week, and Tampa Bay is not on Detroit's level of offensive firepower.
Kevin Smith Needs to Produce
Last week saw the return of "fourth string" running back Kevin Smith, who had 201 all-purpose yards, two rushing touchdowns and a touchdown reception.  Carolina's not a very good run defense, but last week Detroit's offensive line was effective to the degree that Kevin Smith was just about running through the Grand Canyon on the road to pay dirt.  
For the Lions, it seems as if they have gone through almost a million running backs this year.  Not all of them are capable of producing like Smith did last week; as a matter of fact, most of them just got injured.  However, look to Kevin Smith to continue his strong production, and spread out the Green Bay defense tomorrow.
Prediction
The Lions exorcise their demons and win their first Thanksgiving Day game in seven years, 31-24.
Word.