UEFA Champions League: Winners and Losers from Matchday 5
November 24, 2011
Clive Rose/Getty Images
Winners:
Who would have thought it? The buildup to the match was full of stories which ranged from Napoli and Sergio Aguero's connections, as well as Balotelli and his return to Italy and the ridiculous claim that City were as good as Barcelona and Real Madrid.
Very few people gave credence to the notion that Napoli could win the game and Man City would be hanging on for dear life, But the side from Naples bossed the game from start to finish.
Cavani will no doubt take the headlines with his well-taken brace, but the workmanlike display of the outstanding Lavezzi, Hamsik and Dossena should not be overlooked. Man City might have one of the best groups of players in the world, but a proper team beat them that night.
Edison Cavani:
A near-perfect performance from the Uruguayan, whose stock will no doubt have risen after that game.
It's not that far fetched to call him world class, but I'll agree that he is very close. His movements and his hold up play as well as his finishing are of the very best quality, and to hear him talk about how hard he has worked in training and how happy he is to do his best for his team makes a certain Carlos Tevez look Foolish for yet another week.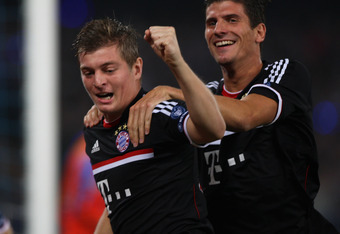 Paolo Bruno/Getty Images
Expect to see "Manchester City in for Cavani" in the coming weeks.
Bayern Munich:
Unbeaten in five games and they indeed made light work of Villarreal. My pick for a wild-card finals appearance come May. With Gomez and Kroos in such dazzling form and Ribery, Robben and Muller all capable of winning games singlehandedly, it's not that unimaginable.
Mario Gomez:
Mr. Prolific. seven goals in seven Champions' League games. 13 in 12 appearances in the league and 21 overall out of 20 games this season. Add that to the seven he scored for Germany this year, and you have a player who is very very deadly in front of goal. That's just fantastic.
Joe Cole:
Looks better with each passing game.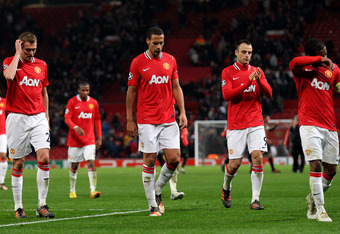 Alex Livesey/Getty Images
Benfica:
Not many teams get to expose Manchester United's defensive problems in the Champions' League, but Benfica seemed to be playing at a level that was either too quick or one step ahead of the United's defence.
Unbeaten in 22, although amidst a host of draws, its easy to see how they managed such an impressive feat.
Real Madrid:
No Ronaldo, No problem.
The first 10 minutes of the game saw three goals, which effectively ended it as a contest. It's quite frightening to imagine what would have happened if Ronaldo and the rest of the first-team players, who were rested, had played this game.
But fair play to Sahin, Diarra and Callejon who took their first-team chance well, no doubt pleasantly reminding Mourinho that the depth his squad possess is mind-blowing.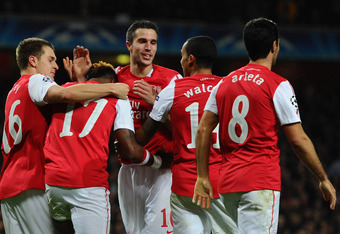 Mike Hewitt/Getty Images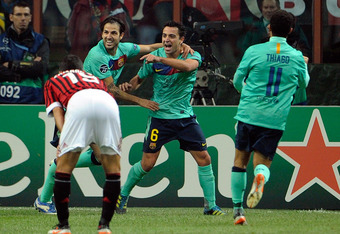 Claudio Villa/Getty Images
Karim Benzema & Gonzalo Higuain:
Masterful performance from both players. But more importantly, they proved that Real Madrid can be effective and deadly without Ronaldo. Special praise for Higuain. That Goal was world-class.
Last-minute victories are the sweetest for players and this one would have been extra special for them as it ensures qualification to the next round. In fairness it was an even performance, only difference being Leverkusen wanted it more.
Valencia:
Quite simply bullied Genk from start to finish. If that's any indication of how they will play against Chelsea in December, then the Europa league would be adding another London-based team.
Crisis club in September, first English club to qualify for the next round in November. Write them off as a finished team this season at your own peril.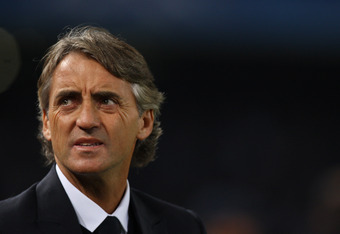 Paolo Bruno/Getty Images
Alex Song:
For my money, the most Underrated midfielder in Europe. The Assist aside, his work rate was phenomenal.
Robin van Persie:
Is he the best striker in the world right now? Few would argue against that. Another Brace. It's become so expected for him to score braces that I comfortably made $500 betting on him to do so.
APOEL Nicosia:
First Cyprian side to make the last 16. Everyone loves a record breaker.
Barcelona & AC Milan: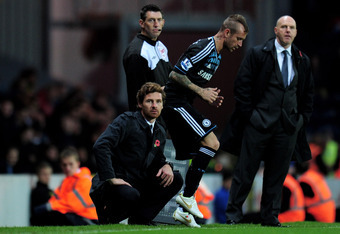 Shaun Botterill/Getty Images
Easily the most entertaining champions league game this season.
Kevin-Prince Boateng:
Take a bow son, take a bow. Expect to see that goal amongst the goals of the season at the end of the year.
Europa League:
It's quite possible that Man City, Chelsea and United could play Europa league next January. The man in charge of TV rights for that competition is rubbing his hands with glee.
Losers:
Manchester City:
There's not a lot of blame to be dealt out to the team, as it wasn't a bad performance. In fact, a last-minute draw wouldn't have been unfair at all.
But the mere fact that they looked like they were the underdogs for the larger portions of that game is worrying for fans and neutrals alike. It was a far cry from the majestic performances they have produced in the Premiership this season, and it is indeed a worrying thought that they might be playing Europa League football in January.
Roberto Mancini:
The decision to not play Richards and Clichy against a team with three defenders is puzzling. The insistence on De Jong for that long, despite him not adding or contributing anything offensively or defensively, is mystifying
The decision to not yank off Dzeko for Aguero—who for nine minutes looked better than Dzeko did for 81 minutes—is just ridiculous. For whatever reason, in the Champions' League, he reverts back to the conservative formation that could only muster a third-place finish last season in the league.
And it isn't working.
They play caged and inhibited and lack the fluid attack that they have been showing all season in the league. Its not over yet, as Villarreal could still show some life in them, and they still could miraculously beat Bayern Munich, who by the way would relish the opportunity to knock out City from the Champions' League.
But I must say, from where I'm standing, Thursday nights at Chanel 5 is about to get star-studded.
Villarreal:
The whipping boys of this season. It has truly been embarrassing to watch them play. Not because they have been beaten in every game, but because they looked like a team expecting nothing more than a beating anytime they played.
If they had any fight in them, it ended when Giuseppe Rossi got injured.
Manchester United:
It could have been better and yet it ended up so much worse. There is something missing from United this season. It cannot be Paul Scholes as he had been a peripheral figure at the club for some time.
But they look less assured in both defence and attack. Take nothing away from them, they are a terrific football team on their day, but those days have been few and far between since the Man City game.
They still are one of the best teams in the world and I expect them to be firing in the coming weeks.
Andre Villas-Boas:
The Special one he is not. And it seems that his team and his Chelsea job are in a fast freefall.
He simply wants to play a better system at Chelsea. And while this is respectable, he does not have the players to do so. A high line of defense is a killer for slow defenders, Thank God Arsenal have abolished that—it's no surprise they look more composed for it.
His defensive methods do so much damage. They expose their fullbacks at alarming rates as they get inexplicably sucked in time and time again, expose the lack of pace of John Terry and the lack of positional awareness of David Luiz that had been tastefully masked last season.
For whatever reason, it's affecting the midfield and the attack as well. Back to the drawing boards he must go and fashion out a system and a first team that doesn't look so vulnerable and beatable every time.
Chelsea:
Four defeats in one month. Abramovich must be throwing his toys in a pram somewhere.
Genk:
You simply should not be beaten that badly. It's inexcusable. 7-0 is just bad all-round.
Samir Nasri:
For those ridiculous looking boxers, for leaving Arsenal in hopes of winning a Champions' League with City, which might not happen and for becoming one of the most expensive squad players in football this year.
This time last year he was scoring a magnificent brace against Fulham and winning player of the month. Now he is just the man who gives David Silva a breather.