Broncos vs. Chargers: Why Game Is a Must-Win for Both Teams
November 26, 2011
Bart Young/Getty Images
This Sunday's rematch between AFC West rivals the Denver Broncos and San Diego Chargers is a must-win for both teams.
When these two teams met in Week 5, the Chargers just barely held off a furious Tim Tebow-led comeback in the fourth quarter. That victory was the last one they've had this season.
The 5-5 Broncos, on the other hand, have won four out of five games and have clawed their way back to respectability. With a suddenly effective defensive and Tim Tebow leading amazing last-minute drives, the Broncos have a look of a team on the rise.
At 4-6, the San Diego Chargers have been severe underachievers this season. They haven't won since their Week 5 victory against the Broncos and their normally-potent offense looks pedestrian.
Why Is This Game a Must-Win for the Chargers?
Norv Turner's job is likely on the line. The Chargers are simply too talented to consistently under-perform on the field. With little success in the playoffs and a couple seasons of staying home (last year in particular) when they should have won the division on his resume, Turner has shown that he is probably a better fit at offensive coordinator than at head coach.
Philip Rivers and the Chargers' offense need to show that they can still put up points and bully the Broncos through the air. With Vincent Jackson and Antonio Gates and tall, rangy targets, Rivers should be playing better. He's seemed "off" all season, though, and leads the league with 17 interceptions.
To keep whatever playoff hopes they might still have alive, the Chargers have to win this game. Seven losses are too many (unless you were the Seahawks in 2010) to get in to the playoffs, and another loss would seal their fate.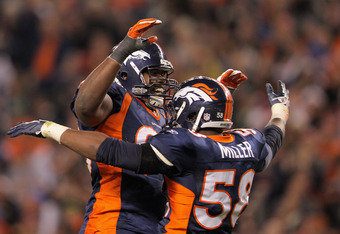 Doug Pensinger/Getty Images
Why Is This Game a Must-Win for the Broncos? 
Tim Tebow is still trying to prove that he can be a legitimate starting quarterback in the NFL. John Elway has said that Tebow must improve in key areas (accuracy and third-down conversions, in particular) in order to be considered a good option as a starting QB. While he's gotten victories and provided plenty of late-game heroics, his paltry 44.8 completion percentage tells the tale of his struggles in the passing game. Tebow needs to show that he can continue to win and get good yardage on the ground, while also showing that he can hit open receivers when he needs to.
The Broncos need to keep pace in the division with the Oakland Raiders. With the Kansas City Chiefs stricken by injuries and inept quarterback play and the Chargers looking dead in the water, the Raiders seem to be the Broncos' major obstacle in the division. The Raiders hold a one-game lead over the Broncos right now. If Denver loses this one, they'll fall further out of Oakland's range and it will be much more difficult to catch them.
Look for the Broncos to continue to play excellent defense and stymie the mistake-prone Chargers offense. Tebow is still an enigma, but I expect him to be good enough to pull out a victory in what should be a low-scoring affair.