English Premier League: Winners and Losers from Match Day 13
November 28, 2011
Shaun Botterill/Getty Images
Winners
Morale boosting victory. An expected win. No disrespect to wolves, but you'd expect Chelsea to win this without breaking sweat. What's more important is that team believes they can dispatch the weaker teams again and also the clean sheet is welcomed.
I still feel against a very solid and organized team they would struggle, but for now it's all about the three points and gathering momentum by getting a good run of results. I would recommend that Villas Boas continue with the team he fielded on Sunday. A midfield trio of Ramires, Romeu and Meireles presents perhaps the best attacking/defending midfield trio the club possesses, in the sense that they all have bags of energy and offer just as much going forward as they do defensively.
Daniel Sturridge:
If there was an English striker making the biggest claim for a place on the plane to Polkraine in the summer, it is Daniel Sturridge. With six goals in nine premier league games, he is the top scorer in a club that is home to Fernando Torres and Didier Drogba.
What's more impressive is that he is doing it playing on the right wing of the attack and not as an out and out striker. His versatility and his finishing put him ahead of Darren Bent and Danny Welbeck for me, and if he continues in this form, the future would be bright indeed.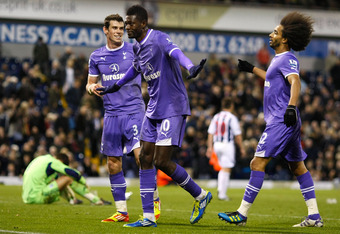 Tom Dulat/Getty Images
Tottenham:
As much as it pains me to admit it, Spurs are the best team in London this season. And, they are showing top 3 form. They win games that they should win and they don't drop silly points like last season.
The true winners of the transfer window, their summer signings have been immense. Parker and Adebayor have taken them from pretenders to contenders, and they look hell bent on remaining that way. The manner in which they came back from behind against West Brom was reminiscent of United last season. Not necessarily playing well all through the game, but doing well enough to win the match comfortably. It would take some effort from Chelsea, Liverpool and Arsenal to finish above them this year.
Emmanuel Adebayor:
His goals and form come in patches, but he somehow picks the important moments to perform. Another brace and another splendid performance. He looks like the 2007-08 Adebayor again. Which could be bad news for defenders anywhere.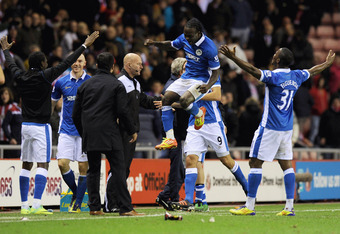 Gareth Copley/Getty Images
Theo Walcott:
On a personal mission to discredit the Chris waddle-supported notion that he has no football brain and that his game lacks that final end product. Another standout performance and they are coming on a regular basis, which is good news for Arsenal and more importantly England.
Based on that display, they really should be higher up the table. They are underachieving.
Wigan:
Finally, they get the result that their improving performance deserves. I felt they were robbed last week with the most ridiculous referring decision you will ever see in a professional football game, but the mental strength to come back from behind, especially after going behind so early in the game and seeing how their season has been going, is a testament to the belief their manager has instilled in them.
There is still a lot of work to be done, especially defensively, but this is a good start indeed.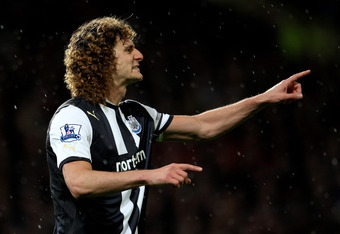 Alex Livesey/Getty Images
Liverpool:
Didn't think they could get more than two points from their last two games, based on their performances against Norwich and Swansea. But, they proved me wrong with dominant displays against both Manchester City and Chelsea.
Credit must go to the blossoming midfield partnership between Lucas and Charlie Adam, especially Lucas, who has gone from the fall guy to the first name on the team sheet with his impressive displays. Well on course for a top 4 finish, if they discover how to win against weaker sides.
Grant Holt & Apostolos Vellios:
Super subs and three goals off the bench this year. Why they are not starters, I'll never know. Especially Vellios, seeing as he seems to be the only Everton striker who actually knows where the back of the net is
Fabricio Coloccini: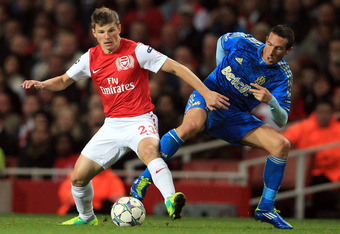 David Cannon/Getty Images
Currently, the most improved player in the league. It's insane how much he has improved. He is now assured and confident in the tackle and barely puts a foot wrong. If the season ended now, he would be a shoe-in for team of the season.
Shay Given:
Yes Shay, grown men cry. You gained cool points in my book for showing an emotional response to the death of your friend. Cheers.
Losers:
Mike Jones:
The standard of Premier League referring has dropped over the years. From the balloon ball incident, to the yellow card on Rooney for an elbow against Wigan last year, to this season, where there has been the sending off of Jack Rodwell for a perfectly good tackle, to the absurdity at the Blackburn game last week.
We can now add Mike Jones' incompetence to the list. The penalty incident was absurd because Jones had previously signaled for a corner and then decided to change his mind because of the assistant, who had a worse view than he did. I would understand if he was unsure and he consulted the assistant, but he was sure and he changed his mind based on a wrong assumption. Don't be surprised if he missed the next round of matches in the league.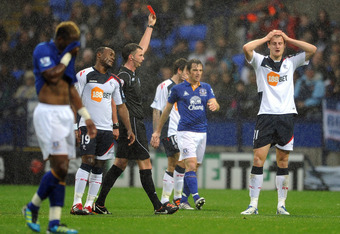 Chris Brunskill/Getty Images
Andrei Arshavin:
Effectively played his way out of Arsenal's first team against Fulham. Gervinho in 15 minutes was more effective and productive than Arshavin was for the earlier 75. Arsenal has changed their system to a more direct approach but, Arshavin hasn't gotten the memo. A brilliant player on his day, but his lack of effort and laziness on the field is getting played out. Unless he finds incredible form, he will be a bit player from now on, even after Gervinho goes to the Nations cup.
Arsenal:
Dropping points when your rivals all gained points. It would be a shame if all that good work to get out of the mini crisis only leads to a 7th  place finish.
Blackburn:
The decision to give Steve Kean an improved contract and not a pink slip is mind-boggling. Clearly out of depth at this level, leading the former Premier League winners into mediocrity. Their top flight status is at serious risk with him at the helm, and its quite foreseeable that they would be relegated in March based on their lackluster display against stoke.
I used to find Sam Allardyce average at best, but even Big Sam never had this team this low and this pathetic.
Bolton:
Ten defeats in 13 games. It's unacceptable. Especially for a team that was 8th  in the league this time last year. I feel I should point out that Bolton should have sold Gary Cahill when he commanded a profit, because he has looked pants all season.
And, I feel they could have used the 10 or 12 million pounds offered to buy a top class striker or reinvest it in the squad. On paper, they look a fine outfit. Klasnic and Jääskeläinen are decent players, Eagles and Reo-coker are decent as well. But things need to change, and fast. They are well on course to be the West Ham of this year—a team with good players who somehow get relegated.
All that experience, all that Nicklas Bendtner and all that good mixture of youth and experience, as well as United leftovers should get you a mid-table position at least. Another team that is severely underperforming. I bet they miss Asamoah Gyan over there.
Mario Balotelli:
Nonchalance is cool when you score goals and put in impressive displays. When you do it and get sent off in 20 minutes, its just plain wrong. An attitude adjustment is needed almost immediately as city cannot afford to lose a second striker.