Paul Maurice Fired: Carolina Hurricanes' Coaching Change the Only Logical Answer
November 28, 2011
Jamie Sabau/Getty Images
The Carolina Hurricanes have fired Paul Maurice.
After months of speculation and questioning across the Hurricanes fanbase, from chat forums to past articles to the Puck Daddy blog, the inevitable yet seemingly impossible has finally happened.
No longer will the Twitter feeds of 'Canes fans be cluttered with "#MoMustGo" hashtags; no longer will every poor play bring out the usual apocalyptic curses from Caniacs across cyberspace.
No longer will the Hurricanes front office be plagued with doubt of indecisiveness; no longer will the unspeakable murmurings of franchise-changing trades or, in some hellish scenario, team relocation be sitting idly in the dark shadows of the organization.
No longer will the Carolina Hurricanes franchise, for years burdened with underperformance, laziness and plain ol' pessimism, have to suffer through more months of their typical one-step-forward, two-steps-back pattern.
At last, a new era has begun.
The first rumors of the coaching change began to seep into the airwaves during the wee hours of the morning, but, in fact, another Southeast Division team—the Washington Capitals—beat the 'Canes to it. However, several speculative notes from experts made their way around Twitter as dawn wore on, and by 9:40 a.m., Carolina had released its official statement on Maurice's departure.
Just four hours later, his replacement was announced: Kirk Muller. Muller, only age 45, has just two months of head coaching experience so far—a 10-6-1 record in 17 games as the boss of the AHL Milwaukee Admirals—but was a six-time All-Star during 19 years of playing in the NHL.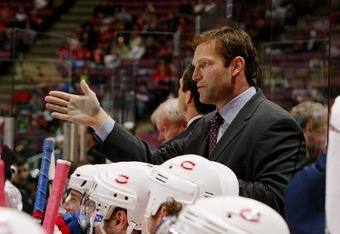 Mike Stobe/Getty Images
(Muller was an assistant coach for the Montreal Canadiens from '06-'07 to '10-'11, as the Habs qualified for the postseason four of those five seasons).
Although Muller had never been named specifically in any rumor as one of the top candidates for the job, he did fit the description that the 'Canes were looking for: An energetic, positive motivator with playing experience but no big-time coaching resume.
That model made Jeff Daniels, the current bench boss of the Hurricanes' minor league team, look like a possible fit, but it works with Muller just the same.
Despite the strange stubbornness of the Carolina front office to make their long-anticipated coaching change, few were surprised over the events of the day. After all, Maurice's list of shortfalls was much longer than his remaining benefits.
Issue No. 1? Special teams. For starters, take this excerpt from an editorial back on Nov. 10...
"Starting with the '02-03 season—Maurice has coached seven full years with the Hurricanes and Maple Leafs since then—he has yet to field a power play or penalty kill that's ever ranked higher than 15th in the league.

Over those seven seasons, Maurice's power-play units have averaged ranking 20th in the NHL; his penalty kill units have averaged ranking 23rd.

The Maurice-coached Hurricanes of '03-04 were dead last in power play, but a number of other rosters have come close to matching that since then. Meanwhile, the Maurice-coached Leafs of '07-08 found themselves second-to-last in penalty kill—but that, too, was barely a career worst for their beloved boss."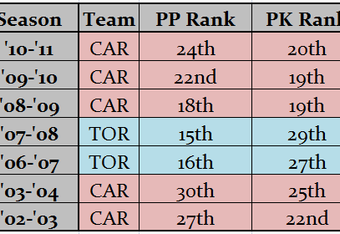 Of course, many stats are better seen graphically. Well, here's a solution—take a look at the graph on the right.
And issue No. 2? Poor starts.
"He evidently has some mental problems with colorful trees and falling leaves, for [Maurice] is only continuing his old ways with the team's appalling start to the season.

Over his last six years of coaching, Paul Maurice has a horrific 50-66-28 record in October and November; that equates to a miserable 34.2 winning percentage in the first two months of the regular season. To put that number into context, the Eastern Conference's worst team from last season (Florida, at 30-40-12) didn't even have a winning percentage that bad.

Autumns like that are sure to doom any team, and they certainly have [in this case]."
Ironically, they also, in the end, doomed Maurice's coaching tenure in Raleigh and perhaps his coaching career.
Despite the uncertainty of what Muller can bring to the table, one of his almost-certain skills will be prospect development.
Transitioning promising AHLers into the top level has always been an Achilles heel of the Hurricanes' organization, as has cost them no more than it has recently; up-and-coming youngsters Zach Boychuk, Zac Dalpe, Drayson Bowman, Brett Sutter and even Justin Faulk have all wasted valuable years in the no-man's land between the minor and major leagues.
Hopefully, those struggles are over. Muller's autumn wasn't just spent helping some prospects mesh into his lineup, it was spent coaching an entire team of them. So far, the experiment had been fairly successful; Milwaukee, the AHL affiliate of the Nashville Predators, was sixth in the 15-team Western Conference in terms of points-per-game ratio and had the fewest goals against in the entire league.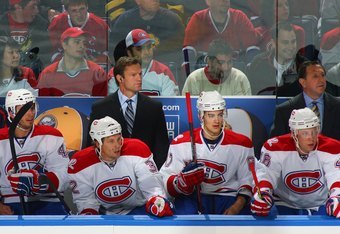 Rick Stewart/Getty Images
That defensive focus will also be a blessing to the porous 'Canes, who rank 26th in shots allowed per game (after a dead-last finish last season) and 28th in total defense. GM Jim Rutherford is looking to make a few trades to help improve the blue line, but, in the meantime, hiring a head coach with such priorities is a step in the right direction.
The third, final and perhaps most influential plus point in regards to Muller is his history as a player. Skating at left wing over 19 seasons ('84-'85 to '02-'03), the Ontario native's list of accolades is astounding.
1,349 games played—42nd all-time, seventh among LW's
602 total assists—73rd all-time, sixth among LW's
959 career points—84th all-time, 12th among LW's
134 powerplay goals—T-58th all-time, ninth among LW's
Six All-Star Game Appearances
Two 94-point seasons
Seven consecutive 70-plus point seasons ('86-'87 to '92-'93)
Nine 20-plus goal seasons
Six teams (in chronological order: New Jersey, Montreal, N.Y. Islanders, Toronto, Florida, Dallas)
11 playoff berths, two conference titles (one West, one East)
69 points in 127 career playoff appearances
Stanley Cup ring ('92-'93 Montreal Canadiens)
What more could a player accomplish?
Unfortunately, though, Muller will be inheriting a near-disaster in his first head coaching job. Carolina currently stands 14th in the Eastern Conference and last in the Southeast Division with an 8-13-4 record, including just three wins in its last 13 games.
Eric Staal has slipped into the biggest slump of his career, the defense has been mistaken for Swiss cheese on well more than one occasion (see: Oct. 22 vs. Winnipeg, Nov. 6 vs. Dallas, Nov. 11 vs. the Rangers, Nov. 16 vs. Montreal...) and even Cam Ward has failed to hold the whole world on his shoulders.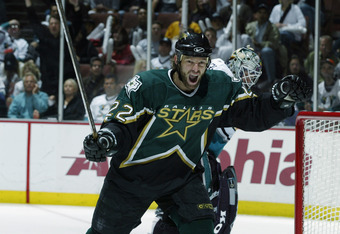 Donald Miralle/Getty Images
To put it simply, Muller's predecessor, Paul Maurice, has crashed the 'Canes into a complete train wreck. And now he's handing over the keys.
Can Kirk Muller lead the Hurricanes out of the cellar and back into playoff contention? That's hard to answer at the moment.
But, oh, how great it feels to call Paul Maurice a "predecessor."
Mark Jones is currently Bleacher Report's featured columnist and community leader for the NHL's Carolina Hurricanes. In his 38 months so far with the site, he has written over 325 articles and received more than 375,000 total reads.