Manchester United: Who Are Sir Alex Ferguson's Strongest Eleven This Season?
November 29, 2011
Clive Rose/Getty Images
How Dare We Presume?
How do you begin to second-guess Sir Alex Ferguson in picking Manchester United's best eleven when he's hardly had the same consecutive team in hundreds of matches?
I mean the guy's a legend at nearing 70 and a genius to boot. As soon as you dare to think he might have lost the plot this one time, he confounds you yet again—or his team does.
That's only half the story. If you stack his best players up side by side with Manchester City's, on paper there's not quite enough to back up the people who still think United will win the Premier League—David Beckham included.
I can just start with midfield and go on to the whole squad. Last season, plenty of pundits were saying it was the worst United squad in ages and yet, supposedly playing badly, they sneaked the title yet again.
Now, that's due to the talent in the team to some extent but above all, it's a result of the boss's seemingly endless ability to buy and grow players, find a recipe that works, blend them into world-beaters and fill them full of the self-belief that other fans describe as arrogance.
Prepare To Be Surprised
Consider the FA Cup match against Arsenal last season. Fergie fielded eight defenders, a second rate midfielder and two strikers. I shall never forget the shock as I sat in my seat listening to the announcer and wondering what on earth Sir Alex was up to, playing for a draw?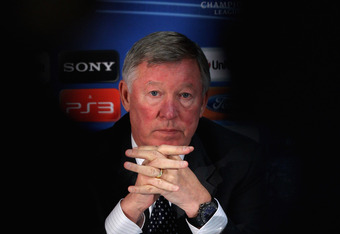 Alex Livesey/Getty Images
United won the match at a canter 2-0. Maybe it was the man's genius, his motivational skills or part of Arsenal's slippery slope. Nobody would have picked that team and it is questionable whether anyone would have got that result out of them.
So how do you pick his best eleven now—assuming everyone was fit? Yes, he'll pick teams for purpose and not always get the tactics right—as has happened in Barcelona, twice.
He has shown himself fearless at making drastic changes when needed or throwing more missiles onto the pitch to get a result as he so nearly did on Saturday (denied by one of the most disgraceful assistant referee decisions ever).
Where Are the Weaknesses?
We may never know until he writes his memoirs whether last summer he couldn't persuade Wes Sneijder, whether he truly thought there wasn't value in the market or whether he placed his faith in youth once again. Time will tell whether he got it right.
Frankly, when it comes to Manchester United, the transfer rumours are verging on farcical most of the time. Every day carries yet another story about some established player, starlet or even relative unknown that Sir Alex is about to sign—not.
Of course, United has the resources to watch most of the best players in Europe—if not the world. Never underestimate the boldness of agents in spinning a yarn to get their boy a better contract with his current hosts.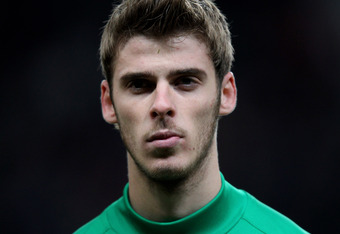 Alex Livesey/Getty Images
Speaking personally, as a conspirator, it wouldn't surprise me if Gill and Fergie are having a laugh at everyone's expense. After all, who picked Evra, Vidic or Hernandez? 
But anyone will tell you where they think the weaknesses are, even if Fergie doesn't—as he insists he won't—sign anyone in January and will likely go on to win the title again.
For years people have been bemoaning the lack of a replacement for Roy Keane. They warned about Paul Scholes in his swansong years. In between there were the siren calls following the sale of Cristiano Ronaldo. Even Wayne Rooney is reputed to have needed assurances from both the boss and the owners about strengthening the squad.
Do the three players who came in fill the obvious gaps? Not really. David de Gea has pleasantly surprised a lot of skeptics and looks like a steal at his tender age.
Phil Jones is already being talked about as a future England captain (let alone United) and Ashley Young looks a far better player than he was at Villa, despite his injury setback. But neither of the latter two is guaranteed a start, unlike the keeper.
Apart from Wayne Rooney, captain Vidic and possibly the goalkeeper, there are permutations anywhere, especially in midfield.
Has Sir Alex Got It Right?
There is a growing contrast, as was apparent last season, between the selection policies of the top managers in England. Are Mancini, Villas-Boas, Redknapp, Dalglish and Wenger being determined or pragmatic in sticking pretty much to a settled side while Sir Alex takes a different route?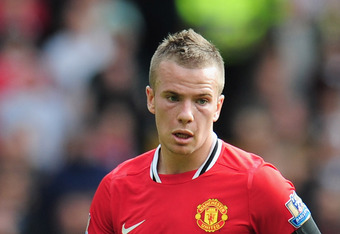 Shaun Botterill/Getty Images
His strategy seems to revolve around three core aspects: picking a team that can get a result, giving players game time and ensuring that his squad is the freshest in the second half of the season—where he believes United invariably prospers. 
To give him his due, United have had far more injuries than any of their major competitors. At least 13 of the first team probables have been incapacitated in some way or other, many of them for weeks.
Just when it looked like they had a winning formula at the start of the season, Kevin Davies crocked Tom Cleverley and it's been all-change ever since.
Not Just Injuries to Blame
While there have been several disruptions due to injury, especially when the team or individuals were showing some form, there have been disappointments and also some encouraging signs.
You could have been forgiven for thinking the central midfield was sown up with Anderson and Cleverley gelling so well but added to Tom's now protracted injury, by the time he played in the Galati match, Anderson looked woefully out of form.
The back line has been a major disaster area, mainly through injury and suspension, but also through sheer incompetence. The City match was a wake-up call to this fact.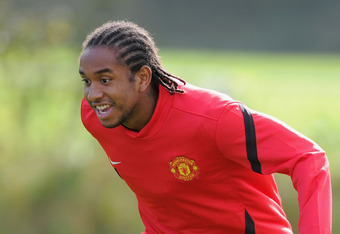 Michael Regan/Getty Images
But every cloud has a silver lining. Not only has Sir Alex been able to give abundant playing time to such as Phil Jones, who otherwise might have played here and there, but also he's been able to try out different permutations and possibilities, such as Jones or Rooney in midfield.
As the season goes on, these potential variations may become critical. If nothing else, they will keep opposition managers guessing.
So Who Are the Strongest Eleven?
This isn't a form of fantasy football where, like Sheikh Mansour or Real Madrid, you can pretty much have your pick of the best. Like Sir Alex, we are stuck with the existing resources. The only poetic licence we can apply is to assume that everyone is fit and nobody is suspended.
The other disability we shall be labouring under is that this selection is not for a specific game. Sir Alex would not only be likely to change or adapt his tactics between the Premiership and Europe, but also even between, say, Chelsea and City.
The other bit of poetic licence is that, like the boss, we need to have the potential to make changes to adapt to circumstance.
Every one of you is likely to disagree with the proposed selection so, to partly appease you, we shall propose seven substitutes as well.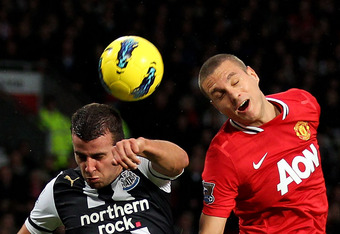 Alex Livesey/Getty Images
Start With Defence
There is no reason to disagree with Sir Alex's choice of goalkeeper. David de Gea has already shown himself to be a world class shot-stopper and his handling in the box has improved immeasurably. We also have the luxury of putting Anders Lindegaard on the bench. He's done nothing wrong so far.
Looking at central defence, I will admit that I was one of those who wondered if Rio Ferdinand was over the hill. Sir Alex shrewdly went public with his advice to Rio about adapting his play to take account of loss of pace. At the moment he looks reborn, especially as he's back alongside his buddy Vidic. You don't change a winning formula.
On that subject, it is Patrice Evra's attacking ability that makes it easy to choose him over any young pretenders. None of Fabio, Evans or Fryers come close—yet.
The right back position is, however, delightfully problematical. If Fabio had scored either of the glorious chances he has recently made for himself, he might look like a 'shoe-in' but lining up behind him are his twin brother and, more importantly, Jones and Smalling.
Fully fit, I would pick Smalling. He has looked very sound in defence since his purchase and can attack down the wing like Gary Neville did but, as his goal against Chelsea showed, he is also dangerous in the box. This blend cannot be overlooked.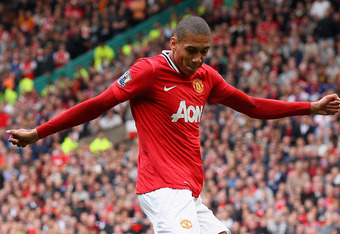 Alex Livesey/Getty Images
The Midfield Conundrum
Wesley, Wesley, wherefore art thou, Wesley?
It's no wonder that the rumours about Sneijder still won't go away. Ever since Roy Keane and now Paul Scholes, fans have been staring into a midfield void that they are not sure Tom Cleverley can fix.
Sneijder seems to cover both options. He may prefer attacking midfield, but his performances for Inter Milan against Barcelona and against Holland in the World Cup suggest that he can be comfortable in either role, or comfortable in both.
But he isn't here and, if you believe Fergie, he isn't coming any time soon either.
Ryan Giggs was 38 yesterday and his Golden Foot award was thoroughly deserved. He rolled back the years on Saturday, despite his misplaced passes, but he cannot be a regular pick.
Anderson is unconvincing even if fit: £25 million would be good business if true, especially in part exchange for Wesley. Cleverley looks like a future England fixture.
But if you want to bet your house on the result week-in and week-out, assuming they are both completely fit, it looks like Sir Alex would revert to Carrick and Fletcher. The latter seems close to his best—especially for Scotland—as his predatory goal showed last week.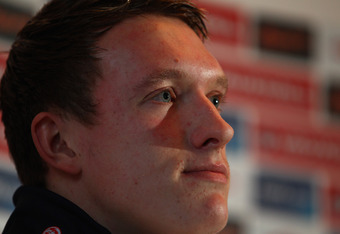 Richard Heathcote/Getty Images
However, for four very important reasons, I would play Phil Jones as defensive midfield rather than Fletcher. Jones has the all-round talent as defender and has the ability to go forward; he would release Carrick into the role he should be playing, further forward. It also gets him a regular game and this is the position that Capello seems to be grooming him for.
Carrick is Marmite. You either love him or hate him. That will never change. "Roy Keane has left the building and his replacement is...Michael Carrick..." Some supporters will never forgive that; he infuriatingly declines to put his laces through the ball in sight of the goal. He was unfairly given the blame for BOTH Barcelona defeats.
At his best, he can run the game as Sneijder does, as the great Johnny Giles did. I am unashamedly a fan and, in my opinion, he has been at or close to his best in his last two games.
Yes, we can all dream that Wayne Rooney is the natural successor to Paul Scholes but, unless United signs another predatory world class striker like Van Nistelrooy, Wayne will have to play up top.
Completing the midfield we need two outstanding wingers who can tackle when needed. Ji Sung Park never lets the boss down and Ashley Young is undoubtedly part of a bright future. However,  an in-form Nani on the left and Valencia on the right are unbeatable.
In the Danger Zone

Now this is where you all simply write down Rooney and Hernandez, as Sir Alex is assumed to do when he drafts his team sheet for the big matches. But this is where I'm going to be controversial.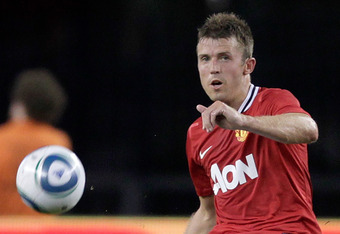 Jim Rogash/Getty Images
There is no denying Hernandez's talent and he can only get better as he learns at the feet of Michael Owen. But for me, he's the Ole Gunnar Solskjaer rather than Ruud van Nistelrooy. I would keep him for the time being as the 'shock troops' coming off the bench.
Wayne Rooney has slipped out of form again and needs to get back to where he was in the season after Cristiano Ronaldo left, when he was on fire.
So my front two would be Berbatov and Rooney. This has two advantages: Berbatov is a proper target man who never gives the ball away and brings others into the game. More importantly, it puts Rooney up top, where Capello wants him and where he can be most dangerous to the opposition.
Sir Alex Ferguson's Strongest Eleven (and Substitutes)
So, as a 'team for all seasons', here is the suggested eleven:
De Gea, Smalling, Ferdinand, Vidic, Evra, Valencia, Carrick, Jones, Nani, Berbatov and Rooney.
The bench would be as follows:
Lindegaard, Rafael, Fabio, Cleverley, Young, Welbeck and Hernandez (not Evans, because Smalling or Jones could be moved to central defence if needed on substitution).