UCLA Football: Thoughts and Opinions on the Firing of Rick Neuheisel
November 30, 2011
Stephen Dunn/Getty Images
Deep down, I knew this was going to happen.
Especially after USC battered and humiliated the UCLA Bruins at the Los Angeles Memorial Coliseum, giving them their worst conference loss ever.
Before that beat down, I thought that Rick Neuheisel would be allowed to return for the last year of his five-year contract because, technically, his team won more games than in 2010 and became bowl eligible.
Add to that my conviction that UCLA, in the midst of a state budget crisis, wouldn't be able to afford to buy out Neuheisel and his staff.
All of those convictions were thrown out the window after that 50-0 beating.
As much as it hurt, because I like the guy, I was done with Neuheisel at that point, and was convinced that a change had to be made.
It was crystal clear that Bruin Athletic Director Dan Guerrero felt the same way, that the whipping at the hands of the crosstown rival Trojans was the last straw as he made it official by firing the UCLA football coach two days after Bruin Nation was thoroughly embarrassed.
Many fans in Westwood are shouting "Hallelujah!" at the news.
Even though I know it had to happen, as I realized once and for all that the Bruins would never reach their potential as Pac-12 and national contenders in football with Neuheisel as coach, my feelings are not necessarily the same as those of the many UCLA fans and alumni who were calling for Rick's head for the past two years.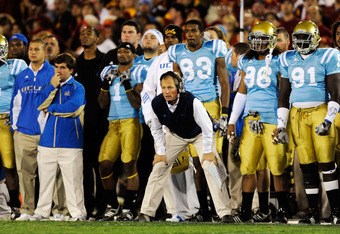 Kevork Djansezian/Getty Images
Here's why...
No one has been, or is, more passionate about UCLA as an institution or its football program than this former Bruin quarterback who led the team to a Rose Bowl victory in 1984, and that passion showed as the Bruins' head coach.
I know that Neuheisel desperately wanted to succeed at his alma mater, and that he did everything possible to make that success happen, from hiring offensive guru Norm Chow to overhauling his coaching staff before this season.
However, in what should serve as a good life lesson for young folks, sometimes you work as hard as you can at something, give 1000 percent of your time and yourself, and it just doesn't work out.
That has happened to me numerous times, and it has happened to Rick Neuheisel this week as inconsistency in his quarterback play, in the pistol offense and in fundamentals like blocking and tackling proved to be his downfall as well as the many blowout losses that UCLA suffered in Neuheisel's four years, where the Bruins looked like they weren't even competing.
I felt a sense of disappointment, more for Neuheisel than in him, when the news of him getting sacked came down.
I was one of those UCLA fans that was rooting for him to succeed, but I suppose it just wasn't meant to happen.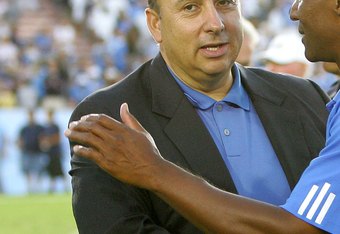 Kevin Terrell/Getty Images
Now that Neuheisel's gone (or will be after he coaches the Bruins in the Pac-12 Championship Game against Oregon on December 2), Guerrero is facing his most crucial task of his tenure as UCLA athletic director:
Hiring a new head football coach.
This will be the third time he has had to do this, and being that his first two hires, Neuheisel and Karl Dorrell before that, were ultimately busts, Guerrero has two strikes against him in that regard.
If this next hire doesn't work out, if the Bruins continue to be mediocre on the gridiron and to be USC's whipping boys, then it may signal the end of Guerrero's time as head CEO in Westwood.
Whoever the next coach may be, in my view he needs to be a proven winner in an FBS conference if not a BCS conference, and have West Coast ties if not Southern California ties to give him credibility with the local high school recruits.
Chris Peterson of Boise State is the said to be on the top of UCLA's list of coaches that they want.
As for Neuheisel, despite everything I, for one, appreciate him as he is a great Bruin who outwardly showed that he loved and cared for his alma mater, and wanted so much to win.
Letting the man go was a necessity, but it's a pity that things didn't work out for him.