Amir Khan: Putting the Final Touches on Training for the Lamont Peterson Fight
December 1, 2011
Ned Dishman/Getty Images
Well, fight time is getting closer and closer. Just about two weeks to go before I step into the ring to defend my world titles against Lamont Peterson. 
At this stage it's really one last big push in training before we take our foot off the accelerator for the final week. It's important that your body has the time to recover from all the training so that when fight night comes around, you are at your strongest. 
This camp has gone really well and believe me, we have put in some hard hours in order to best prepare for the fight. My sparring partners, like David Rodella and Roberto Garcia, have been top-notch and have helped me get ready for the fight.
I'm just counting down the days now and am really looking forward to getting on the flight to Washington so I can take care of business.
I was honoured to have won British Boxer of the Year last Sunday, which was handed out by the British Boxing Board of Control (BBBofC), especially when I was up against some other great British fighters. Unfortunately I wasn't able to make it to the ceremony because I'm in L.A., but my business manager accepted it on my behalf.
I want to thank the BBBofC for the award and all of my fans who've been with me all the way. Hopefully there are many more triumphs to come.
Being at the Wildcard, you get used to seeing some famous faces making the trip over to the gym. Last week it was great to meet Nick Cannon and put him through his paces on the mitts. He did well; I'm sure a few more sessions in the gym and he'll be ready to step into the ring. He's a good guy and wished me well for the fight.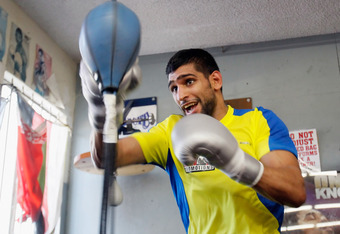 Jeff Gross/Getty Images
Outside the gym I've been kept busy with a lot of media work. I have a lot of requests for interviews in the build-up to my camps and have been doing a few interviews this week.
It's something that is part of the job as a boxer, but I do enjoy it and think it's important in order to help promote the fight. 
Usually after the gym I just chill out with my brother Haroon and friend Saj, who have been with me for over a week now. They help to keep me relaxed, which is important because you can't always be switched on. We tend to see the sights in L.A. or go shopping when we're out of the apartment.
I visited Prada the other day and came home with about six pairs of glasses. I did a photo shoot for them recently, modelling the Linea Rossa range, and they kindly hooked me up with some complimentary shades.
I want to say "well done" to my stablemate Julio Cesar Chavez Jr. for his excellent performance against Peter Manfredo Jr. last weekend. It was an excellent fight, and Julio proved he's ready for any of the top guys in and around his division.
I'm sure a fight with Sergio Martinez is one all boxing fans would love to see.
These last couple of weeks are going to fly by; when you get to this stage of camp it tends to go pretty fast. We've got the perfect game plan for Lamont Peterson and know that it's going to be a tough fight, but I'm going in as the champion and will leave as the champion.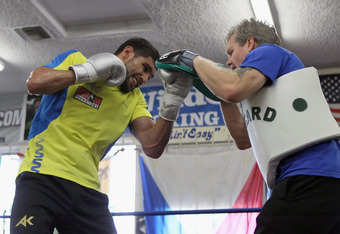 Jeff Gross/Getty Images
Freddie and I have discussed how we are going to approach this one and I know viewers will not be disappointed.
We've both got big hearts, but I'm confident that it's going to be skill that wins the fight.
There's no doubt it's going to be a special night; it's Washington's biggest fight in nearly 20 years and tickets are selling really fast. The last I heard there were only a few left and it's heading for a sellout at the Convention Center. A lot of my fans are making the trip and I know the D.C. natives will be there in full force.
It's going to be a top night to end 2011.
Amir Khan vs. Lamont Peterson will top the bill on a great night of boxing on Saturday Dec. 10, starting at 8 p.m.  EST on Sky Sports 1.  The fight will be telecast in the United States on HBO World Championship Boxing at 9:45 p.m. EST.